Whether you have a loyal base of customers already, or you're starting with a clean slate on launch day, generating leads and finding your target market is no small feat.You have to identify your customers ASAP in order to keep your business up and running. But finding your customers is only half the battle, keeping them around with good brand awareness is what will keep the profits coming in!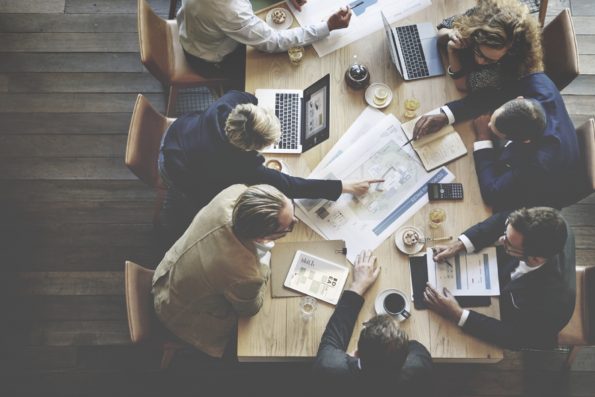 To achieve this, you'll need to build your brand awareness. There are many ways to create buzz about your business. You could go the analog route and rent out a billboard on a local highway. You could opt for overdone radio ads, or you could send out promotional mailers. But to stand out in a crowded marketplace, you'll have to be creative. Think about brands like Apple, Nike, and Coca Cola—we recall their brand colors, slogans, and aesthetic almost instantly. That's because they have their creative brand so nailed down that they're well known around the world. And this pays brand recognition certainly pays off!
If you're looking for ways to stand out in a saturated market, look no further. In this article we'll discuss 4 strategies you can use to raise brand awareness for your small business.
1. On the conference circuit
For many industries like health, science, and technology, conferences are their Superbowl. That's where they connect with partners, prospective customers, and even recruits. If you're in this kind of vertical, it's a great place to strut your stuff. But in order to make an impression on the crowded convention floor, you have to get creative. Here are some tips to help you take hold of that market.
Invest in your booth: Depending on the conference that you're attending there could be hundreds or even thousands of booths to compete with, and most look nearly identical to the next. To reflect your business' branding and personality, it could be worth renting a custom booth that will wow and attract attendees.
Give away cool freebies: Giving away promotional items is commonplace at conventions, but while so many companies do it, few actually succeed. Sure, you could give away stickers or pens, but attendees have likely collected handfuls of pens at every other booth. When ordering promotional items, think about what's novelty and what's useful. Branded water bottles, custom popsockets, cooler bags and air fresheners make for unique and functional freebie alternatives!
Be personable: This one may seem obvious, but it's an invaluable and impactful tip. When selecting representatives to work at your booth, be sure these individuals are your most personable and charismatic employees. These people are the ones most likely to make lasting industry connections.
2. Via social media
If your brand is a lifestyle or eCommerce company, you may want to consider how you can use social media to reach your target market. Affiliate marketing has become incredibly popular in recent years and has been proven to be an effective way to reach consumers, especially those in the Gen Z and Millennial generations.
When you hire a brand ambassador (aka influencer), they share support about your product and brand in exchange for monetary or product compensation. For some consumers, hearing their favorite social media personalities vouch for a brand makes them trust the product more which makes it such an impactful marketing tactic.
3. Using SEO strategy
Another big marketing trend has gained popularity in recent years: SEO. SEO stands for search engine optimization and it's essentially a strategy aimed to help your brand rank higher on Google. Using a combination of content marketing, technical tactics, and development, SEO can help your business increase web traffic and, in turn, you can boost brand revenue.
4. In person
There's no doubt about it: we live in a digital world. But marketing shouldn't be limited to the online world. To establish and build upon your customer and industry connections, your business should be personable, too. Most cities have local business forums, meetups, and networking events that provide a great opportunity for you to meet other business owners, brainstorm, and ultimately, boost your business.
 
Key Takeaways
Carving your own path for your brand isn't easy, but by following these tips, you can find creative ways to build your market and boost brand awareness.