While checks might seem like an outdated way of payment processing, they still have many applications for businesses. A printed check allows business owners to send and receive money directly connected to the business's bank account without worrying about incurring additional fees or potential exposure to security risks. Check printing software makes creating and mailing checks easy, and ensures the payee receives the document as quickly as possible.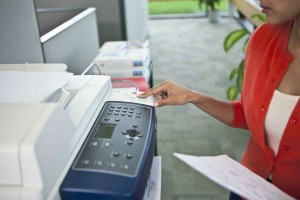 If you're looking for a check printing software product or payment processing solution that fits the needs of your business, you've likely noticed that you have an excess of options. While some businesses claim to be the outright best solution for your business, their use cases may be limited by business type and size. For this reason, it's essential to review the features and services that accompany the product, to see if it's truly the right match for your company. In this article, we'll review some of the key features you should look for when considering a new check printing software option for your business.
Ease of Automation
Repeat payments should be simple and easy to organize, so you don't have to worry about many of the outstanding payments you need to make each month. Addresses and payment information should be easy to save and store, without having to worry about potential security risks. Whether you're sending a check to a vendor, contractor, or employee, you should always have peace of mind in knowing that these repeat payments will reach their destination with minimal oversight.
Branded Checks & Customizable Designs
The ability to create new designs for your checks by uploading company logos should be a given with all business check printing platforms. Without this feature, you'll often end up with checks that appear unprofessional or low-budget. Many check printing software providers also allow you to integrate your company logo into the fourdrinier watermark, so that it becomes one of the check's key security features. The envelopes and mailing materials that come with the check should also be professional in appearance.
Clean Interface & User Experience
Software navigation should be straightforward and simplistic, without all of the bells and whistles that come with online payment solutions for personal use, such as Paypal and Venmo. The API that the software provider offers should be easy for your company's finance professionals to manage, without spending extra hours learning how to use the platform. With the lower-cost, higher-popularity check printing software options, this usually isn't too much of an issue. However, if you're digging a little deeper to find a higher-quality product, it's best to be wary of any software solution that doesn't offer some sort of demo to get you started.
Multiple Accounts and Users
While most small businesses usually only have one person who's managing the company's payments, most other companies have at least a few high-level employees who either make the payments or review the accounts paid and accounts receivable each month. A check printing software product for businesses should allow for multiple users and bank accounts, without making any compromises in terms of security.
Notifications for Payment Errors
If something goes wrong with a requested check printing operation or payment, you'll want to know as soon as possible. For check printing software with payment automation options, this is a must-have feature. These notifications can also email you in the event that there's a duplicate payment in the system, or let you know when you need to log in to approve a transaction.
Same Day Shipping & Mail Tracking
Ensuring that your checks spend as little time as possible in the mail goes a long way towards increasing their relative security. The same applies to document printing services, where the contents of the envelope are personal. Tracking your checks within your payment processing and check printing software allows you to stay on top of any issues that come up regarding a document or check that gets lost in the mail.
In-Depth Reporting Options
High-quality check printing software should always allow business owners, account managers, and finance professionals to keep track of their spending through the platform. Reports created or automated within the software should be reliable, in-depth, and dependable, so you'll always have a good idea of your company's current financial status for the month, quarter, or year. Many payment processing companies will create these reports personally, yielding unique financial insights for your account that can save your business time and money.
Flexible Support
If there's a security issue, payment processing software glitch, or if you aren't satisfied with the checks you're getting through the platform, you'll want a reliable and readily available team of support technicians to assist you and your business. These customer support options should be available around the clock, accessible from within the platform or via phone.
Reliable Security Policies
Before purchasing any check printing software product, make sure to do your homework on their track record in terms of security. A business that recently had an issue with a hack or similar security threat may put your company's data at risk, and threaten the stability of your accounts. However, it's important not to be too alarmed here: there are plenty of reliable software options out there available for your business.
Fast and Efficient Service
No matter what check printing software product you choose, you'll want to know that there's a reliable company backing it that's prepared to offer your business unparalleled support. Checks and documents sent through the mail should always arrive on time, on the same or the next day whenever possible. All of your logos and labels should be correct in terms of information and professional in appearance. If you're sending multiple checks at a time to the same destination, you should also be able to bundle the payments together in one shipment.