DELI offers a quick personality quiz to give you tailored results on hotspots in major European cities. That means a personal list of restaurants, bars, sights, and events, made just for you. The minimalist design and crisp branding offer a refreshing take on travel research, cutting down the amount of time you spend searching for the place to grab dinner.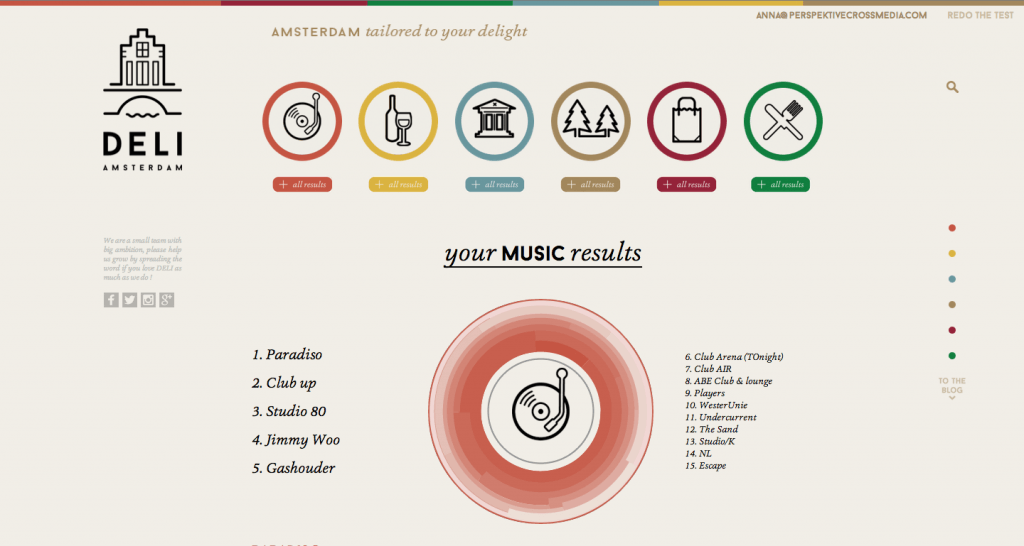 Expanding to cities such as Stockholm, London, Berlin, and more, DELI aims to give travelers and locals a custom guide to finding the best spots in Europe. We talked to Anna Kolk, founder of DELI to find out more.
Where did the idea for DELI come from?
The DELI concept was born from the travels I was lucky to go to because of Identity Lab - the creative agency behind DELI. We cater to a range of international clients and I found myself struggling with finding personalised what to do/where to go advice in metropolitan cities. After having researched the industry and haven't found anything like the idea we had in mind, I decided we should go for it and DELI was born as a complete in house project of the agency - that was a year ago.
Tripadvisor and Lonely Planet seem to have endless lists and forums of information, why DELI?
The answer sits exactly in the question itself - endless lists and information. More and more people prefer to have personalised advice rather than huge amounts of information which confuses them and leaves many decision-less.
Who's your target customer?
Since DELI provides its users with a tailor-made advice it works for most of us - interested in an optimised city experience. From the stats we see that most of our users are millennials and the tourist/local ration is 60/40.
What has been the most surprising so far as a founder and entrepreneur?
The extremely positive response from the users, press and people from the industry - I must say everyone has really been great to us, giving super useful feedback and supporting the concept. I honestly couldn't believe my eyes when I saw we had a PSFK feature on our first day of being live, what else can one wish for?
What has been the biggest challenge?
The biggest challenge so far is definitely coordinating expansion - our HQ is in Amsterdam but all DELI databases are conducted locally, so we have small teams on the ground in each city we're working on. Different timezone's, not always great internet connection and just the basic planning to make sure I speak with everyone once a week can be quite challenging while running a creative agency and 2 start-ups on the side. I must give my HQ team great credit - they are most, most helpful.
How do you think algorithms and tests will change the way we travel?
As I mentioned earlier based on the amount of enthusiasm DELI has been received with and all latest travel and lifestyle reports I have seen - personalisation is really what we want these days and what better way is there to get a tailored advice than through a fun quiz?
How do you think you can best expand your product?
We are working on expanding DELI in different ways - both geographically as the product itself. We are going live with London, Paris and Barcelona within just a few weeks from now, we have more cities coming out soon and some very cool product updates - keep an eye on us!
What's your ultimate mission as a founder, company, and brand?
Personally as over ambitious as this may sound I would absolutely love to IPO DELI one day, that would be my dream coming true. And next to that - obviously world domination DELI will come to every cosmopolitan city and become a game changer of the industry, if I'm not convinced of that myself, how can someone else be!