The evolution of technology brought smokers a different experience called 'vaping'. The first modern e-cigarette was made in the mid-2000s and started to be sold in 2004, but the trend only caught up worldwide after 2010, when the interest in vaping started to increase and, consequently, the number of e-cigarette users too – a strong indicator of why this growing industry is currently trending amongst entrepreneurs.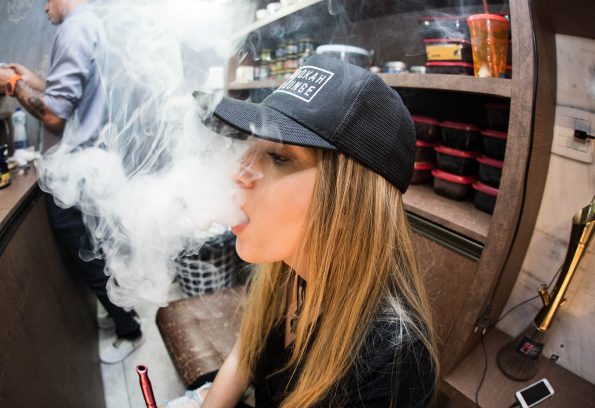 Millions of users worldwide
According to CDC, there are around 9 million e-cigarette users in the United States, and according to Euromonitor International, that number represents 43.2% of the world's total users. The estimated number of e-cigarette users worldwide is over 35 million. And the current forecast predicts 55 million vapers in 2021.
Billion dollar industry
Bonnie Herzog, Senior Analyst at Wells Fargo, predicts the vaping industry to achieve $5.5 billion in sales in 2018. The vaping market is growing overall, but the segment with most growth is that of vape mod kits, which increased from $1.1 billion in sales in 2014 to $3 billion in 2017. According to Herzog, this industry will continue growing in 2018. The segmented sales projected at $2 billion in e-cigarettes and $3.5 billion in mods and eliquids. A 2017 report forecasts a global growth of the e-cigarette and vaporizer market by 20.8% until 2025, when it should be worth approximately $61.4 billion.
Popular and profitable market
The interest in vaping has increased exponentially in the past decade due to various factors worldwide. People have increasingly become health-conscious, which supported the trend of switching from smoking to vaping. At the same time, smoking bans like the one in the UK in 2007, and the reinforcement of tobacco laws, made e-cigarettes a popular alternative with major benefits when compared to tobacco. The vaping market has so far proven to be highly profitable, not only due to the increasing popularity of e-cigarettes, but also because technology plays a big part in the vaping market. Since this market is relatively new, there's room for ongoing improvement, and the vaping community will always pay for upgraded products.
Opportunity for entrepreneurs
Beju Lakhani, president of the Canadian Vaping Association, once said: 'The reality is, as long as there are smokers, there will be smokers looking to stop smoking'. And the vaping business will likely continue to profit from this reality, by providing an alternative to smoking. Therefore, e-cigarettes are, in 2018, a profitable sector for startups. The estimated cost of opening a vape shop is $25,000 for a small shop and $50,000 for a larger one, while the estimated monthly expenses range between $7,500 and $10,000. And since the average vape shop reports around $26,000 in monthly sales, the estimated annual profit is over $100,000. Plus, in this industry there's always room to increase profitability: invest in kiosks in target locations, have an e-commerce site to sell the products online, and manufacture e-liquids.
If you're interested in opening your vaping business, make sure you have the necessary knowledge first, and find out here the steps you need to take to open a business.