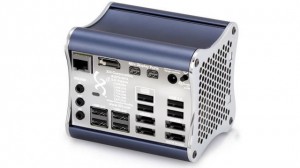 The internet has been going crazy over any scrap of information surrounding Valve's fabled 'Steam Box' – something that never really materialised. Until now, that is. With a different moniker, known now as Steam Machines, a sleek new dedicated OS and a bewildering new controller that no-one's quite sure about yet, Valve's hardware revolution has exploded.
But given the vastly different audience types between console and PC gaming fans, and the existing high-powered setups some PC enthusiasts will already own, does Valve have what it takes to break into the market and snuggle comfortably under our TVs?
What's In The (Steam) Box?
What bits are stuffed inside is anyone's guess – Valve will create a 'base' standard for its living room gaming PC system but, given that there will be a range of hardware developers involved all creating their own configurations, the specs will vary wildly. Essentially, though, the specs can be whatever you want them to be depending on your budget and performance needs – Valve have also said you can tweak and change the internals as you see fit, so there's scope for upgrades if you're that way inclined.
The gaming distribution giant will be beta testing its hardware setup, OS and controversial new controller in a 300-user strong beta test. Valve have recently unveiled their own specs (or rather, the variety of specs) that they'll be dishing out with their prototype units, which gives us a better idea of what third party hardware developers will fill their Steam Machines with and can help us gauge price ranges, too.
The beta unit tech specs have been revealed as:
NVidia Titan GTX780, GTX760 or GTX660
Intel i7-4770, i5-4570, or similar i3 variants
16GB DDR3 RAM (CPU allocation), 3GB GDDR5 RAM (GPU allocation)
1TB/8GB Hybrid SSHD
450w 80Plus Gold PSU
12 x 12.4 x 2.9 inches in size
Who Are Valve's Target Market?
This is kind of a tricky one. With the variety of options that are available, including a bottom-dollar budget model which should focus solely on streaming Steam games from a gaming-capable Windows PC, you could say it's anyone. If you're a hardcore enthusiast with a big budget, then an i7/Titan setup could be the perfect box, whereas a console gaming convert might be better suited with a mid-range i5/GTX 760 configuration.
The thing is, high-end PC gaming enthusiasts are unlikely to jump on this bandwagon in a hurry – they already have their dream machine, and if they don't then they'll just stick in the components they need to keep it at the top spot. The simplicity of the system, OS and ability to stream from their existing setups might win some over, as well as the ease of integration with a living room setup, but a lot could prefer to stick with their completely customised tower setups.
The danger for the other end of the market is that Valve's options are too broad and somewhat confusing for existing console users who, until now, have just bought the system that Microsoft, Sony or Nintendo have put on shelves, stuck in the latest title and played. However, with a simple dedicated OS and controller support it has the potential for a very console-esque experience, but with cheaper games and a much better performance.
The key is in the marketing – it's got to make Xbox and PlayStation worshippers ditch their systems in favour of a Steam Machine. The potential is there (judging by the beta specs, there's going to be a great range of systems that can kick consoles to the curb), but people's gaming preferences are well ingrained habits now so Valve and the Machine manufacturers have some work to do!
The $500 Steam Box – Can The Cost Keep Up With Consoles?
The crux of Valve's success with Steam Machines and the SteamOS will come down to its cost. With the PS4 and Xbox One releasing around the £400 ($500) mark, there will need to be some reasonably priced powerful offerings to draw people away from a Sony/Microsoft allegiance come 2014.
Since Valve have announced a range of specs with different processor and graphics card options then we'd hope that there will be options that undercut the next gen console offerings – something with an i5 and GTX 660 setup could easily do, and throwing a 670 into the mix has the potential to give next gen a run for its money on all fronts.
So, what do we make of the Steam Machine's prospects? We don't know. Sorry. Much of its success is going to hinge on the price point, since Steam Machines are unlikely to win over dedicated console gamers if they cost more than a $500 Xbox One.
However, there's a lot of positivity in the bag already, namely a swish 'Big Picture Mode' SteamOS, inevitably cheaper games (which will be attractive given the RRP/MSRP price hike for next gen) and some real raw power under the hood.
Will console gamers switch, and will PC gamers migrate to the living room? Stay tuned – this could easily be a game changer. Literally.
This guest post was written by Tom McShane – avid PC gamer, blogger and Gaben worshipper. After having spent months of wages in years of Steam Sale onslaughts, Tom remains on the fence about Steam Machines, but recommends checking out Fierce PC for their own 'Steam Boxes' and budget gaming PCs. 
Related articles