As a small business, it is common to approach potential customers and suppliers personally. It may feel like door to door selling, but most businesses need to start out by introducing themselves in this way. It isn't possible to start any business without knocking on a few people's doors first. Some people are happy to accept a business card, but others are looking for a formal ID card when you introduce yourself.
Identification assures a customer or supplier that you are who you say you are. They feel there is some accountability if you show an ID card rather than just handing over a business card. Business cards are hugely useful once a customer has shown some interest in who you are and what you are offering. They can use them as a reference to find your website or contact you by email and phone. Some are using the QR scanning facility on their business cards too, so potential customers arrive at a unique landing page on their website. It can be particularly useful for tracking conversions at events.
If you are using events and trade shows to increase awareness of your business, or to gain customers, you may want to provide more than a business card. Sometimes, entire 'goody' bags are handed out to passers-by containing things like branded pens and wristbands. These items can be produced for you quite cheaply but are usually not used.
ID cards often feature a photograph of yourself, your company logo and your position within the firm. It is usually far more convenient to carry them on lanyards than in your wallet so they can be seen clearly at all times. ID cards can be printed in your own office if you invest in a card printer, or you can email a digital photo and details to your preferred printing house to produce. They may prefer to work in batches to save time and money.
Some ID cards also have a unique barcode, security strip or smart chip. The card can then work as a login for things like the photocopier. They can also be used as access to cards to get through various doors around your work building. The user's card is logged in a central database so it can be used as a clocking in system, or for higher security checks. Some computer systems or cash tills can also require a swipe of an ID card to be used.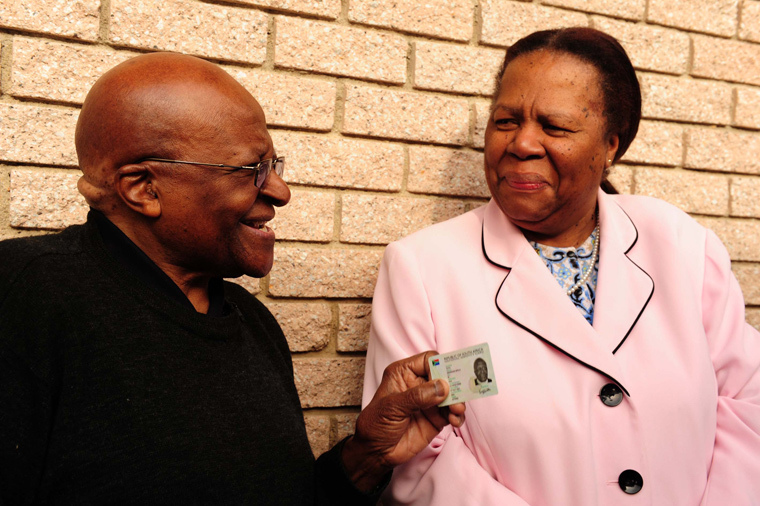 Image of Archbishop Desmond Tutu receiving a Smart ID Card courtesy of Flickr.com
If you are using your ID card on a lanyard, it may need to be mentioned in your health and safety or personnel manual. Wearing a lanyard can be hazardous in some work environments where it may get caught in machinery. In other workplaces, it may be considered a security problem to wear your ID visibly in public. Make sure there is documentation on the appropriate use of IDs in lanyards available to all employees. There should also be a procedure in place for reporting the loss of an ID card, and canceling the rights of the card quickly and easily for security.