71 percent of small and medium businesses across the world survived the rigors of 2020's economic turmoil by turning to the internet, according to a recent report by Salesforce. It is becoming more and more apparent that the best way to promote strong commercial growth these days is to build a website and to conduct most of your business there. But for those of you who are just finding their footing on this aspect of modern commerce, there are a couple of important compliance regulations that you'd do well to keep in mind.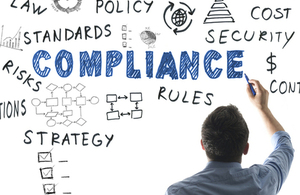 Truthfulness and Transparency of Information 
The primary regulation affecting all companies on the web is the requirement to disclose any and all information relevant to both the consumer and regulatory bodies. Foremost among these is company identity. This includes company name and registration number, main office address, email address, place of registration, and other identifying information as dictated by the country they are operating in. This information usually belongs in either the About or Contact Us page. Aside from being regulation-compliant, this info also benefits SEO.
You would also be required to display your company policies, particularly your privacy policy. This usually includes a description of what license users have pertaining to information hosted on your website, what liabilities your company accepts, and a disclosure of how you make use of website cookies. You most likely have already seen this when browsing through other company websites. Finally, you must ensure that none of your advertisements contain untruthful, misleading information. Commercial regulation agencies such as the Federal Trade Commission have recently begun implement compliance regulations to clamp down on any advertisement that could be construed as misleading.
Accessibility of Website Content
The turn of the decade was marked by a mass exodus to the digital space to conduct business and many other daily activities. Hence, more persons with disabilities were required to interface with websites and applications in order to carry out their everyday tasks. That's why website regulatory bodies have been doubling down on enforcing website accessibility with specific compliance regulations.
Public acts like the ADA or Americans with Disabilities Act are the primary basis for website accessibility. Compliance requirements usually only extend to accounting for certain disabilities, such as motor, hearing, and vision impairments, but this can change depending on jurisdiction. Disability accommodation acts like ADA do not directly tell you the specifics of website accessibility requirements, however. For that, you will need to refer to the Web Content Accessibility Guidelines, as well as other resources from the World Wide Web Consortium. Alternatively, you can just let website compliance experts handle much of the accessibility development.
Protection of Customer Interests
The recent ramp-up of online commerce has led to a similar bolstering of consumer protection regulations. This can primarily be seen in updated requirements to keep all information required from the customer confidential, such as address and bank details. Businesses also have to keep a copy of the contract to purchase, as well as maintain transparency of consumer opinions, in the form of things like customer reviews.
This also extends to enhancing cybersecurity to appropriate levels in order to ensure the safety of your customers' personal data. This usually entails SSL encryption, frequent website security and operating system updates, checking your own defenses for vulnerabilities, and implementing a content management system. In almost all jurisdictions, it is mandatory for websites to prompt users to grant consent for the use of their data.
These rules may seem overwhelming if you're just starting out with the digital side of running a business, but it really isn't that different to building a brick-and-mortar establishment. They all rely on honesty, confidentiality, and genuine care for your customers. Compliance regulations like these are for the good of all, and offer you a fantastic boost to your exposure when you go above and beyond them too.