At this year's FUND Conference in Chicago, Illinois, over 100 startups presented their early-stage companies in front of hundreds of investors and industry leaders. FUND is a national connector of entrepreneurs, VCs, angel investors, and industry experts with a focus on deal flow and making connections.
The startups ranked most highly by investors and startup enthusiasts in terms of scalability and longevity received votes on how well they connected with investors. Today The Startup Magazine features a Top 3 Exhibitor winner, Happenstance.
Here is their story…
Describe the Happenstance product/service in 10 words or less
The Happenstance app shares geolocated and little-known mini-podcasts about Chicago!
Give us a little more detail about what Happenstance does? 
Happenstance's goal is to educate listeners and make them feel more connected to their surroundings. Our app incorporates location-based technology to tag our stories to places in the city. When listeners are a few blocks away from a fun, unique story, we send them a push notification. They can then swipe, listen and learn something they might not have known about their neighborhood.
What inspired you to start this company?
In the summer of 2015, our co-founder/managing editor, Stephanie Choporis, was a graduate student at Northwestern University's Medill School of Journalism and tasked with the following assignment: develop an idea for a new media product. As a Chicago native, she enjoyed visiting new places in the city but often found herself traveling to destinations without knowing much about the history or people behind the walls she regularly passed.
She and her fellow classmates polled Chicago residents and learned that nearly 70 percent were interested in learning more about the city. This told them that a hunger for deeper city knowledge existed, and they started working on creating a storytelling app that shares fun, interesting and original stories about Chicago that people might not know.
Throughout the next few years of building, Choporis and her current group realized that the Happenstance app also served a dual purpose. Her team polled small, local business owners and found that they're struggling to find and reach their audience. Nearly 90 percent responded positively when asked if they would be interested in telling their companies' stories as a form of advertising, through a platform like Happenstance.
All of these findings inspired the team to move forward with a more robust storytelling app for the Chicago community and schedule a release in spring of 2019.
How is Happenstance impacting the world/your clients? 
Happenstance impacts the world in multiple ways. We're changing the hyperlocal media landscape by adding contextual relevance to stories. Listeners can not only learn new information but also make personal and geographical connections to it in real-time.
We're also preparing to launch our app in spring of 2019. Along with professional stories created by our in-house team, we will eventually allow freelance journalists/podcasters, media partners and listeners to contribute stories as well. This will create a storytelling ecosystem, which will help foster communication among neighbors and sustain local businesses.
What's an example of a story on the Happenstance app?
Our stories primarily focus on Chicago's food, arts, landmarks and sports. One of our favorites highlights the Gold Coast's International Museum of Surgical Science. If you're unfamiliar, the museum is exactly what the name suggests: a venue that showcases amputation kits, ancient surgical tools and more. But the fun, little-known twist that we provide is people also hold weddings here! You can hear the full story on our website: happenstanceapp.com.
What is the most important thing prospective investors should know about your company?
While our app is free for listeners, there are many ways to monetize through advertising that feels authentic. For example, we plan to offer sponsored content options that will allow local businesses to highlight themselves with unique, yet promotional stories. We will also offer other choices, such as sponsorships, promo codes and ad rolls, which seem to be the industry trend.
The market for podcast consumption also continues to grow! Edison Research reported earlier this year that 73 million Americans (or 26 percent) listen to podcasts monthly. In addition to that, 41 percent of Americans listen while walking around. So, we're building ourselves into listeners' regular habits.
It's also important to know that Chicago is just our starting point! We plan to start expanding to other markets, such as New York City and San Francisco, in a few years. We eventually envision the Happenstance app as the go-to storytelling app in all major, walkable cities with rich stories to uncover.
Is there anything we're leaving out here that you'd like our readers to know?:
Our team! We have expertise in each of the key areas that Happenstance needs to succeed: content creation, technology and business. Choporis has more than seven years of journalism experience in the Chicago area and also earned her Master's degree in journalism from Northwestern, which is often regarded as one of the top journalism schools in the country.
Our co-founder/CEO, Kathy Bartlett, has more than 20 years of entrepreneurial experience, holding positions in a range of industries, from finance to restaurants. Lastly, our newest team member, co-founder/CTO Lewis Gardner, has been involved in computer science and machine learning from a very young age, developing software for real estate owners, a prominent trading company at the Chicago Board of Trade and even his own ventures.
Sounds like a great team. Thank you Happenstance.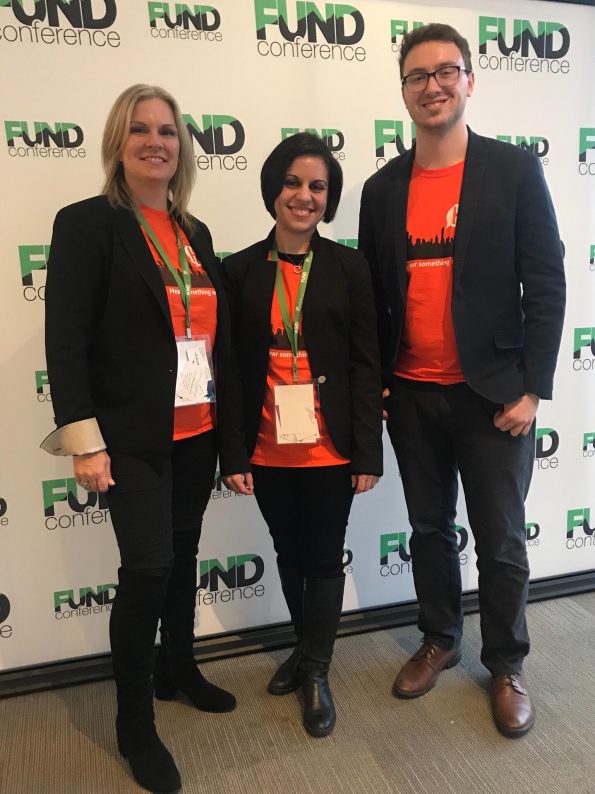 Team Info:
Co-Founder/Managing Editor: Stephanie Choporis
Co-Founder/CEO: Kathy Bartlett
Co-Founder/CTO: Lewis Gardner
HQ Location: Chicago, Illinois
Website: happenstanceapp.com
Company Facebook URL: https://www.facebook.com/hapsmedia
Company Twitter URL: https://twitter.com/hapsmedia
Company LinkedIn URL: https://www.linkedin.com/company/hapsmedia