As one of the most exciting industries in the world at the moment, the construction industry provides tons of people with an opportunity to make a living and do something good for the world around them. Whether they're into discovering new and unique construction materials or coming up with innovative design features that will revolutionize the world of interior design, these people can find their position in the construction industry quite easily. However, if they want to maximize their potential and do the most for their career, they need to follow some of the most important construction industry trends.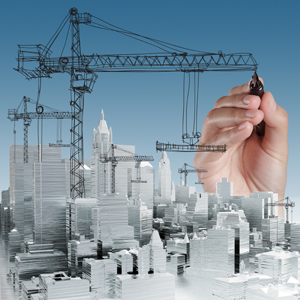 These trends define the construction industry and make it so exciting and appealing, and it doesn't matter who you are and what you do – from designers and builders to buyers and real estate agents – because these are the things you need to follow. If that's something you'd like to do as well, here are some of the most important construction industry trends you'll need to know in 2022.
Going away from the construction site
Back in the day, the construction site was the heart of the action and where every important thing happened. From designing to selling a property and all those different steps in between – everything was done there and that's what every professional in the construction industry knew. Today, though, a new approach is getting stronger and stronger, and it's all about going away from the construction site and doing some of the work somewhere else. This doesn't mean that the construction site isn't crucial anymore – on the contrary, it just means that certain parts of the process are completed elsewhere and then brought to the actual site.
The offsite building doesn't mean that everything is done remotely, and that's not completely true. Only some of the trickiest, most expensive, and least sustainable parts of the construction process are completed elsewhere, while everything else is still done on the construction site. This philosophy comes with several different benefits, and it's probably going to become even more important in 2022, so watch out for it!
Remote business force
Speaking of remoteness in the construction industry, this is another crucial trend that's going to define this industry this year, but in the years to come as well. There are two reasons for that – the fact that so many people are unable to leave their homes due to the global COVID-19 pandemic, on the one hand, and the fact that hiring people across the world has become easier than ever, on the other.
When it comes to the pandemic and all the troubles it has brought our way, it's safe to say the process of working remotely has been able to make things better for everyone in the construction industry. It's also allowed this industry to move forward in these hard times, so, if you're a part of it as well, don't be afraid to accept online video calls and other communication channels as legitimate ways to do business nowadays. And if you're thinking about hiring new people, don't stick just to those who are in your area – instead, think more globally and talk to potential candidates who are all over the world.
Use automation and digitalization
Automation is another of the vital construction industry trends you need to know, particularly if you're trying to become an important part of the construction industry. Unlike the slow and ineffective workflow that used to define the industry of the past, today's construction is all about doing things quickly, efficiently, and smoothly, and using automation is the main reason for that.
However, if you want to maximize this idea, you need to find people who can help you do that. Incorporating automation into your company's everyday life won't be easy, but if you find an experienced IoT company in Australia that's full of people who can help you do that, you won't have a problem switching to workflow automation. Additionally, you'll incorporate IoT and all of its benefits, and that's the best way to go if you want to make your company more successful than ever in 2022.
Let your drones do all the work
In the end, this is something that might fall into the category of science fiction, but it's also one of those things that have been around for a while – just in different capacities. Using drones in the construction industry is a great way to show the world how forward-thinking and creative you are, but it's also a move that provides you with an amazing opportunity to do something extraordinary and save time and energy while doing that.
Drones are already changing the construction industry as we speak, from surveying the land to improving the overall safety on the construction site, these things are doing more than we can imagine. But, their importance is only going to keep growing in the future, so check them out right now and learn more about their benefits before it's too late.
As you can see, the construction industry is constantly changing and growing, and that's something that's going to keep happening in 2022 as well. So if you're trying to make the most of these ideas, start checking them out immediately. Find a way to maximize the benefits of the most innovative construction industry trends.