Starting an online t-shirt is a relatively simple and low cost way of setting up an online business. To make it really successful though can be quite a bit harder and takes a bit of work. There is a lot of competition online for t-shirt sales. Your designs have to really click with consumers to sell in big numbers. It is definitely doable though and there are massive financial rewards for people who can pull it off. Here are a few tips to help you on your way to dominating the world with your t-shirt designs.
Design your products
Design might not be everything – you can hype your clothing line through marketing, advertising and creating an online buzz, but you will need strong designs to make good money from them. Do some research, check out as many other types of t-shirts as you can for inspiration and to see what the market is buying. For help with designs, and templates check out oberlo.com.
Consider where you'll be sourcing your T-shirts from
Make sure you are getting your t-shirts from a top quality supplier. Poor quality is going to get damaged easily or wear out quickly and that will hurt your reputation and will minimise your chances of repeat business.
Choose quality materials
If you are looking to build a viable long term business then avoid the temptation to go cheap with materials and print quality. The profit margin might be less if you use top quality materials or printing, but in the long run it will be more profitable as your brand gains a solid, trustworthy reputation.
Develop a strong brand
This goes hand in hand with the previous point, and it can take a while to build. Spend some time thinking about the niche you are aiming for, your look and what sort of statement you are trying to make. There are a lot of choices out there for consumers, so being unique and standing out from the bunch is what you should be aiming for in any online business.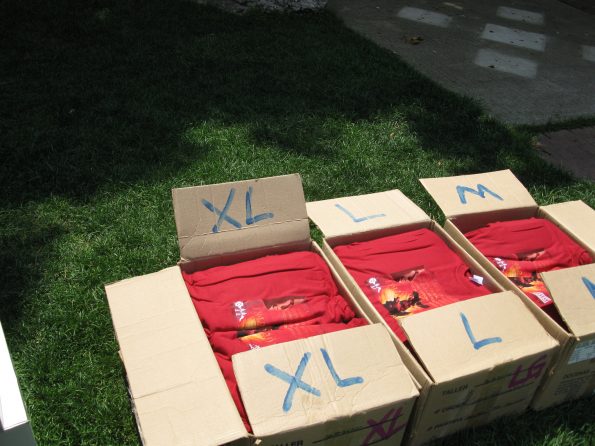 Set up a shop
Once you have got your product sorted, it is time to create your shop. After the time and effort you have put into sourcing and creating the perfect t-shirt range then setting up your online shop will be an absolute breeze.
Conclusion
Setting up a successful online business can be tough considering the competition out there, particularly for a clothing business. But, it is definitely achievable and can be extremely profitable. Follow the tips outlined here, read some success stories for inspiration and don't give up – you can do it!