There are many ways in which you can show appreciation to your business partners, but one of the most effective ones is to get them a gift they would like. This can be a tricky challenge at times, since you might not always know what they are fond of, but if you manage to find something they would love, your relationship will strengthen and continue growing in the future. To help you choose gifts for your business partners, we have compiled a list of suggestions based on the type of person your business partner is. Needless to say, the list of great gifts is actually much longer, but these ideas can at least help you start thinking in the right direction. You'll notice that you can find a great business partner gift in any price range for each type of person, but you do need to invest some effort into buying it.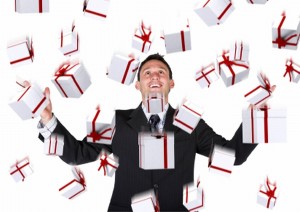 Professional type
You're bound to have business partners who love to keep everything smart and simple. They are those who always act professionally and finding a gift for them is not plain sailing. On the other hand, getting the right thing for them will go a long way. You might want to consider top-quality pens, leather-bound notebooks, sleek business card holders or similar items. The important thing is to choose something that is business-related, but also tastefully designed. Such gifts will not only delight your partners, but will also show them how serious and professional you are and how much you value your relationship and they will be delighted that you recognized what type of person they are with a professional business partner gift.
Relaxed type
In contrast to the first type of business partners, we have those people who are relaxed and easy-going, even though they often run large departments or even companies. Naturally, you need to pick a different approach when it comes to finding a gift for such people. They would surely appreciate one that oozes creativity and originality, such as personalized coffee mugs, calendars with funny comments or custom-made T-shirts. They might also like a framed poster with a funny quote, which would reflect their attitude to work. You need to remember that what they appreciate more than anything is the fact that you recognised what they like and made an effort to find a right gift for them. Basically, your creativity and imagination are the only limits to choosing the right business partner gift for those people.
Outdoor/adventurous type
Modern businesspeople are becoming increasingly aware of the importance of physical and mental health, which is why many of them are quite adventurous and love spending time outdoors. You surely have business partners who fall into this category. They love spending time in the open whenever they feel like getting away from their office space in order to recharge and get ready for what tomorrow brings. When it comes to selecting the right gift for them, you can't go wrong with one of sleek automatic knives, which is both practical and visually appealing. Alternatively, a well-designed compass, flask, water bottle or fire-starting kit could also be considered. Not only will your business partner find such a gift useful and practical, but they would also remember you each time they use it, which means they'll be appreciating your kindness more and more. Don't buy them clothes or footwear, since you might get a wrong size or design, but focus on gadgets and other small, portable items.
Food lovers
Those doing business with a person who loves, appreciates and cherishes food in a completely different way from those around them are probably the least demanding recipients of gifts. A basket filled with most exquisite local delicacies is hard to beat when it comes to finding a great gift, though a set of professional knives will also be appreciated for sure. Depending on your budget, you can also opt for one of the following: a high-tech pizza oven, a bottle of top-quality olive oil, a chef's apron and a tin of premium loose tea.
Getting the right gift for your business partner is at the same time tricky and simple. It pretty much depends on how well you know the person and what kind of reaction you're hoping to get. The gift should not be too personal or something that looks like a simple choice, because they would get the idea that you're either crossing the line between private and professional relationship or that you didn't want to invest any effort into choosing the gift. However, if you manage to get the right present for your business partner, the time, effort and money you invested in finding it will pay off most definitely. Your business partner will appreciate your attention and careful business partner gift choice, which will have positive effect on both your relationship and your business.