If you want your startup business to enjoy unparalleled long-term success, you have to get the basics right during the earliest stages of its conception. It's important to lay solid foundations right from the beginning, which is why you should seek to put all of the advice laid out below into practice. If you do, you'll be sure to give your company the best possible start in life.
Do you want your startup to be a long-term success story? 
Here's everything you must do right at the beginning of your venture to ensure that this is the case:
Develop a business plan
If it is to enjoy the best possible start in life, your business needs a plan. With a solid strategy in place, you will find it much easier to convince potential stakeholders that your company is worth investing in it. What's more, with this plan to fall back on, you will be able to measure your company's initial success and make changes if you ever deem yourself to be veering off track.
To develop a thorough and effective business plan, you must:
Include an executive summary, a company description, and a funding request in the plan
Analyze your market and take a look at what your competitors are doing to alleviate your target customer pain points
Ensure that your plan is adaptable based on the wants and needs of your audience
Explain why you care about your industry and talk about what impact you wish to have on it
The planning process also requires a clearly thought out startup tax strategy for the self-employed.
Surround yourself with a top-notch team
Your business might be your brainchild, but that doesn't make it a one-man-band. Quite simply, you aren't going to be able to take your business to the pinnacle of its industry alone. If your venture is to truly reach its full potential, you must surround yourself with a top-notch team during the initial stages of your business's inception.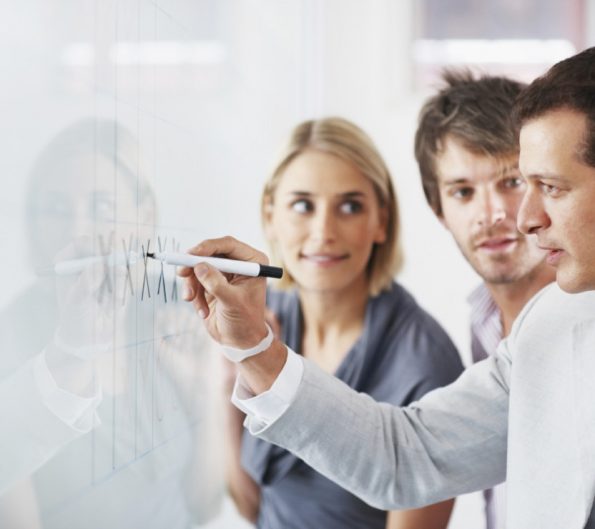 When it comes to creating this team of hardworking experts, it's important that you seek to optimize your onboarding process. This will ensure that you only ever hire the right people for the right jobs.
To improve your employee onboarding process, you should:
Test your candidates while you interview them
Provide new employees with a proper orientation (introduce them to their new colleagues, provide them with a tour of your workspace, make them aware of your company values, etc.)
Personalize each individual training program and make employee tutoring/shadowing a social experience
If you put all of that advice into practice, you'll be sure to transform your new-hire experience before your business is even up and running.
Clean up your online image
Your startup business will be doomed from the start if it is associated in any way with negative online content. If your name pulls up anything that might be likely to put customers off doing business with you, then you must spend some time cleaning up your online image before you get your business up and running.
Negative online content can come in all shapes and sizes. Perhaps you owned another business in the past that, for whatever reason, didn't live up to customer expectations and received a lot of criticism and bad reviews as a result? Maybe you uploaded inopportune content onto your company social media pages when you were still a young, fresh-faced entrepreneur?
The point is, you should set about the all-important task of removing Google search results that have the potential to damage your startup's reputation. By ridding the web of all negative and defamatory content that is attached to your name, your target consumer base will be far more accepting and welcoming of your new startup business and its brand.
Keep your personal funds separate from your company cash reserves
If you want your startup business to be strong enough to survive the ups and downs of its market, it needs a healthy cash reserve to fall back on at all times. To ensure that this reserve remains healthy, you cannot keep dipping into it in order to cover your living costs. No matter what financial trouble befalls you in your personal life, you have to keep your hand out of your company's cookie jar at all times.
To ensure that you aren't tempted to blur the lines between your personal finances and your business cash reserves, you need to get the former in order before you go ahead and start your business. When you decide to take on the all-important challenge of cleaning up your personal finances, be sure to:
Ask for financial assistance from loved ones should you ever be at risk of falling behind on your personal bills and payments
Only ever borrow money from a reputable lender, only borrow the amount of cash that you need to cover your debts, and make sure that you are going to be able to pay back the amount that you borrow in full and on time
Create a budget for yourself (this will be good practice for when your business is up and running)
Additional advice
Depending on your specific circumstances, it is recommended that you put the following additional pieces of advice into practice as best you can:
Start your business while you still have a full-time income to rely on. Once your startup gains a bit of traction, lower your 'day job' workload down to a part-time schedule.
Be passionate about the services that you provide as this will provide you with the motivation you need to circumvent hurdles and challenges.
Don't go it alone — partner up with somebody else if you share the same passions with them.
Build your consumer base before you go ahead and launch your business.
If you want your startup business to enjoy long-term success in its field, you must resolve to build a solid foundation for it during the earliest stages of its inception. To build and strengthen these foundations, you must resolve to give your business the best possible start in life.