According to Census data reported by Quartz at Work, a home office was the principal place of business for about 5.2% of U.S. workers in 2017, up from just over 3% in 2000. Meanwhile, a Gallup survey using a far less strict definition of working from home found that nearly half of all American workers spent some time working remotely from their residences.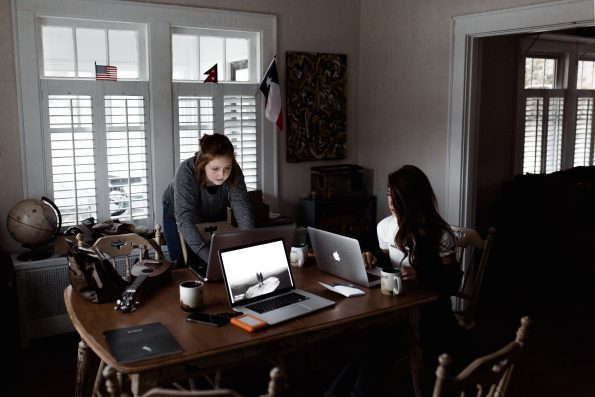 No matter how you slice it, more Americans work from home than ever before. Perhaps you're thinking about hopping on the bandwagon, too — maybe in a bid to reduce your new enterprise's startup costs.
Before you set out on your work-at-home journey in earnest, make sure you've taken care of these five essentials.
Set Up a Real Home Office
Before you do anything else, set up a real home office. Where is up to you — common places include under-utilized spare bedrooms, bonus rooms, pool houses, even suitably sized under-stair alcoves. Use your home office exclusively for business purposes and you might qualify for the IRS's home office tax deduction, which could reduce your federal tax burden by hundreds or thousands of dollars.
Look for Opportunities to Get Out of the House
Even if your work is entirely remote, look for opportunities to get out of the house. Sign up for industry trade shows, hit up old colleagues for coffee or happy hour (the better to pitch them), or volunteer around town on behalf of your at-home business.
Better yet, pursue a work-at-home opportunity that gets you out of the house by default. Fundraising distributors help raise money for worthy local causes; as we learn from ABC Fundraising, entrepreneurial fundraising distributors working full-time from home can earn $5,000 or more per month.
Upgrade Your Filing and Recordkeeping System
Invest in a filing cabinet with hanging folders, a secure cloud storage subscription with plenty of room to grow, and ample external storage media for files you don't want to store in the cloud. This relatively modest investment — perhaps $200 upfront, plus your recurring cloud subscription — will pay off handsomely in saved time (and lower stress).
Take Advantage of Low-cost Business Software
Don't stop with your cloud storage subscription. Every work-at-homer needs a scalable accounting program; your business likely has other needs as well. When in doubt, consult with peers who've successfully navigated the transition to full-time at-home entrepreneurship.
Delegate Low-value Tasks, Even If You Can't Hire Full-timers Right Now
You can't do it all. Literally, you can't — there's not enough time in the day. Outsource low-value tasks, like email and calendar management, to a virtual assistant; use freelance contractors to complete discrete tasks, such as scheduling social media posts and composing new content for your business blog.
Working from Home Is an Adventure
One thing is for sure: working from home is an adventure. That's true no matter what you do for a living.
Doing these five things won't guarantee a smooth transition to full-time work-at-home life, but they're sure to make things easier on you. With careful advance planning and dutiful application of the work ethic that's brought you to this point, you might just shave valuable days off that transition and turn up your lean, mean work-at-home machine ahead of schedule.
Who knew the adventure of your life could be so profitable?