Starting a business during a global pandemic is certainly challenging but with the right mindset and approach, there's no reason that your venture can't be successful. Many people have found that due to government restrictions on movement, they have been spending more time at home looking for ways to pass the day. This is the perfect opportunity to get started on that home-based business idea that you have been putting off pursuing.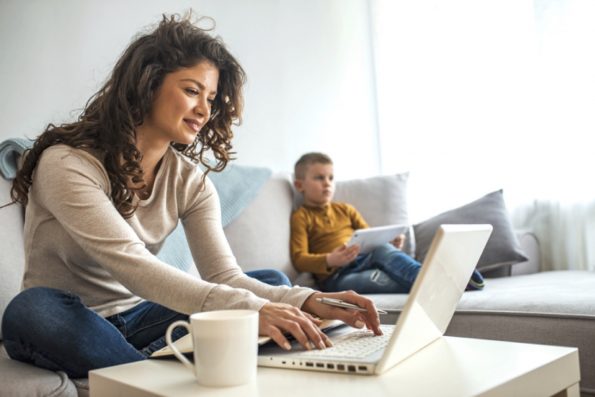 While it might seem like the world is closing down and that there is little hope for businesses to survive, nothing could be further from the truth. Some sectors have certainly been hit hard by COVID, such as travel and hospitality. However, many others are thriving such as delivery businesses, cleaners and online service providers. With more and more consumers shopping online due to the pandemic, there are more opportunities to enter the e-commerce space. With the right idea and the right approach, you can ensure that you get your home business off the ground successfully, regardless of the impacts of the Coronavirus crisis.
Continue reading to learn how you can start a home-based business in the COVID era.
Get Your Finances In Order
Before you can embark on your new venture, you will need to ensure that you have enough capital to get your new business started. Whether you choose to set up an online savings account and start saving months in advance, or you reach out to investors, you will need some money to kick-start your business. Depending on your business type, you may be able to bootstrap your startup with very little cash. Be sure to assess your costs for the first few months to make sure it is financially viable for you to launch your new business. If you don't have adequate financial backing, you could be closing your doors before you ever really get started.
Consider The Needs Of Consumers
When you are launching any business, it's always wise to take a customer-centric approach. Understanding the needs of consumers will help you to deliver a product or service that is in demand and will sell. You need to ensure that your business idea is viable and that it will satisfy a current need or want in the marketplace.
Build An Online Presence
Even before you officially launch your business, you can create your social media accounts and start getting active on the various platforms. Connecting with potential customers and others in your industry will help to build a stronger brand identity as the general public become more familiar with your business. Having a strong online presence in the COVID era is critical to your success as an increasing number of people are seeking out products, services and information online than ever before.
Create A Solid Business Plan
For any business to succeed, you need a solid business plan. This document should highlight your short and long term goals, layout your financial strategies, include any obstacles that your business might face and how you will overcome them and details about your business operations. In the current climate, it's crucial that you put a plan in place that allows your business to remain flexible so that you can adapt to changes to the business landscape and the market, as they happen. Be sure to revisit your business plan periodically and update it as necessary to ensure it remains relevant.
Start A Successful Business For The Comfort Of Your Home
Running your own business can be challenging, however, by setting yourself up with a solid foundation from the outset, you will have every chance of your business succeeding. In these difficult and uncertain times, you will need to ensure that you focus on providing the best customer service possible and stay connected with your target audience. With the right idea and a lot of hard work, you can launch your new business with confidence and start reaping the rewards of running your very own home-based business.