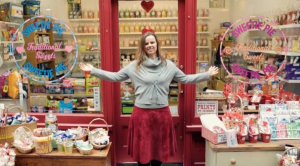 Having a .co.uk domain, is a great place to be. Having a .co.uk domain, shows you are part of the growing British online industry. At The Startup Magazine we decided to be a .co.uk in order to capture the spirit of British startups and entrepreneurs on one website.

Another real success story of being a .co.uk business can be found when looking at sweetiepiesweets.co.uk. Sweetiepie Sweets is a company started by Vanessa Clark. It now receives orders and enquiries for her traditional sweets and retro gifts all over the UK, and her online sales are predicted to grow by 70% by 2013. Sweetiepiesweets have a video showing their great work:

Another example of such success is Tregothnan. Tregothan.co.uk is a tea producing company based in Cornwall and Kent. Tregothan have a great video explaining all the benefits they get from being a .co.uk business, and becoming a £1.2million a year company. Tregothan have a video showing their great work:

Over 25 years a go the first .co.uk domain name was registered, now there are over 10million .co.uk domain registrations. Today is a better time as ever to join sweetiepiesweets, Tregothan, and The Startup Magazine, and become a successful .co.uk company.
Are you a .co.uk website and want to share your story? Please add your company website in the comments below and describe your journey!
This post has been proudly sponsored by Nominet, but all thoughts are our own. If you would like to sponsor a post on The Startup Magazine, please contact us.
Related articles