e-Commerce sales this holiday season hit $80 billion, up 13.9% from last year. This huge growth reflects a global trend that is set to continue throughout 2016. In 2015, retail products and services purchased on the internet will account for $1.671 trillion – by 2019 this is expected to more than double – with eMarketer projecting $3.578 trillion.
As this industry continues to grow there is no failsafe solution to guarantee online shoppers will actually receive their goods. The giant that is UPS has starting the motions to incorporate smart technology in the delivery chain, but as the world's largest delivery company makes slow changes, it appears the startups have gotten in there first.
uCella's smart technology and hardware installed outside the customer's house and controlled directly from the app aims to solve this problem, making the e-Commerce experience a smooth process, with guaranteed results.
"E-Commerce is an outstanding tool for shopping, but in many cases there are failures in the last stage of the transaction, the delivery of the product to the consumer, leaving both the retailer and the consumer disappointed," says Shuai Jiang, CEO and co-founder of uCella.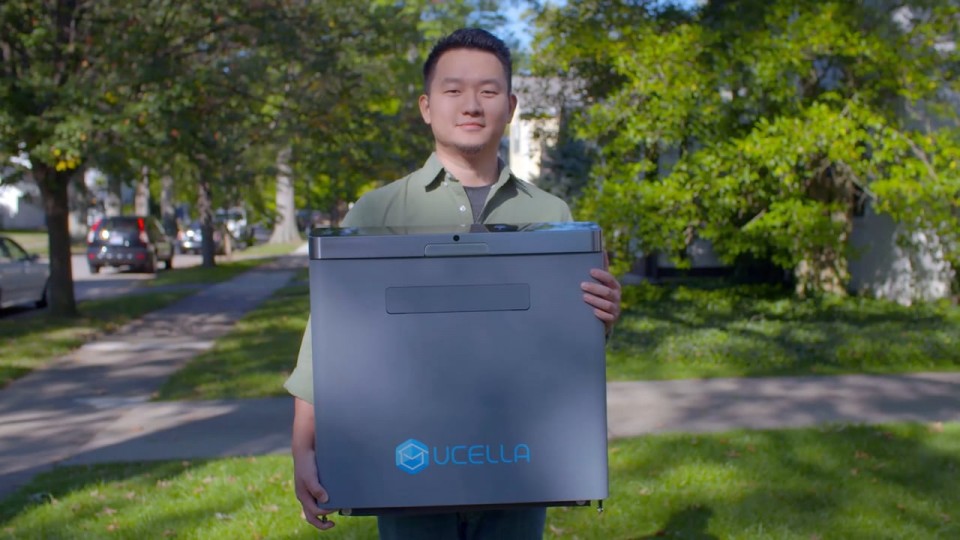 We spoke with Shuai Jiang about the growth of e-Commerce and how his product aims to redefine the delivery service industry.
Shuai, what are some of the problems faced in the package delivery industry?
Traditionally, package delivery services are effective, but by no means have they been able to guarantee that packages will be delivered to their intended destination. Much of this comes down to the sheer volume that the package delivery services face on a daily basis, which leaves countless chances for error. However, the major reason is that most carrier services use outdated technologies that do not effectively manage the parcels they are delivering.
The result is that many packages get lost in transit or encounter significant delays. This unfortunately has left many consumers disappointed, and perhaps even a little mistrustful of purchasing products online in the first place. With advances in cloud and app development technologies, we can now avoid many of the issues that have until now been faced by package delivery services.
How does uCella aim to solve these issues faced by traditional package delivery services?
We provide our customers with secure, weather-resistant containers that are high-quality and expandable. These containers are embedded with smart technology and Wi-Fi that is synced with the customer's email account. When a carrier delivers a package they must scan the tracking number barcode of the package to unlock the uCella container. This action unlocks the container and allows them to safely store the package inside and then close it, which then safely locks the container until the customer comes to collect it.
When the package is delivered successfully, the consumer is notified that their package is delivered through the uCella app, which also provides customers with the ability to check retailer return policies, consult customer support networks, and schedule pickups for returning the package.
The whole system is designed to optimize package delivery so that customers can receive, return, track, and manage parcels without any hassle. The technology behind uCella is secure and efficient, thus ensuring that no packages will ever be lost, stolen, or missed.
How did you come up with the idea behind uCella?
My co-founder and I developed the idea behind uCella while studying in the MBA program at UC Berkeley's Haas School of Business. I had originally conceived of the idea when my son was born and my wife and I started doing the majority of our shopping online. Shopping online was so easy, but often I was left feeling frustrated about the delivery system by which my purchases were sent to me.
When I spoke with my friends about this, I discovered that they encounter the same issues. I began thinking about all the advances we have had in technology (think Google self-driving cars) and I came to the conclusion that there must be a better way to have packages delivered. This was the launching point for the idea behind uCella.
What are your plans for the future development of uCella?
Our immediate next step is to rollout uCella in several neighborhoods around the San Francisco bay area. By creating a dense install base, we will be able to build close partnerships with delivery companies on a regional level. We also aim to continue to develop the technology behind uCella, so that can continue to provide our customers with the most up-to-date, quality service available.
How easy is it for delivery services to understand the uCella features? Have you experienced issues in introducing this technology as a third party?
When we were working on the initial design, we talked to many delivery drivers to make sure it is easy for them to operate in 3 simple steps. During our field test, we placed a small sticker above our device to give drivers instructions on how to operate. They had no problem following them and after a couple deliveries, they were able to perform the procedure without any guidance. We provide these stickers with every uCella device.
Many people aren't aware that delivery drivers hate leaving packages by your doorstep because they are liable for missing packages. uCella helps the drivers to deliver packages with confidence, and be more efficient at the same time.
Who do you see benefiting the most from this technology?
uCella will benefit online shoppers and delivery companies, as well as e-commerce companies.
For online shoppers, uCella will become their post purchase concierge helping them receive, return, track and manage all of their online orders. By utilizing uCella as their delivery end point, delivery companies will significantly reduce multiple delivery attempts, eliminate package misplacement, and decrease the risk of package thefts.
These last mile process improvements translate to huge dollar savings and much higher customer satisfaction. In addition, uCella's visual proof of delivery gives retailers peace of mind knowing that the packages find their homes safe and sound. Overall, by solving the long-standing pain points for major stakeholders in the last mile delivery process, uCella aims to transform the U.S. e-commerce experience.
What are your focus markets – and how to do plan to grow as online sales rocket?
We are focusing on frequent online shoppers who live in single family houses, town-homes and apartments with private entrances around suburban areas. Based on data provided by U.S. census and leading e-commerce companies, there are around 38 million consumers in the U.S. that fit these profiles – a huge market. As online shopping becomes an everyday activity, our target market will grow dramatically in the next couple years.
Why do you think that industry leaders such as UPS have yet to provide such as solution?
In a recent USPS technology report, 'The Internet of Postal Things' the concept of smart mailbox was brought up as a way to improve delivery efficiencies. But implementing such solutions as a carrier is very challenging because of exclusivity issues. Since most of the e-retailers do not give consumers the option of picking carriers, consumers would not be able to take full advantage of the device and it is unlikely that they would install multiple package boxes on their front porch.
uCella stands for universal cell – we are the single platform that aims to connect all players in the e-commerce chain, making a perfectly reliable shopping experience for all.