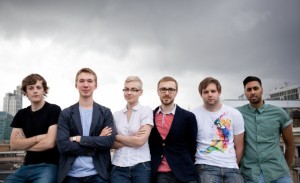 Silicon Roundabout is full of ideas, passion, discovery and excitement.  In cafes, bars, forums and parties across London, there is surely no more exciting phrase than the one 'Actually, I'm running my own Start-Up'.  But for all the potential and success embodied in starting a Start-Up, the journey can be a daunting one.  And so I set out to talk to modern day Shepherd Alex Berezovskiy, the CEO of Leto – a start up consultancy offering business advice, engineering services and online promotion to the next set of aspiring entrepreneurs here in Tech City.
Leto (Leto means 'Summer' in Alex's native Russia) is an Agency – a Start Up Agency – focused upon building businesses – Start-Up businesses and established global brands – with their own unique mix of advice, guidance, product, ideas support and networking support.  In the organic spirit of The Roundabout, Leto was born of Alex's own casual giving of tips and advice to friends.  That natural ease of ideas exchange led to his formalising of the organisation, which is now an eight strong group with an impressive record of Consulting success.
But what does a Consultancy really offer to new start ups?  Ironically, one of Leto's strengths is the work they have done for large companies: last year, a major film company who had their iPhone app in place, asked Leto to mock up an Android equivalent.  Leto completed the project in a mere eight weeks, spinning around the app to allow the group to efficiently test and assess the merits of the product.  This is of course, the true value of Leto; a group that can remove the risk factor for Start Ups:  how do you know if your idea is a good one?  How do you craft and idea for a product?  How do you know if a product will work?  Test it.
In the personality driven world of Tech City, Alex has clarity of thought and easy charm that implies Leto's approach to product prototyping and quality of consultancy.  He tells me 'Our speed of delivery, our efficiency in costing and the quality of our products, set us apart.  With the film group's project, we presented a thorough account of functionality and possibility, in a short space of time.'  And he even lets a glimmer of the traditional Development buzz emerge with his cheeky admission; 'it was a late night, early morning, and sometimes all night project, but it was a fantastically exciting one for us,' It is this enthusiasm that strikes me throughout our conversation, that this Consultancy really does have a passion for new businesses that I must admit, is contagious.
The nebulous world of ideas shows no signs of slowing in the modern age, and it poses the question 'When does an idea become an Idea?'  Leto's approach is a relaxed one; ' Even the smallest idea can come to Leto.  Of course, the ideal is to at least have a sense of your customers and the potential market or consumer, but there's no better way to test your ideas viability than by talking to others.'  Which makes sense, and is just how Alex came to build Leto.  There is something refreshingly jargon-less about a consultancy that believes in 'basic conversations', and from its Tabernacle Street HQ, has the team to inculcate that.
On team sizes, Alex shares thoughts relevant to any start up; 'We are currently eight people at Leto, which is important.  When you are small, you have much more agility and flexibility in decision making.  There is nothing holding us back at Leto and each member of the team can craft their own approaches and paths without a bureaucratic or political layer of permission.'  It's a point that resonates with me as Alex continues; 'Ultimately, an empowered staff embodies a culture of responsibility and crucially, trust.  It's an active, on-the-ground culture that means the company can react swiftly to any clients requirement'. And of course, in the classic style of a lean organisation, staff have a natural instinct to collect new business without the more fabricated sales approach of a corporate consultancy.  Could I go as far as to say that that makes Leto's client list more genuine and authentic?  To a large degree, yes.
In the spirit of a group that believes in recovering from error, and that mistakes are merely opportunities to learn and build new steps into the creative process, Leto has a growth strategy in place to expand globally.  Inherently driven by a collaborative instinct, Leto already runs a series of Start Up Rally's -a series of pitching competitions – and networking events, with a view to expanding in Europe.    The preponderance of San Francisco, New York City and London does not faze Alex, who has noticed UK investors looking increasingly toward Paris, Stockholm, Munich and Copenhagen, amongst other European destinations. This pan global approach however speaks of Leto's networking enthusiasm.  The group regularly bring together investor angels and venture capitalists, as well as pairing business partners with emerging start ups.  It is that form of introduction that can, for many start ups, provide invaluable launch pads.
'Our consulting project with the film company was enjoyable for the sheer scope of the brand' Alex tells me when I ask him about his most satisfying achievement to date; but he is genuinely outspoken in decrying any Gordon Gecko notions; ' But the smaller start ups, and indeed groups of any size, are just as satisfying.  With any start up, we seek to collaborate, to build that idea and company to such a stature that it can credibly seek investors or be invited to join an accelerator.'.  It is an inspiring notion for any potential start up and Alex sums up both his and Leto's ethos succinctly; 'We create new businesses over here.  I feel like we are contributing to Tech City.'  It is that authentic belief and sense of mission I glean in this interview that makes Leto so appealing; this is a group that cherishes and relishes its role in building the next circle in the Roundabout.
When asked that most salesy of questions 'What makes you stand out from your competitors?' the CEO takes it in his stride.  Alex tells me how Leto runs on a culture of amalgamation and partnership; that making any interested or parallel group part of their network is more important than outrunning a competitor.  It's an attitude I admire, and reflects the unique new business rules of Tech City.
Leto's website and blog speaks of a team of enthusiasts, honest and open about new ideas, an intellect and interest in methodologies, products, and being a lively present player in the client's journey.  From an afternoon chat with the CEO to its Internet shop front, transparency and a strong aura of proactive collaboration characterise this group in a way that perhaps embodies the very spirit of Tech City itself.  With an ambitious streak and a clear commitment to ideas, we will watch with excitement as Leto further establishes itself upon the Silicon stage both home, and away.
Leto is currently organising a Startup Rally running across 9 cities in Central Europe this June, bringing together international entrepreneurs.  Any start-ups wishing to take part can register on http://startuprally.org
Related articles