When the excitement of setting up a new enterprise starts to fade a little, you'll be faced with the impending expense of actually kitting out your fledgling productivity zone – and that can be daunting. Don't let a modest budget put out your entrepreneurial fire, as the following guide can help you get your office design ready for business while staying in the black.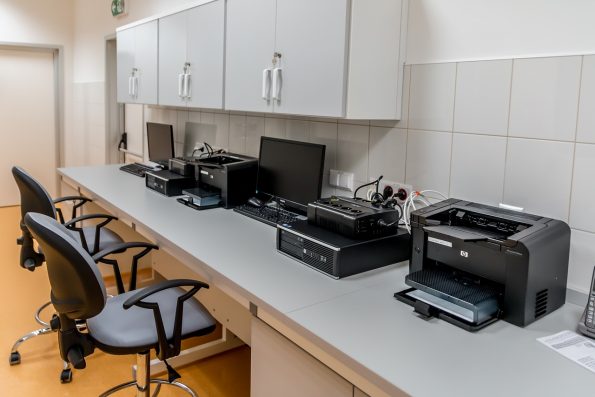 Start with Furniture Essentials
You could commission a one-off chandelier from Rocco Borghese, but it's probably a more sensible option to go cost-savvy with a cheaper home furnishing specialist. A representative from vidaxl.ie recommends opting for functional, attractive furniture, and says: "Focus on what you really need, with a desk, supportive chair and suitable storage pieces all being at the top of your priority list. From there, you can start to accessorise and personalise."
Be Tech-Savvy
There is no rule of thumb here, and while some people will say that it's best to buy cutting-edge technology to keep you at the forefront of new developments, others will say that as long as what you have works, you can seek to replace and upgrade as and when you really need to.
You can try to pre-empt needs as much as you want with office design, but there will always be a wild card, especially in business, so rather than putting all of your start-up eggs in one expensive basket, perhaps it is best to take your time, make the most of what you already have and see how your needs evolve.
Don't Bulk Buy…Yet
It's true that when you buy anything in bulk, the individual cost comes down, but when you are just setting up a new office, you don't need 5,000 pens, reams of printer paper or 10 years' worth of ring binders. There will be plenty of time for taking advantage of bulk discounts later, and by then, you will probably have a slick storage system in place ready to house everything efficiently.
Embrace the Digital World
Having paper copies of everything costs more than just the environment – it will rack up serious bills in terms of paper and printer cartridge buying. Try having a system where everything is scanned or uploaded immediately, either to a connected network or external storage devices. You can go an extra step, too, by negating a traditional phone system and instead, having something in place that connects directly to individual mobile phones.
If you only choose to take one element digital in your new office, make it your accounting. So much space is wasted by keeping receipts, paper invoices and the like and there are countless variations of accounting software that let you take a snap of a receipt, before simply throwing it in the shredder. Cloud-based storage is considered very beneficial.
Wave Goodbye to the Fax
How long has it been since anybody used a fax machine? With email, smartphones and video conferencing the norms, fax machines have become nothing more than expensive, bulky space wasters. Don't fall into the trap of assuming you need one when you set up a new office, as all you really need is a phone and a working email address, and you can transmit all of the same information – more efficiently and quicker, too.
Setting up a new office can be simple, cost-effective and exciting as long as you focus on the office design basics and ensure that your connectivity and comfort are your main priorities. A good desk, proper office chair and an email address could be all you need to make your next business a huge success.