With the rising popularity of remote working, more people are deciding if working from home is a better alternative to the office life. Besides obvious reasons such as removing commute time, if designed properly, having a home office can actually increase your levels of productivity and comfort. In this guide, you'll find the essential areas to on which focus, as well as some mistakes to avoid when setting up your home office.
What you need to focus on
When you decide to set up an office, start by defining your work style and the layout that would be suitable for it. The important things to establish are whether you will work alone or have people coming over for meetings or discussions as well as what equipment is essential for your work. When you have made these decisions, you can start thinking about the layout.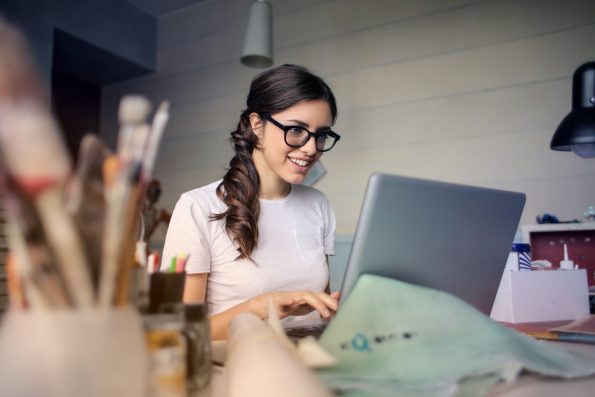 Although you should tailor your working space to your style, there are some general aspects that are going to provide a great base for your design. These general tips on how and where to direct your attention will help you get started.
·       Separation from home
Creating a work-life balance is crucial, so you should clearly separate the office from the rest of the home. Thinking you can resist distractions is a mistake so it's best to create privacy for your office. However, if you're renting a smaller apartment and don't have an entire room to repurpose, make use of bookcases as dividers and separate a part of the room from the rest. In this scenario, you don't have a lot of space, therefore you need to organize it efficiently. Which leads to the next point.
·       The layout of the room
Storage space is essential, especially if you'll be working with different resources and files. Since being organized will reduce stress and moments of panic-induced material searching, try to have a place for everything and stick to it. Get a spacious desk with options for storage and try to adjust it to your style of working. Use trays and cups to store everything from pens to notepads, cards, documents, and anything else you might need.
It is also important to make sure to have plenty of natural lighting coming into this area. If there are windows, make sure to not cover them or block the sunlight other than perhaps thin curtains for a soft filter. If there are no windows, invest in high-quality lighting, with options to control the intensity and the hue of the light. Yellow lights are easier on the eyes, but again you should be able to adjust it to your preferences.
·       Healthy environment
The proper lighting is very important for your health, but there are other things to consider for the same reason. For instance, make sure you allow for fresh air to come in before starting your work, so that your brain has all the oxygen it needs to perform accordingly. Invest in quality office equipment like ergonomic chairs, keyboards, and mousepads. If you're working a lot at a computer, consider wireless equipment so that you can work on laptops, both sitting and standing. If you're comfortable, you can work longer hours more efficiently.
·       The color of the room
An aspect that many people overlook is color. The color of your office can transform the space and help you achieve your targets. Colors have a subtle psychological impact, so it's important to create balance in your office, without overstimulating. Green is the color of nature and offers great comfort for the eyes. Coupled with plenty natural light, it revitalizes the working place. You can also go for more subtle tones, such as grays, and pair them with colorful accents, like decorations, in purple, yellow, or red.
Mistakes to avoid
Besides knowing what to do, you should also be aware of some mistakes that people often make and avoid them. Some of these aspects might not seem like mistakes at first, but they can become traps we set for ourselves.
·       Inefficient use of space
Space plays an important role and you need to use it wisely. Equipment such as large printers and copiers may not be necessary, but they'll take up a lot of space. If something is not essential, it's better to not invest in it at first since you might not use it. As mentioned above, it's smart to invest in wireless technology, but if there are cables and wires involved in the equipment, make sure to manage the situation and organize the cables to prevent a mess.
Decorations are nice since they can bring more comfort and they offer the office a personality. However, try to not bring large decorations or objects that take up a lot of space and are of no use for your efficiency. Minimalist designs are best when it comes to using space efficiently.
·       Not getting insurance
This is something people usually forget, but if you are working with high quality equipment or you have expensive gear, you should look into getting insurance for it. In cases of damage or disasters, you should be at ease knowing you are covered.
With this in mind, you are ready to start your journey towards the perfect home office. If you're not sure about taking this step, there is another idea to consider. If you are living in a rental apartment, you can deduct part of your rent as a business expense but only if you have a delineated home office you use exclusively for work. With this cut in living expenses, plus no money spent on transportation, the financial benefit can be the deciding factor when creating your home office.
About the author: Mihaela is a passionate reader and writer, with an affinity for language and linguistics, as well as the latest technological developments. She discovered her passion for real estate at RENTCafé, and you can read more of her articles on their blog.