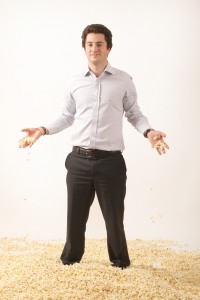 Metcalfe's Food Company was founded in 2009 by Julian Metcalfe (Co Founder of itsu and Pret a Manger). We sell affordable, delicious and healthy food snacks under our two brands (itsu [grocery] and Metcalfe's skinny).
itsu [grocery] was created to take the much loved itsu brand into retail like Häagen Dazs and Starbucks have done. The itsu [grocery] range can be found throughout the UK in places such as Sainsbury's, Waitrose and Whole Foods Market.
Metcalfe's skinny is on a mission to rustle up healthier alternatives to crisps, cakes and cookies. We have a growing range of delicious and light corn-based snacks made with top quality ingredients and limitless love and care. Metcalfe's skinny can be found in UK retailers nationwide.
Robert Jakobi first approached Julian Metcalfe of Metcalfe's Food Company four years ago in a determined bid to push his innovative chocolate-covered edamame snacks, 'Pod bites' into the hands of the creative mastermind. "I sent the products to Julian because I felt itsu, with its Asian origins, would be a perfect outlet for chocolate edamame," explained Jakobi. From there, Jakobi became Managing Director of Metcalfe's newly established business, Metcalfe's Food Company.
While Jakobi heads up the day-to-day running of the business, Julian is left with complete freedom and autonomy as Creative Director, leading all new product development for the brand. Clearly, this partnership is effective. Since partnering in 2010, turnover has risen 30-fold to almost £10 million. Jakobi plans to take the business to continental Europe and the US within the next five years. The business has successfully filled a gap in the market for affordable healthy snacks under the itsu grocery and Metcalfe's skinny brands. The itsu grocery range includes a range of noodle pots, miso soups, seaweed thins and chocolate-covered edamame (formerly Jakobi's 'Pod bites'.) The Metcalfe's skinny range includes Topcorn, Corn'ers (low calorie nachos), and the newest of the corn-based snack range, 'Metcalfe's skinny Corncakes'.
The Startup Magazine had the pleasure of interviewing Robert Jakobi this week to find out more about Metcalfe's Food Company.
Who is your startup aimed at?
I would say anyone who loves affordable, delicious and healthy products and anyone who likes to snack on-the-go. Our products are particularly popular with the health conscious consumer.
How does your startup stand out against its competitors?
We sell innovative, high quality and great tasting, healthy snack products in the market.
Our key points of difference are:
Innovation: We are obsessed with creating the most unique and exciting products in the market.
Product quality and taste: This is and will always be our top priority.
Brand history: We have a particularly interesting brand history, having been launched by Julian Metcalfe. Julian has built up two of the most renowned restaurant chains in the UK of the past 50 years (itsu and Pret) and in doing so has changed the face of the high street.
Where did the idea for the startup come from?
Julian had started Metcalfe's Food Company initially to make popcorn to sell to his two chains itsu and Pret. This was back in 2009. He had always wanted to build a snack food brand so he started by supplying his own two chains. Julian believed there was a gap in the market for gourmet popcorn as a healthier alternative to crisps.
What is your business background, and what got you interested in startups?
My background is in Finance. After graduating from the University of Pennsylvania in 2007 I went into investment banking. I worked at Barclays Capital in New York before moving back to London. I then left Barclays to work for a boutique hedge fund.
I had always wanted to have my own business. In March 2009 I launched Pod bites in London whilst continuing to work for the hedge fund. Pod bites was launched as a snack brand specialising in chocolate and yoghurt covered edamame beans. They were a delicious, healthy and indulgent alternative to chocolate bars, but more interesting than chocolate raisins or peanuts. In terms of the products, no one had seen these before. I'm proud to say I was the first person to launch chocolate and yoghurt covered edamame.
I very quickly secured listings in Harrods, Harvey Nichols and Selfridges. I was very keen to have the Pod bites range stocked in itsu so I tracked down Julian Metcalfe. itsu is all about healthy, Asian-inspired fast food hence it was the perfect outlet for Pod bites.
I always had entrepreneurial tendencies but Penn (as it's commonly known) really brought these to the fore. There were a lot of very driven and smart people there and I really thrived in this type of environment. I found it to be a very inspiring place. I actually had the idea for Pod bites whilst I was still studying at Penn.
How did you initially raise funding for your company?
The company is self-sufficient. To date we have not needed to raise any funds.
What has been your greatest achievement so far?
I don't think I can single out one achievement. We have achieved so much in such a short space of time.
I am very proud of the team I have built up at Metcalfe's Food Company. We have gone from 1 (myself) to 18 full-time staff in just over 3 years. The average age is 26 and eight of the team are Oxbridge graduates. A lot of people have joined as interns and have then been taken on full- time, rising up the ranks very quickly.
How long has the your startup been in the making, and who is the team behind the business?
Julian started Metcalfe's Food Company back in 2009 initially to make popcorn to sell to itsu and Pret. When I joined the business in 2010 the business was simply a popcorn company with only two retail outlets with annual sales of £300,000.
We are now more than just a popcorn company and have two brands (itsu [grocery] and Metcalfe's skinny). We have grown by over thirty times and now deliver annual sales of over £10 Million. We have actually just been included in the 2013 Sunday Times Fast Track 100.
We have a very dynamic, young and entrepreneurial team. They have all in different ways been responsible for the success of the business over the last few years.
What has been your biggest challenge so far as a startup owner?
I would say the biggest challenge has been to stay focused. When you are growing so fast and there are so many opportunities to develop new products you can easily get ahead of yourself and go off track.
In the coming year, what would you like to achieve with your business?
For Metcalfe's skinny we would like to continue to cement our position in the UK as the market leader in popcorn and corn based snacks. We are also launching the brand overseas in Northern Europe so this will be a big part of our focus.
For itsu [grocery], our main priority will be launching two really big new products, which we are confident will be very successful.
If you could give one piece of advice to someone thinking about starting a business, what would it be?
My one piece of advice would be persistence.
When I first approached Julian he never got back to me. I called and left countless voicemails. I emailed and never got one reply. Most people would have given up chasing after a few calls and emails. I didn't.
Related articles