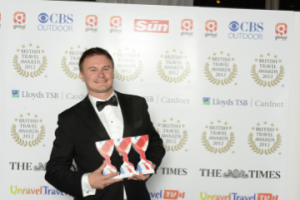 Multi award-winning luxury travel company, Destinology, is celebrating 10 years of continued success with record turnover and plans to expand the company in 2014
Since its inception in 2004, Destinology has been a true anomaly in recession hit Britain achieving unprecedented growth and success within the travel industry. The company has gone from strength to strength over the past 10 years growing from a modest team of 10 into a prospering business that now employs 110 people.
Dominic Speakman, Destinology's CEO, has put the company's accomplishments down to their customer-centric approach stating, "Our continued growth is testament to our incredible staff who constantly surpass client expectations through their outstanding customer service. One of my proudest achievements is the 98% satisfaction rating our customers have given us on Feefo.com"
Having gained notoriety and recognition in the competitive luxury travel community, the brand is now respected as a powerhouse within the travel industry. This success is due to the forward thinking of Dominic Speakman who identified a gap in the market and, from the outset, unashamedly targeted luxury travel clientele with an extensive roster of hotels, frequented by the rich and famous, in the world's most exclusive destinations.
Destinology has breathed life into a stagnating industry with new and innovative concepts separating them from their competitors. The Destinology Agents website, for example, offers favourable room and air fare rates exclusively to independent travel agents, enabling them to compete with direct-sell competition.
Moreover, at a time when companies are abandoning the high street in favour of purely online interaction, Destinology opened their flagship concept store in affluent Wilmslow, Cheshire. The store, which has received much acclaim, combines futuristic technology with customer-centric service. In its first year of opening the store was nominated for TTG Digital's 'Leading Edge' Award, reserved for companies deemed to have introduced "true and successful travel innovations".
Not willing to rest on their laurels the company are seeking additional business opportunities in 2014 which may even include a second retail outlet. "We have collected comprehensive research which shows that the demand for luxury holidays in London is ever increasing. We aim to capitalise on that and a second store in London is one option we could take"
Destinology have embraced the marketing potential of social media, being praised for their use of Pinterest and establishing the UK's 7th largest Google+ account, with a following of over 900,000. Their extravagant competition prizes have won them legions of Facebook and Twitter followers.
They have acknowledged the shift in internet use to tablet and smartphone platforms by releasing a brand new mobile site. "This was essential in keeping up-to-date with technological developments and the needs of our customer base. Although it has only been live for a short period of time we are already experiencing double the conversion rate through mobile".
To top it all off Destinology has received numerous awards over the years, most notably four British Travel Awards (BTAs), getting the nod in 2012 as Best Tour Operator to both the Middle East and the Indian Ocean and retaining their Best Medium Weddings & Honeymoons Tour Operator from 2012 to 2013. Lorraine Barnes Burton, CEO of the BTAs said:
"In such a short time, the team at Destinology have clearly hit the mark with the UK's travelling consumers. The number of consumer votes which Destinology picked up in their categories is clear testament to the fact that they are offering a good level of customer service and great product. Congratulations on your tenth anniversary – and we look forward to a Destinology hat-trick at The British Travel Awards in 2014!"
Related articles