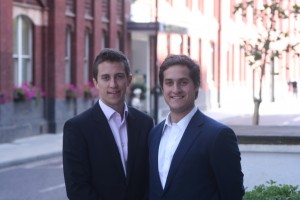 The Startup Magazine interviewed this week Rob Blythe and Felix Mitchell, who are the founders of Instant Impact. Instant Impact is an intern recruitment company that unites fast-growing SMEs with the very best students and graduates.  Instant Impact are also one The Startup Magazine's partner sites.
1) Who is Instant Impact aimed at?
There are 2 key groups that we target:
i) Exceptional young people who want to make a real difference at the start of their career. We focus on Oxford, Cambridge and other top ten universities but accept applications from anyone with the drive, personality and ability to make an instant impact.
ii) Fast-growing, innovative and exciting small companies that recognise the benefits of hiring sharp young minds. We work in industries ranging from finance to marketing as many of the attributes that SMEs look for are the same across different sectors.

2) Where did the idea for Instant Impact come from?
Instant Impact was set up by 2010 Cambridge graduates Rob Blythe and Felix Mitchell. They had both had positive experiences working for small firms but felt as though there needed to be a greater connection between SMEs and recent graduates.
3) What sets Instant Impact apart from your competitors in your market?
Selectivity; we have created a brand identity based on uncompromising quality and integrity. We only work on challenging, paid internships and interview all candidates face-to-face before recommending them to our clients. It is this care and standard of service that sets us apart from our competitors.
4) What do you do to engage with your target audience? In getting both applicants and businesses engaged with Instant Impact
To keep candidates and businesses engaged it's always important for us to communicate both the rapid growth of our company and to create a positive supporting community. We are able to engage with students and graduates as we were in their shoes very recently and we can engage with our client companies because we are a fast-growing SME ourselves. As well as regular meetings and telephone conversations, we send out monthly newsletters and social media updates with news of our own growth as well as successes and achievements of our candidates.
5) How long has Instant Impact been in the making, and who is the team behind it?
The initial ideas and discussions started in January 2011 before Instant Impact was founded in April 2011. From the humble beginnings of working without an office or any colleagues, Rob and Felix now have a fast-growing team of 6 recent graduates (from Cambridge, Nottingham, Bath and Manchester) based in offices near Westminster, as well as a larger unit of student brand ambassadors at universities across the country.
6) What has been your biggest challenge so far at Instant Impact?
The biggest challenge was setting the company up less than a year after graduating. Without much previous work experience we needed to learn quickly and were forced to do so through our mistakes. We feel as though this has left us with a stronger company structure than we would have otherwise had; as no-one had any prior recruitment experience we have been able to break the mould of an unpopular industry, maintaining the personal touch that is so often lacking.
7) In the coming year, what would you like to achieve with Instant Impact?
By the end of 2013 we want to have placed over a thousand students or graduates into work at SMEs. We want to have become the place that students and graduates go to work outside the large, traditional, graduate recruiters.
8) If you could give one piece of advice to someone thinking about starting a business, what would it be?
The best piece of advice would be to keep things simple when you start. It is incredibly easy to overcomplicate things when you first start a business – you need to think about the core idea and launch it in its simplest state. It is much easier to build on a great idea than it is to cut-back a needlessly complex one! Our first website was too complicated to the extent that it became difficult to use; it has taken 18 months and a lot of effort to re-shape it into something that we are very happy with.
Related articles