Email is the most commonly used form of communication in business. Business users send and receive on average 121 emails per day, according to market research firm The Radicati Group, this number is set to grow to 140 by 2018. It is estimated that there will be an enormous 132 billion emails circulating every day by the end of 2017.
Mailbird is the first ultimate email productivity tool for Windows, integrating email, calendar, task & messaging apps in one simple interface, driving improved efficiencies and productivity. Conceived in 2011, the team now operate globally, utilizing the best technology to enable maximum outputs.
Founder and CEO Andrea Loubier, far from "writing code late into the night", as the BBC put it, is efficiently planning and executing as she leads a scene of emerging tech start-ups on the tropical island of Bali, actively inspiring women in the region to succeed in an aggressive sector.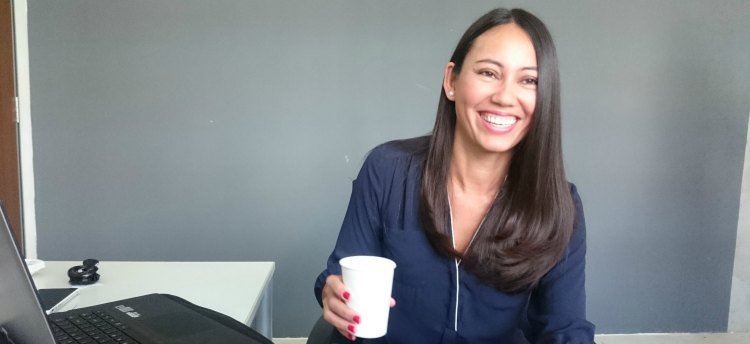 With an abundance of data in a connected world, what changes in society and the workplace have you witnessed? What do you see as the biggest challenge to productivity today?
It's clear, when you go anywhere today, people are constantly attached to their devices; mobiles, tablets or laptops. I travel a lot and have noticed a prevalent culture of hyper-connectivity. Actually, I think this is great. People are becoming location independent and can work from anywhere in the world, whilst remaining connected to family, friends and colleagues.
For the workspace, it means freedom and flexibility which allows for global teams to be extremely agile. It's awesome.
The internet can however, also be a big distraction hindering productivity. For those working online, I think distractions arise through not enforcing interruptions in daily routines and lack of planning to ensure that time is spent effectively. You have to start with hiring the right people, who share the same work ethic and drive for growing your business. Then you utilize the available tools to enable you to efficiently do this.
How have your personal experiences led to and shaped the conception of Mailbird?
I am no stranger to the frustrations of working with email. Before starting Mailbird, email for me was a tedious, bottomless pit. With various accounts I found it slow and cumbersome to access my required information. I needed something to stay focused, communicate effectively and get things done.
We found others out there suffering the same headaches, desperate for a solution. So we built it. Mailbird has allowed us to personalize our email experience and take control. With a ton of productivity hacks baked in – like inline reply, speed reader, snooze – we now have an all-in-one communication suite, specifically tailored for Windows.
As the CEO of a rapidly growing start-up, how do you conduct your daily routine in order to generate maximum levels of productivity? How do you maintain strong communication lines within the team and what type of working environment do you aim to promote within your company?
I plan each week in advance. I set a routine, I start my day addressing my highest priority tasks and I do not check my emails. I've instilled these behaviors in our working culture. People send fewer and shorter emails, using other channels for lengthy discussions.
We educate our team members in effective communication and time-saving. I also recommend task management tools such as Time Doctor and Asana (integrated with Mailbird). Giving, and receiving, constructive feedback means we are always improving.
At Mailbird we promote Holacracy, with flexibility, giving autonomy to individuals. We encourage transparency, a healthy work-life balance, and initiative. We have created a happy working culture, you can see it when the team comes together for our month long hackathons. It's amazing – the motivation is so high and we are executing fast, whilst enjoying each other's company.
A large number of entrepreneurs crumble under stress, how do you manage this?
You need to set limits, it's important to recognize when to say no. I put the powers of decision making into the hands of the experts in my team. This is rounded off with a culture of happiness in the workplace. I used to just say yes to everything, but I have developed and I think this is something entrepreneurs fail to openly talk about.
When you hear about successful entrepreneurs like Elon Musk, many attribute their success in part to their ability to manage extremely high levels of stress. It is also vital to be able to accept that you cannot control everything. In my experience, things happen that are not always in your favor, you address it, in the most diplomatic way and move onwards, continuing to solve these problems.
What potentials in the future of the digital age currently excite you? How do you see the future of communication tools developing and how does the Mailbird roadmap look in parallel with this?
The removal of constraints and barriers is what really excites me. Today technology allows us to do so much more, to achieve much more with our time whilst also committing to our friends and families.
Changes in societal values mean parents have more time for their children, paid vacation exists, we are seeing increased flexibility, accommodating all different lifestyles.
Another point is the psychology of purpose in our work, holding ourselves to a high standard of productivity whilst valuing happiness as a priority. I see the future of ICT revolving around high productivity, great design, mobility and simplicity. Customization is key, and this is something of great importance to us as we develop Mailbird. There are new discoveries every day, we interact with customers, learn their pain points from traditional tools and continue to innovate.
The lowering of barriers can also be applied to the increasingly diversified workplace. Today you can build a business from anywhere and operate worldwide. I have seen so many changes just over recent years, for example the growth of industry in Bali where we are headquartered and the growth of women at the forefront of business. Though we still have a way to go, globalization is happening. This is the future of how we work.