Entrepreneurs know all too well the challenges of running their budding startup. From overseeing teams and projects to budgets and customer interactions; the list seems endless. But there's no need to worry anymore. Today there are an abundance of online tools that could make your life simpler, your startup operations more efficient, and your business even more successful.
In this article we cover 8 such online software tools that will revolutionize your startup operations. 
Let's get stuck in.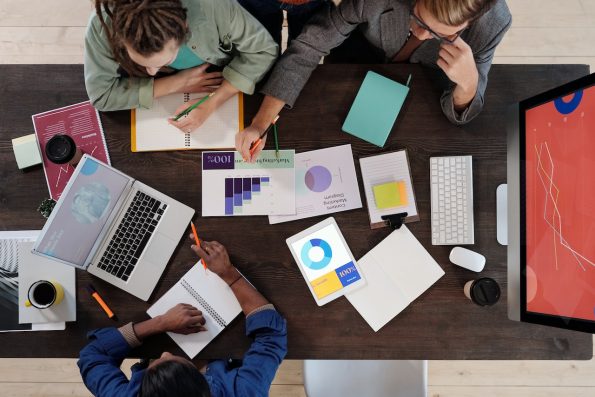 Image Credit: Mikael Blomkvist / Pexels
1. Enhance Communication and Collaboration 
Communication and collaboration are the cornerstones of a successful startup. Leverage online communications tools like Slack or Microsoft Teams to bring teams together across geographical borders. Real-time discussions, file sharing and project updates can happen seamlessly within virtual workspaces like these. Finally, you can forget long email threads and opt instead for instant connectivity.
As the owner of a startup business, this will allow for increased efficiency, quicker decision-making processes, and an overarching sense of team unity. 
2. Make Scheduling Easier
Scheduling can be the bane of every entrepreneur's existence. Meetings, appointments and tasks quickly mount up and become overwhelming to organize properly. That's where scheduling tools come into their own. They allow you to share your availability while also letting others book slots that work best. Scheduling and management tools are even available in niche setups, so even if you're a startup hvac contractor, there's hvac software out there for you.
Automation and integrations with scheduling software means you'll never forget an important meeting again.
3. Enhance Project Management 
Projects are at the core of all startups, so keeping them organized is hugely important. Project management tools like Asana, Trello or Monday.com offer intuitive interfaces for creating tasks, setting deadlines, assigning responsibilities and keeping tabs on progress.
Visualize project timelines, allocate tasks efficiently, and keep all members up to date, from co-founder to new team member, using expert project management tools.
4. Automate Financial Tracking 
Financial management is a delicate dance. Thankfully, online financial tools such as QuickBooks or FreshBooks simplify this task by automating invoicing, tracking expenses and producing insightful financial reports.
Gone are the days of manual data entry and perplexing spreadsheets. These tools help you stay on top of your financial health by giving clarity and accuracy to make more informed decisions about the finances of your startup.
5. Strengthen Customer Relationship Management (CRM)
Your customers are your greatest assets. So cultivating solid relationships is vital to your success. CRM tools such as HubSpot or Salesforce make this easier by managing customer interactions, tracking sales leads, analyzing data for decision making purposes, and helping manage interactions across channels.
You'll have one centralized platform where all customer information, leads and communication are efficiently managed for a simplified structure. 
6. Empower Your Social Media Presence
Social media presence has never been more essential in today's digital world. And tools like Hootsuite or Buffer make managing multiple platforms easy with scheduling posts, engaging followers and tracking performance across them all.
Now you can maintain an effective online presence without the strain of real-time posting, saving both time and effort. And startups can leverage AI for greater success.
7. Safeguard Your Startup Data and Communications
As cyber threats increase, protecting the data and communications of your startup are paramount. Online security tools like LastPass or NordVPN offer encryption, secure file sharing, and protection from breaches that might otherwise compromise them.
You'll feel safer knowing that all digital assets within your startup's digital ecosystem are fortified against external attacks. By employing these tools to strengthen digital assets within your startup business operations can focus on growth while being protected against digital attacks.
8. Track and Optimize Website Performance
Your website serves as the first port of call for potential customers. So website analytics tools like Google Analytics provide insights into visitor behaviors, traffic sources and content performance.
Startups are more empowered with data-driven decisions to improve user experience, optimize content delivery and drive conversions.
Conclusion: Revolutionizing Startup Management
Modern startups operate at lightning speed, demanding innovative management solutions to stay one step ahead. Here, we discussed 8 exceptional online tools with the potential to transform startup operations. From smooth communication channels and enhanced financial tracking, through to streamlining workflows and increasing efficiency, ultimately propelling the success of both you and your new venture business.
Ready to reinvent how your startup operates? Engage the powerful online tools available now, and watch as operations become smoother, more effective, and more rewarding than before. Explore their features, capabilities and how easily they integrate with existing workflows. 
Let these startup operations tools give you freedom so that you can focus on expanding and realizing your goals without any distractions!