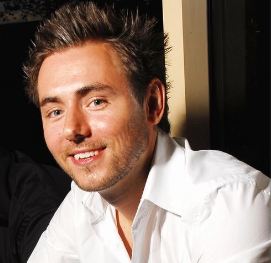 This week The Startup Magazine had the pleasure of interviewing Peter Ward, who is the founder of Where Are You Now, WAYN.com. WAYN (Where Are You Now? Ltd) is the largest travel and lifestyle focused platform in the world with over 20 million members in 193 countries. WAYN helps you to realize your dreams by connecting you with like-minded people based on your past experiences, where you would love to go as well as what you would love to do.

1) How did you come to start WAYN?
WAYN was co-founded by myself and two of my best friends; Mike Lines and Jerome Touze. Jerome came up with the original idea whilst he was travelling around the world on a year out. At the time I was undertaking an MBA at London Business School and having recently returned from a year abroad I immediately saw value in the idea. We met up in the South of France over Christmas 2002 to brainstorm ideas. We also involved a close friend of mine, Mike Lines who at the time was Systems Manager at Friends Reunited, and worked with him to build the site whilst continuing with our full time jobs as consultants at Accenture. It took two years to get to 45000 members in 2005 and since then the site has continued to expand.
2) Who is WAYN aimed at? And how do you target audience?
The site was initially built with travel in mind, it is a social viral platform aimed at people of all ages, around the world. It is a community which appeals to people of all ages and has an internationally diverse user base of people from all geographies and demographics. The site has mass appeal as one of our core values as a brand is inclusiveness. In the last few years the site has been more geared towards users meeting new people, making friends and building relationships. Whilst there is still a demand for this element of the site we are now working to develop the core platform of helping people realize where to go and what to do in order to appeal to a different set of users, who are more travel and lifestyle focused.
3) How did you scale up to WAY to the size you are today? 
We bootstrapped the business from beginning, then when the site became profitable we ramped up our hiring plan using the profits. We also opened an office in Poland, as I am half polish and have a strong affinity to the culture, the move was extremely cost effective as costs are so much lower in Poland we were able to hire great people for less than we would have done in London. Within a year quitting our jobs and focusing on WAYN full time we raised $11 million series A funding in 2006 which enabled us to scale to the size we are now.
4) As your company matures, how do you keep innovating to improve your business and stay ahead of the competition? Could you share some of these innovations?
In order to say ahead in the industry we continuously look at what is working in the market place and what customers want in general . We analyze data based on what people do, not what they say, and we make changes to the product as quickly as possible. In many cases you have to come up with something the customers don't know they want. We are currently in the process of coming up with a new interface design which meets customers' needs to help people better discover where to go, what to do and who to meet. The key is to constantly innovate your product and try new things, there is no way of knowing whether something works until you try.
5) WAYN are now an international company, how did you find growing a company internationally from the UK? 
The UK is a fantastic base to start a business especially with the new government initiatives and the market is huge. The UK is also a gateway to the US and Europe, it is easy for us to travel to the rest of the world. We have recently expanded and opened an office in Cape Town to capitalize on opportunities in Africa and the Middle East. We have always set up the business with an international outlook in mind, as well as our office in Cape Town we are soon opening an office in New York. From a business standpoint there is a burgeoning community in London of entrepreneurs, I am a committee member of the International Conclave of Entrepreneurs (ICE). We recently visited Israel where we saw at first hand the interest and influence in the UK start up scene is far and wide. There is an obvious appetite for governments to open up to entrepreneurial businesses as they are key to unlock economic potential.
6) What has been your biggest challenges so far at WAYN?
To try and compete with Facebook and to remain relevant to users. There are numerous opportunities for users to go elsewhere and the key for us is to ensure that we are segmenting the sites experience to meet the needs of our users. There has been a number of social start-ups which have been and gone, whilst very few have scaled. Tripadvisor is the only social travel site who have the scale but few people use it as a social community platform. There are other upstarts trying to have an impact on the market but few that have as significant scale as WAYN does. We aim to capitalize on that position in the market place to build upon that and help disrupt the travel industry.
7) In the coming year, what would you like to achieve with WAYN?
Next year will be transformative for WAYN, we are re-building the platform & our goal is for customers to love our service and have a brilliant experience. We need to work hard to create a market leading product that meets the needs of our users and commercial customers. It will be a pivotal year for the company and we are excited by the challenge. It is a good time to capitalize on the latest trends and ensure people use our services to help discover where to go, what to do and make the most out of life.
8) If you could give one piece of advice to someone thinking about starting a business, what would it be?
Don't just talk about it, do it! Act on your instincts and get yourself out there, network like mad and attend industry events and drinks such as Silicon Drinkabout. It is really important to share your ideas with people, try your idea out and see what the reaction is then refine your product based on that. Start building your product even if it's just a landing page and see whether people are interested. My advice is to graft hard, work on your idea in your spare time, get people on board who have the skills you don't have and finally, persevere – it always takes longer than expected to build a product so stick at it! As Thomas Edison once said "Genius is 1% inspiration, and 99% perspiration."
Related articles