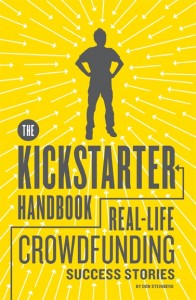 Crowd Funding is becoming an ever more popular form of raising capital for start ups. The Startup magazine has previously reviewed whether crowd funding is a viable form of funding. Should you decide to take crowd funding as the method to finance your start up, The Kickstarter Handbook, by Don Steinberg, is a guide on how to make the most from a Kickstarter application.
Whether you want to produce a short film, design the next must-have fashion item or  manufacture a revolutionary tool to change the way we live, you will face the challenge of raising money to start your business. Kickstarter is one of the most successful crowd funding websites, launched in 2009, and it brings venture capital to the masses. On Kickstarter, it's not uncommon for people to raise $20,000, $50,000, $100,000 or more.

Interested in getting involved?  In The Kickstarter Handbook, Don Steinberg interviews dozens of people who have raised at least $100,000 on Kickstarter. The book covers all the strategies of an effective Kickstarter campaign. You will learn about the success and failures of many Kickstarter projects. You will find out what steps to take if your product does succeed and you manage to secure the funding you need. On Kickstarter, it happens to several successful individuals every week.
Don Steinberg covers every step you need to know about creating and running a Kickstarter campaign. His discussions include what you should set your target funding at, what you should include in your video, and even how to set your pledge options. With the book's guidance you will be equipped with the knowledge to draw in potential backers eager to pledge cash for your next venture.
The book has been crafted to help it's readers in learning the mechanics of crowd funding and preparing to start their own "Kickstarter" project. Don Steinberg created a fantastic reference book to help any reader gain an understanding of the world of crowd funding.
The book is realistic and contains useful case studies about a variety of Kickstarter projects that have successfully raised enough funds to become a business. What this book delivers is a convenient and coherent guide to Kickstarter and crowd funding. After all, you may only be a kick-start project away from inventing the next Pebble.
The Kickstarter Handbook, is now available on Amazon.
Related articles