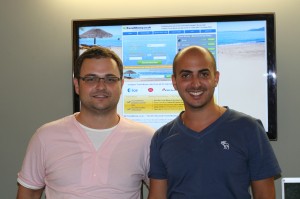 This week The Startup Magazine has had a great interview with Daniel Abrahams, co-founder of Global Currency Partners. Their wesites MyCurrencyTransfer.com and MyTravelMoney.co.uk are the UK's leading foreign exchange comparison brand, helping individuals and businesses find the fairest and cheapest deal on both travel money and international money transfers.
Customers are getting ripped off through high margins and poor customer service. They try to make searching for the best deal on currency as easy as booking a plane ticket online. To date, they have helped customers across the globe transact over £120 million in just under 18 months.
1) Who are the target audience for both sites?
MyCurrencyTransfer.com (money transfer comparison) – our transactions principally come from overseas property buyers, overseas retirees, expats, international students and SME's trading internationally.
MyTravelMoney.co.uk (travel money comparison) – UK holidaymakers and business travellers

2) What has been your biggest challenge so far?
In the early days, we were very scrappy and completely bootstrapped the business. It meant we couldn't grow as aggressively as we perhaps wanted. To date, we haven't raised a penny which has naturally brought some scalability challenges. However, we saw this as an opportunity to experience first-hand many different functions of running a business. By taking this approach, it has made our subsequent hiring decisions a lot smarter.
3) Where did the idea for a currency comparison site come from?
During my exchange program at the University of Sydney, I was regularly getting stung by my bank with £25 overseas transaction fees and 5% margins off the mid-market exchange rate. It was a bitter pill to swallow and an industry which needed democratisation. Stevan and I spotted a gap in the market to create technology and a comparison platform that could make the process of sending money abroad and buying travel money that much cheaper and simpler. 85% cheaper than the banks infact!
4) You are currently based at TechHub, how have you found being based in TechHub, and Google Campus? Do you get any benefits from being there?
TechHub has been a fantastic way to meet other tech entrepreneurs, build connections and attend events in our wonderful eco-system. Being around and talking to such talented people, it has also challenged us to scrutinise our product offering in even more detail. It's no surprise our business has grown and evolved since we arrived here.
5) In the coming year, what would you like to achieve with both brands?
We have a few surprises up our sleeve and series of disruptive product releases that will help bring 100 % transparency and fairness into a hugely 'opaque' industry. Over the next 18 months we aim to set up a more formal presence in countries we are seeing revenue from organically (e.g. Australia, Canada, USA, Singapore). As one of the few global comparison sites, we already see 30% of our revenues organically come out of Australia and the USA.
6) If you could give one piece of advice to someone thinking about starting a business, what would it be?
Don't delay launch a product launch for too long, get a first minimum viable product out there and keep refining. The first version of both MyCurrencyTransfer.com & MyTravelMoney.co.uk were not the most exciting but we were able to get initial customer feedback and work out the value of a visitor. There's no point taking ages to build something nobody wants.
Related articles