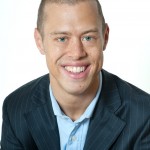 This week The Startup Magazine has had a very interesting interview with James Eder, founder of The Beans Group. The Beans Group is the company behind studentbeans.com, the UK's most popular lifestyle and money-saving site for the youth audience. We help make life a little more awesome for young people and we help brands better understand, access and engage this market.

1) Where did the The Beans Group start from?
I started studentbeans.com back in 2005 when I was 22 and just a few weeks after graduating from the University of Birmingham. I did a business plan as part of my degree where I actually came up with the idea for studentbeans.com and after graduating it made sense to set it up. I co-founded the business alongside my business partner and brother, Michael. He actually came up with the name of our website, the name studentbeans.com is based around the idea that our website is as essential to student life as a can of baked beans – a staple part of every student diet. We became The Beans Group about two years ago and have recently launched a site morebeans.com, focusing on life after university.
2) How long has The Beans Group been running, how did you scale up to The Beans Group to the size you are today?
Seven years after starting out, we now have a team of over 35 employees working at our office in North London spanning business development, marketing, editorial, PR, design and web development. Three years ago we had a team of seven, so you can see how we have really grown and developed recently.Studentbeans.com has become a household name on university campuses all over the UK and we now get over a million visitors to the site every month.
3) As your company matures, how do you keep innovating to improve your business and stay ahead of the competition?
We are always looking to innovate and do things differently. We work hard to engage students and keep them coming back to studentbeans.com. Social media is very important for a young audience – we have over 70,000 fans on Facebook and over 17,500 Twitter followers. We also email our database of over a quarter of a million students every week with our best offers and best editorial articles.
We also create fun and useful campaigns that engage students. Most recently we've run freshersfields.com, the world's first online freshers' fair. which featured deals and discounts from fantastic brands including The Economist, Urban Outfitters, Domino's and Samsung. You may also have seen our Student Sex Survey and our Students and Alcohol Survey in the press!
4) What has been your biggest challenges so far at The Beans Group?
In the early days when I was going door to door trying to sign up new companies – I was up in Sheffield and a cold Saturday, and I got screamed at by this woman in a restaurant – it was back in 2006 and I just remember leaving this shop and calling a friend questioning why I was doing this as I was standing outside in the rain. She reassured me what great things we had done the year before when we had launched in Birmingham and not to worry – I got back in my car and drove home that day. Now most of our clients come to us and we're doing some great things so I know it is worth it. I learnt that you can't take no personally – I think there is a famous quote that goes the difference between success and failure is the ones that succeed are the ones that keep trying. You could also say that the economic climate has been a challenge – the budgets of our clients have been cut and we've had to work even harder to ensure the things that we've achieved.
5) In the coming year, what would you like to achieve with The Beans Group?
We have lots of exciting things planned for the next 12 months! Over the next year we will also be focusing a lot more on 'local', creating a directory of local student friendly businesses in university towns and cities.We are also involved in Youth Marketing Strategy 2012, a conference bringing together the best minds and top brands involved in youth marketing. Looking further ahead, we do have international ambitions but right now our core focus is expansion in the UK market – we want to work with even more brands and reach even more students. As The Beans Group expands we continue to search for and recruit talented people to fill exciting roles to grow the team and take the business to the next level.
6) If you could give one piece of advice to someone thinking about starting a business, what would it be?
Firstly, don't take no for an answer – keep going and have persistence. Also, be prepared to work, because it's not easy. So many people come out of university and say, "I'm going to be an entrepreneur" – but I don't think they all realise how hard it is and how many hours you need to put in. The other thing is to take responsibility. Whether you're working for someone else or yourself, people always find blame and are full of excuses. The only common factor between everything you do is ultimately yourself.
Related articles