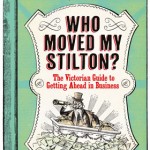 Ever wondered how the Victorians got ahead in business? Alan Tyers and Beach did, and together they created a fantastically funny book about business, "Who Moved My Stilton?". Alan Tyers is a comedy writer who writes magnificently jokes about Victorian business practices and Beach's illustrations brings the story to life. The book title is a parody of a famous business book Who Moved My Cheese,  a serious guide to coping with change in the working environment.

Who Moved My Stilton follows in the footsteps of the world's first capitalists and uncovers the original secrets of business success. It covers how to lead from the front, how to work with others, and what is the best work attire for both men and women!
When you read this book you will learn how to awaken your inner industrialist and build a commercial empire that will stand the test of time, say the authors. The book reveals the practical skills that every "modern professional" needs to get ahead in the workplace, including: "Why you ought to think outside the opera box", "What to do when the customer is literally King " And "How to harness the exciting opportunities for child employment provided by a Junior Apprentice".
Who Moved My Stilton is a very humorous book, and irreverent for real business learning. However, it is a fantastic read and will make a great gift these holidays.
Competition time!
The Startup Magazine is offering three lucky readers a chance to win a free copy of Who Moved My Stilton. All you need to do is tweet your favourite business saying with the hash tag #StartupMagComp. Your business saying can be something you truly believe in or it can be a parody of a famous business saying. Our competition runs until Friday 7th December 2012, so get tweeting! Winners will be selected at random, and the winning tweets will be published on our site.
Related articles