In today's world, managing a business has become an arduous task. With the advent of the internet and cloud technology, many businesses have opted to keep their business online. In order to organize their things online, there is a growing requirement for apps as well as software among the businesses. These apps help the businesses to increase their productivity by improving the operational efficiency of the business owner as well his employees. With the ever-increasing competition, these apps and software are getting cheaper with every day passing. At present, there are many software present in the market which comes at affordable prices and allows the businesses to manage their team effectively. They have many inherent features as well as functionalities which provides much-needed flexibility and simplicity to the businesses to run the daily operations with ease and allow them to meet the stricter requirements of the business world. Here, project management software comes into the picture.
You have certainly heard a lot about such software especially if you are an entrepreneur or a business owner. They have become an important aspect of managing a large team. Most of the businesses often need a complete project management solution to help them in organizing as well as coordinating many people in order to achieve various tasks. These software allow the business to help in task allocation, generating progress reports, allocation of resources, deadline setting as well as keeping tabs on various actions performed by the employees and their planned execution.
For managing these numerous tasks, a business requires a project management tool, and in this article, we are reviewing and presenting one of such software which is certainly the best among the available ones. We are talking about Taskworld. So, let's discuss this amazing software in detail
Taskworld is essentially a cloud-hosted visual tasks management as well as planning application which is currently being used by some of the most popular names in the business world. It is particularly designer to meet the requirements of both small as well as large teams. It is aimed to align the decentralized groups and help them in putting their efforts towards common goals. In order to achieve, this, Taskworld utilizes a wide range of advanced tools which includes project analytics, burnup, and burndown charts as well as advanced security.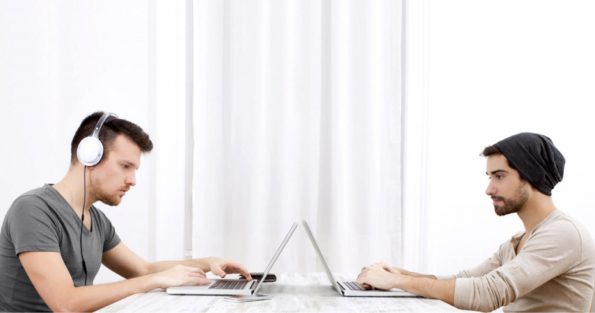 Features
This project management software is quite able to convert the abstract notions into active and productive tasks which increases the effectiveness of the human resources of the business along with its creativity.
Acts as team collaboration hub where suggestions can be easily exchanged, and decisions can be made by considering various factors.
Allows the business to create, organize as well as assign tasks to the team members in due time.
Helps in planning quality projects along with monitoring of these projects at every step.
Allows to analyze the data which helps in making better business decision.
Comes with drag and drop feature along with brilliant templates to ease the usage.
Has a friendly text editor which enhances visual management and allows the team to tweak workflows as per their requirements and turn them more business-specific.
Another important characteristic of this great software is that it presents the data in the completely managed way. This allows the business to make a decision and run projects without delay, avoid missing deadlines and ignored customers as well as email clutter. This system is available in numerous language, and it comes at quite a reasonable price as well as great support team which adds value to your investment. It also has native apps which allow undisturbed communication. The major goal of this software is to help the business to divide the projects into manageable tasks and organize them along with assigned them to right person which makes things run smoothly. This makes it a modern visual management tool which business can rely upon.
Organization and Productivity
Taskworld uses lists as well as boards in order to manage the workflow and the preference where the user is allowed to add, assign as well as edit tasks with an intuitive and simple drag and drop feature. Hence, this software helps in reducing the time that is required in navigating through the schedule and monitor the working of the teams along with dates, comments as well as follow-ups which are stationed at the same dashboard. It also comes with great templates so that you can personalize your system as per your requirement.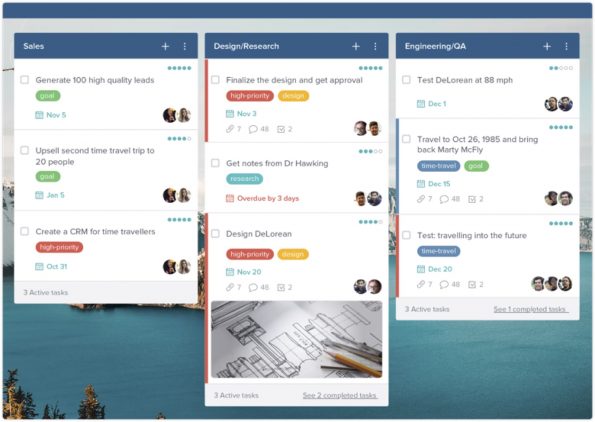 Taskworld enhances productivity by enabling the user to set recurring tasks as per day, week, month or even a year. This helps the team member by not making them create the same tasks over and over again. The user is allowed to edit and update the tasks of the project even through a mobile device. The user is allowed to set a point value in order to indicate the difficulty of the task or he can use relative scores in order to understand how different tasks are connected as well as performed. Through its collaboration suite, the user can also make comments, suggest ideas as well as read about the progress of the project.
Collaboration and Scheduling
When it comes to collaboration, this software provides a built-in chat feature with public channels for the entire business to view as well as an individual team member to connect to a particular member. The user can easily share files as well as sensitive data with simple drag and drop functionality. He can also redirect messages to different email addresses and also receive a notification at every tie when an important update has been made. This entire communication system is fully secured, and hence it helps in avoiding corporate data theft that can jeopardize a business.
Another great feature about this project management software is that it allows the user to keep a watchful eye on all of the projects as well as tasks, and filter them as per status, dates and assigned individuals. This system stores this information in a centralized database where the user can access the history at any particular instant. It also comes with an interactive calendar which displays all the tasks along with a timeline, burnup and burndown chart which the user can trigger as per his wish. It also has Tasklist Overview option which is developed to inform you about the completion of tasks and tasks which are approaching deadlines or due date. After doing this, Taskworld allows you to analyze the data and turns this precious data into operable intelligence which assists in making a smarter business decision.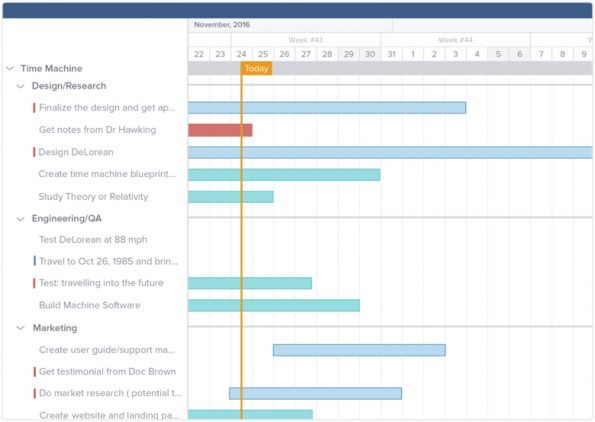 Applications
Some of the varied usages of this amazing software is in the hotel industry, educational institutes, and marketing agencies. Many popular hotel groups are currently using this software to open hotels all over the world. Since hotel opening a massive project which requires a great deal of collaboration among hundreds of people, this software helps in managing the task and achieving the goal within due time. Taskworld's project management, file sharing as well as communication system makes it an ideal choice for the hotel industry. Similarly, marketing agencies are using this software to run their marketing campaigns. They use this project management software in the creation of separate projects for every client and manage all the related tasks at one place. The universities are also using this great software especially when it comes to keep track of their students' academic progress. It helps the faculty to assign various tasks to the students and keep an eye on the progress made by every student.

Pricing Plans
The pricing plans for this software are quite flexible, and they provide an unlimited functionality packages for both enterprises as well as fast developing business. This software comes with a 15-day free trial in case you wish to test this software first. It has two paid plans: Taskworld Solo and Taskworld Teams.

Taskworld Solo –
It is priced at $4.99 per month for each user, and it is billed annually. It comes with unlimited tasks, projects as well as checklists. Other productivity tools help with task comments and attachments. It also provides tags and labels as well as a task by email. Image preview and task points are also available in this plan. It provides interactive dashboard, custom backgrounds, and 5 GB storage.
Taskworld Teams-
It is billed annually at a fair price of $7.99 per user per month. It has all the features of the Solo plan. In addition to that, you are provided with multiple assignees and tasks in different locations feature. It also has task followers and advanced privacy settings. It comes with direct messaging or chat feature as well as public and private channels. Project chat, as well as Admin rights, are also part of this plan. It has project timeline, burndown, and burnup charts. It provides 100 GB of storage.
Both these plans are great options for businesses of different types and sizes. Businesses can choose the one which suits their needs.
Conclusion
It is important to point out the fact that there are few productivity software solutions which provide such great deal of functionalities and features to the business of different types, sizes, and sectors. Taskworld is definitely a great project management software which allows the businesses to manage and monitor their tasks and teams. The full productivity package includes:
essential analytics and tracking features.
in-build chat functionality which allows seamless coordination among the team members.
an intuitive and interactive dashboard with drag and drop functionality which increases the ease of usage.
a 15-day free trial.
a fairly good price and offers two incredible plans.
Both of the plans are well-featured, and businesses can choose one of them as per their requirement.
So, try this amazing software to manage your business and let us know about your experience and opinion. Leave your comments in the section below.