You might have heard of the SMART framework for goal setting, where you define goals that are Specific, Measurable, Achievable, Relevant, and Timebound.
It's a system that served us well for many years, especially while we were growing our start up. Each year my business partner and I would set specific goals that we thought were realistic to hit by the end of the year and that represented strong year over year growth. We would run these goals by our team, and it was straightforward to get buy in.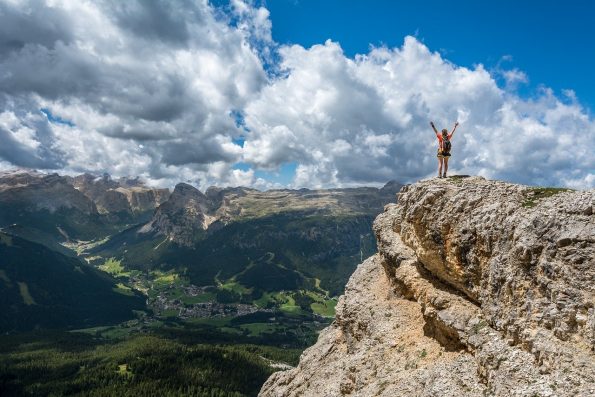 And like clockwork, we would not only hit the goals every year, but exceed them. Our team loved it, and felt motivated that we can do what we set our minds to. Each year, our confidence to hit our goals was validated. Needless to say, we thought the SMART framework for our business was a great way to push forward.
A rude awakening
When we sold my business to Chegg, a NYSE publicly traded company, little did I know my view on goal setting would be in for a rude awakening. Within the first few weeks of the acquisition, we presented a new growth plan, which was in line with the 30% growth we had achieved that past year.
My new colleagues, the leadership team at Chegg, laughed at me. They explained, with some tough love, that they acquired my business so we can find ways to accelerate growth. What I needed to do is think bigger, and not focus on attainable goals. Instead, what is a Big Hairy Audacious Goal, or as we fondly started calling it BHAG, that I can put my mind to? What's a goal, that under ordinary circumstances, I would have dismissed as crazy?
After some back and forth, we agreed to targeting a 50% growth rate. Nervously, I wondered, how could we achieve this, and how could I rally my team around this? We hadn't seen that kind of growth in years.
Shooting for the stars
As I anticipated, when we presented our new 50% growth target, our team reacted the same way I initially did, scratching their heads thinking just how we could achieve these goals. We explained that while they're certainly audacious, let's at least think through how we can hit them.
We spent the next week brainstorming and coming up with different initiatives. For each one, we would size the revenue contribution, determine the resources needed and how long it would take, and assess our confidence in it.
To my surprise, our team came up with dozens of ideas. What if we did this, and what if we did that? I had never seen such prolific brainstorming before. Some ideas were made of pure fantasy, but from those came more realistic ideas.
Before I knew it, the full list of initiatives we had come up with added to 100% growth. Now, as a team, we started feeling more confident. The idea that we could achieve accelerated growth slowly started taking root.
We continued to refine the initiatives and soon we had a plan to achieve 50% growth along with the resources needed to do that.
Making big hairy audacious goals a reality
We presented our plan, got the budget we needed, and enthusiastically (although nervously), started marching full steam ahead to make the plan a reality.
As you might have guessed, not every initiative panned out. However, not only did we have a list of backup ideas, we were now of the mindset that we could come up with new ones to plug the gap.
That's exactly what we did. We discussed our learnings through that point, came up with new ideas, and revised our plan to get us back on track. It was rinse and repeat from that point onwards.
The power of thinking big
By the end of the year, we beat our goal. If you asked me at the beginning of the year if we could have achieved it, I would have laughed.
By thinking big, we pushed ourselves outside of our comfort zone leading to ideas and plans we would have never thought about.
You see, what is attainable is relative. You know what you know. Using the SMART framework or not, when you're pushed to challenge what those attainable boundaries are, you push yourself and your team to new heights you might not have thought you were capable of achieving.
Now, with our new initiative Solitaired, where we hope to tie brain training to classic games like solitaire, we started with a big hairy audacious goal – namely, how can we help 1 million people over the next three years? Whether we hit it or not, we'll see, but it will push us and bring out our best.
By Neal Taparia, Guest Contributor