Numbers matter, and while businesses like to see the cash flow coming into the company, it's even more important to keep track of the money going out. Tracking expenses is crucially important for managing the company's budget while also making tax time a lot less of a hassle.
But with so many other paper files to keep track of, such as invoices and internal business documents, it can be hard to keep tabs on business receipts. Thankfully receipts, along with any other paper files, can be digitized and managed completely online.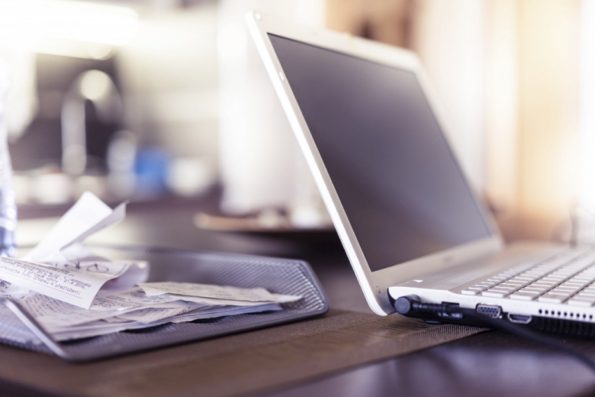 Keep reading to learn the benefits of digitizing receipts and how you can best organize them in the digital world.
Why Go Digital?
Go to any office space and you're bound to find all sorts of papers. Despite the push to go paperless, there are plenty of businesses that still rely on paper for day-to-day activities. Many companies print and mail invoices to customers. Some print internal files for editing and collaboration. And while paper seems to be a traditional part of the office space, many companies don't realize the expenses associated with paper.
Not only do businesses have to pay for the cost of paper, but there are also expenses for:
Printing equipment
Ink, cartridges, and other printing accessories
Printer maintenance and repair
Shipping and handling
After considering these costs and the time spent printing, companies often lose hundreds sometimes thousands of dollars a year because of paper! By switching to a more digital process when handling files such as receipts and invoices, you're able to save costs and improve business efficiencies.
Organizing Tips for Digital Receipts
While there are many different files you could choose to manage and organize digitally, one of the easiest files to work with during this switch are receipts. Here are tips you'll want to follow to ensure you never lose or forget to track a business expense.
1. Scan in Receipts
One of the first tasks you'll need to tackle is to scan in all paper receipts. Take the time to gather up all receipts that you have for business expenses, such as IT equipment, office accessories, and any other items that have been purchased. Be sure that you're only collecting receipts for business receipts as you don't want to intermingle personal expenses with business ones!
To move paper receipts to the digital world, you'll want to use a receipt scanner. Receipt scanners make a digital copy of an original receipt and can transform them into digital files such as JPEGs or PDF files. PDF files are often the best output file as the file can be run through OCR software that turns the information on the receipt into editable data.
2. Choose a Hosting Location
Once all receipts have been scanned into a digital format, the next step is to choose where receipts will be housed. After scanning receipts, the files are likely saved to your personal computer. The problem with saving receipts on your desktop is that no one else can access them. The simplest way to share receipts with others on your team is to save them to a shared drive that is protected using access controls.
But, the traditional shared drive or network folder doesn't work for all business types. If your company offers remote work or has employees around the globe, it's best to use a cloud-based solution such as Google Drive or DropBox. These tools host digital receipts on the cloud, which means that employees don't have to be connected to the company's internal network to access the files.
Cloud-based storage helps to cut costs and ensures that receipts are always available.
3. Sort & Group
There's no single way to best organize your company's digital receipts. The most common way to sort receipts is by month. In a cloud-based environment, you can tag receipts with the associated month and year or you can create month-based folders and organize the files that way.
The monthly method also allows you to create a receipt scanning process. For example, on the last day of each month, you can task an employee to scan all of the receipts for the month. For in-office organization purposes, it's recommended to use manila folders for each month. That way an employee can grab the appropriate folder and get to digitizing.
What's most important when sorting and grouping receipts, is that you use a method that works best for your company, to include your accountants and bookkeepers.
Conclusion
Receipts are the best way to manage your company's expenses, information that is vital come tax time and when adjusting the budget. To make the process less cumbersome, invest in a receipt scanner and create a process for making the most use out of digital receipts and expense reports.