Order fulfillment services may be defined as the services of acquiring products, processing them and delivering them to expectant clients. The initial stage of this process is when the customer contacts the organization to place their order. Once the final product has been delivered to the desired destination, then the order is said to have been fulfilled.

Many start-up business owners find this feature to be an unnecessary expense rather than a much-needed addition to the organization. If you're still unsure of whether or not to hire an order fulfillment company, then this article was written for you. Here, the discussion is aimed at expounding on the benefits of this business technique.
1. Low Shipping Costs
One of the main benefits of order fulfillment touches on the financial side of things. The idea that this technique adds more expenses to the business may be true, but that's compensated by the fact that the overall shipping costs are significantly cut down.
One thing to keep in mind is that most order fulfillment entities have facilities across the country or region in which you're operating. As such, this provides a solid foundation for you to cut down on shipping costs. In fact, you can save up to a third of the original price depending on which company you choose to work with.
Another way in which order fulfillment services organizations can help you slash your shipping expenses is through their database; you can browse the various carrier companies, and pick whichever one offers their service at the lowest price. This is just one advantage that these organizations offer over your traditional shipping team. At the end of the day, you'll end up saving a lot of money, which can then be pumped back into your business to boost its growth.
2. Improves Customer Service
As a start-up, one thing that you should be very focused on is the reputation of your newly-formed business. Of course, there are many ways to build your public image, but one thing that will always play a vital role is the customer services. How you serve your clients has a huge impact on how they see your business, and that's what can give you the upper hand when dealing with your competitors.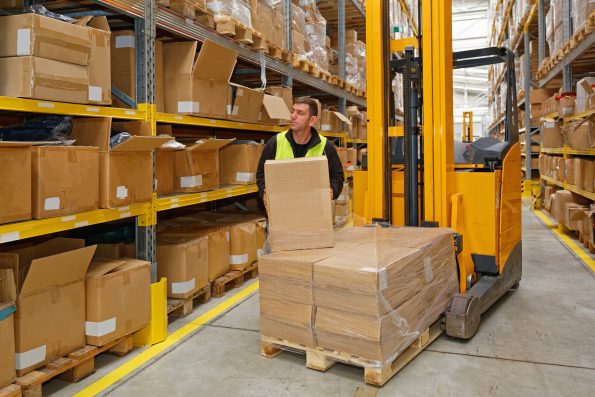 Order Picking Worker With Box in Fulfillment Warehouse
Nearly all order fulfillment providers offer 24-hour service every day of the week. As such, if a client requires something to be delivered to them at any time of the day, they're guaranteed that their demands will be met. It's worth noting that customer expectations are always evolving, and without a proper strategy, it can be quite difficult to cope with those changes.
For instance, same-day deliveries have become quite common and more customers are shifting their allegiance to companies who can provide this service. Of course, if you deal with these demands alone, it can be overwhelming for your employees. With order fulfillment services, you have a much higher chance of matching the customer's expectations easily.
3. You Can Focus On Other Things
It can be difficult to focus on various aspects of your business at once, especially when the number of customers is constantly rising. With external order fulfillment firms, you'll be able to deal with other factors without compromising the quality of services offered. It's possible to do everything by yourself, but the service delivery process is going to suffer for it, and it will be much harder to match your competitors.
Business marketing and brand management take up a big percentage of your resources, considering that you're running a start-up. An order fulfillment provider gives you the ability to concentrate on such demands and to ensure that everything is done as required. In the long run, this move will contribute greatly to the growth of your company.
Conclusion
Order fulfillment companies have become more popular in the last few years, and rightfully so. As a start-up, one of the benefits that you enjoy by hiring the services of these organizations is saving on shipping costs. Since such firms are experienced in their field of operation, they're likely to get you the best deals in the market when it comes to carrier services and other shipping-related tasks.
You're also more likely to significantly improve customer service and to build your company's reputation when you outsource your order fulfillment services. By doing so, you create enough space and free enough resources to handle other crucial areas of your business, hence enhancing your overall growth and success.