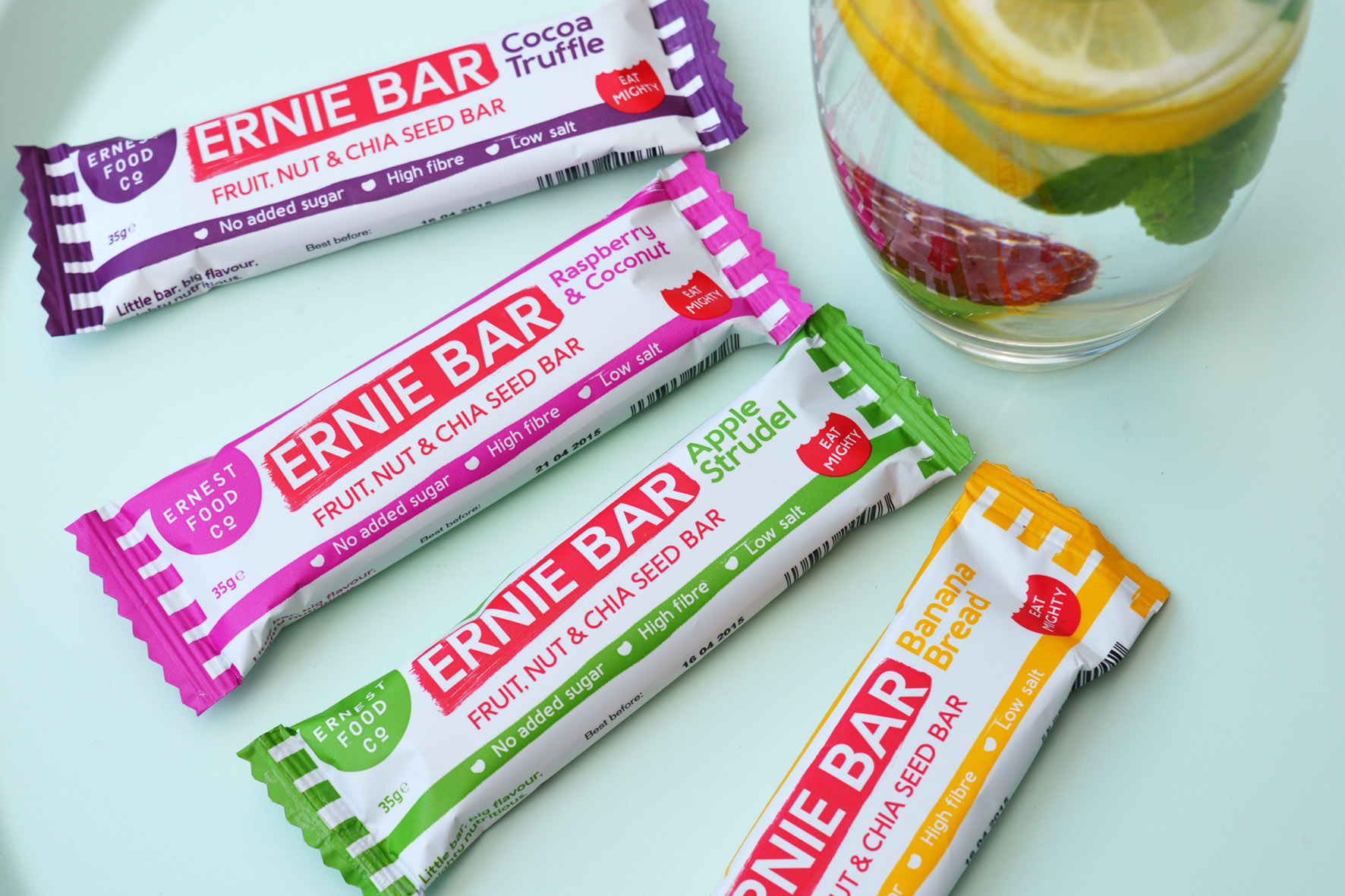 Ernest Foods are part of a growing movement of small brands that are listening to consumers who want foods that are minimally processed, full of flavour and without added sugar in any guise, flavourings and preservatives. The ultimate aim is a fine tasting snack that is both free from junk and full of super healthy ingredients. That's what makes our first range Ernie bars better than other 'natural' bars. Every single ingredient does something good for your body.
How does Ernest Food Co. stand out from competitors in the industry?
We set out to shake things up in the 'healthy' snack market. We want embrace the challenge, if a nut or flaked oat is covered in sugar and rolled in chocolate is it still a healthy nut? In our Ernie bars, we didn't just keep out sugars and syrups. Our bars are made simply with dried fruit, nuts, seeds and spice. The puffed quinoa in our bars is a complete protein source and chia seeds are the highest plant form of omega 3 and 6.
What challenges/threats does your industry currently face?
We face the same challenges as most start-ups but we are very lucky in that we have a fluid business model and a hell of a lot of passion. A great support network including Innovate UK and the Growth Fund of West England and inspiring supporters like the Do Lectures folk also help. That and a bit of graft should see us through, touch wood. Would be nice if the government didn't make our customers pay VAT on healthy snacks though.
How have you overcome / are planning to overcome these challenges?
Well, we have spent the Christmas marketing budget of £35 in the pound shop so John Lewis need not be concerned. Because we spend so much on the ingredients we use in our bars, we have to be pretty creative with how we get the word out. We will be posting lots of interesting pictures on Instagram (@ernestfoodclub)
Where do you see your industry heading in the next few years?
I think that the US market is a couple of years ahead of us in terms of product development in the wholefood market. Products like non dairy 'Mylks', 'superfood' supplements and plant based protein products will be areas of growth. As food purchase grows online, there are opportunities for small quality brands like ours to grow and thrive. Well hopefully or else I'll be starting a carpet cleaning business. Again.
What has been your most valuable lesson so far since starting your business?
Anything that has been really painful or soul crushing has usually been a lesson. I'd like to go easy on the lessons for a while if that's ok. If I have learnt anything positive, it is that work is work but you can still have fun.
Is there a specific person or company that has been an influence on your career in this industry?
There are three that spring to mind. Moo for doing one thing really well, Swissmiss who makes her work her passion and Huit Denim for striving for product perfection. I'm a size 29/30… only kidding. (Not really.)
What do you aim to achieve with ErnestFood over the coming year?
Two things really, a presence in lovely shops that we admire like Planet Organic, Ocado, Wholefoods and Waitrose. And the second would be to continue to share stories, recipes and laughs with our customers. 
How long has the your start-up been in the making, and who is the team behind the business?
We have been going since last year. We spent about 10 months in the recipe development and funding stage. We sold at farmers markets which is the ultimate market research exercise – real people with real opinions spending their own money. I recommend it as long as you have a decent flask of tea. In terms of team, I develop the products and oversee marketing, Alicia is on sales and doses of reality, Laura on social media and John from Sapphire Accounting does his best to crush every dream we have with the financial reality. And we love him for it.
What advice can you give to newcomers to your industry, or the startup space in general?
There is never a good time, never enough money, never the right market conditions but if you are mad enough to press ahead then listen to all advice whether you take it or not. And spend as much time on financial planning as you do on product development. Live by the saying 'I don't have enough time is the adult equivalent of the dog ate my homework. Visit www.ernestfood.co.uk for more Ernest tales.