With over a billion consumer and business users, augmented reality harnesses the power of the smartphone used by nearly 45% of the world's population. Michel Ruiz, co-founder and CEO of KaviAR Tech, an augmented reality company headquartered in Paris, shares insights on his startup, how people, brands and companies will benefit from AR, and how it will change the world.
Who is KaviAR Tech?
KaviAR: KaviAR Tech is an augmented reality startup headquartered in Paris with a vision to share AR technology for all. Our new app, KaviAR Gate, is the world's first augmented reality teleportation application tool allowing one to "visit" exotic destinations right from their smartphone.
KaviAR Tech has three founders. Michel Ruiz, who is the face of the brand and behind our marketing and communications; Anthony Merzouki, who is the creator of our website and works on our AR technology; and Wajdi Ben Rabah, who is an expert in AR as well, and heads our application creation. Since 2018, we have come up with different innovative products and solutions.
Our most recent solution is KaviAR Gate.  We are proud to bring consumers and businesses this world-changing technology that can be implemented easily and quickly, while maximizing user experience and profitability.
Tell us more about KaviAR Gate.
KaviAR: KaviAR Gate is a new way to take a "virtual vacation" right from your smartphone. The concept is very easy to use: once you've downloaded the application, you will find a library of destinations, you pick a destination, such as a gorgeous beach in Madagascar or a charming streetscape in Paris, and you set the door in front of you in your living room, garden or home. Simply "walk through" the door and you will arrive at your chosen destination.  With the use of 360-degree videos and photos, we are able to offer this incredible travel discovery experience.  KaviAR Gate is a free app that is fun and educational, while showcasing the power of AR.
Why is now a good time for KaviAR Gate?
KaviAR: The idea for KaviAR Gate is the product of augmented reality mixed with an interest in discovering new places. We released this app as the coronavirus pandemic started affecting nations around the world. As holidays have been cancelled for the foreseeable future, we are proud to offer a relaxing and inspiring diversion during this difficult time.  We wanted to give people the ability to travel, and to experience all that AR has to offer. Today, it is more important than ever. Download it at the app store or on our website.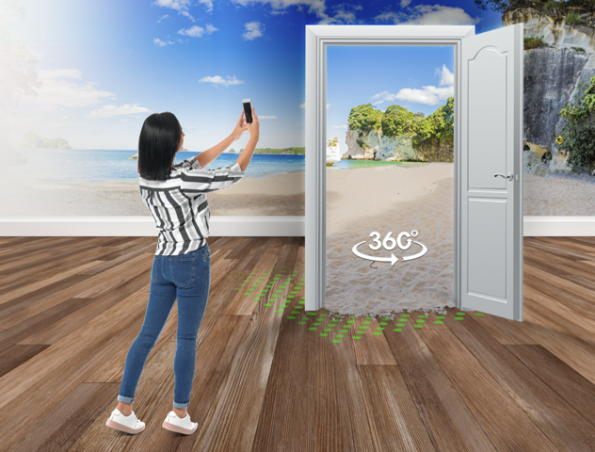 Why is AR important?
KaviAR: First, it's important to know the difference between virtual reality and augmented reality. VR "takes" you to another location, and normally you would need a headset and glasses. While VR is a very cool technology, it is not practical for day-to-day usage. In contrast, AR adds to your reality, with no special equipment necessary. Besides being simple and easy to use, a great benefit of AR is that it's possible from your smartphone or tablet. Simply use it on your phone or tablet whether you're working, at home, or on-the-go—no special equipment needed. AR can be used for so many valuable applications.
For example, in education, AR can replace a text, manual or instructions. You can add in demonstration videos. It can be used for recreational purposes as well. For kids, it could be something fun yet educational, such as having a small dinosaur teaching them something. It could be used for tourism, such as a guide that appears in front of you, presenting to you the historical monument that you're in front of. The potential is limitless.
Who are your clients?
KaviAR: KaviAR Tech has something for everyone, particularly in the retail, travel and consumer sectors. Anyone dealing with physical objects could benefit from AR.  Our vision is to make AR accessible to everyone. Our clients include some of Europe's most progressive companies, such as Newrest, a transportation catering company, and ENGIE, a French multinational electric utility company.  We could help so many other clients—whether it's Walmart, Amazon or the Louvre—to use AR to give greater access to consumers around the world to shop and discover.
What is KaviAR Tech's vision for the future?
KaviAR: KaviAR Tech is passionate about AR, and believes that AR is the web of tomorrow. We want to make AR for everyone, and make it available in all different industries. AR will play a huge role in our lives in the coming years. It is exciting to create solutions and to be a part of this movement.

What is the startup scene like in France?
KaviAR: There is a vibrant startup scene in France. There are a lot of programs that support startups, plus events and competitions. We are grateful to be getting more recognition locally. Our startup was self-sufficient from the beginning, which makes us lucky.  Our three founding team members brought the skills needed to the table, and we had to outsource very little.  Michel and the other two co-founders were able to bring KaviAR Tech to life with the skills and tools they already had.
What's next for KaviAR Tech?
KaviAR: KaviAR Gate has powerful new features that both consumers and brands can benefit from. KaviAR Gate's new Museum feature enables people to create a virtual, walkable gallery with some of their favorite images—and commercial businesses can create a virtual "sales floor" as well. This powerful tool means that brands and retailers can create a vibrant virtual destination. This can empower luxury brands, boutiques, larger stores and chains as well. KaviAR Gate wants to create the world's most accessible, easy-to-use and realistic tool that that people and companies can benefit from. AR will optimize how people experience the world and we are honored to be a part of that evolution.
Thank you and good luck, KaviAR.