If you're an aspiring novelist, musician or actor then you're familiar with the dreaded question that comes up at family events – even worse, when you're meeting your partner's parents: how do you make a living at that? In 2018, competition across all artistic fields has risen, while the institutions that once supported these endeavors have either crumbled or undergone radical changes. Making it as an artist has never been easy. But in our current era, it is more difficult and complex than ever to do much more than a side hustle with your passion.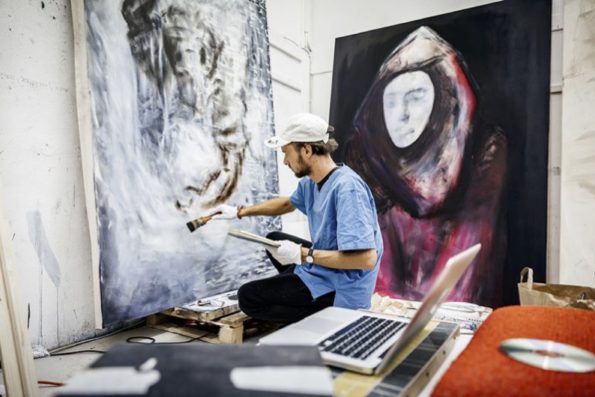 By the same token, we should consider ourselves lucky to live in a society where people are free to pursue art – even if means moonlighting as a bartender or wedding band bassist – rather than working twelve-hour shifts in the coal mine. In fact, the younger generations' obsession with work-life balance means that people working regular day jobs are more inclined to have an artistic hobby, and artists are more likely to take regular gigs like book-keeping and teaching.
The so-called gig economy that most young people operate in certainly has its disadvantages. But one clear advantage is that you can diversify your skill set and your CV if you develop a wide array of talents and learn on the fly. If you happen to have an artistic side hustle project that you hope to make a living off of someday, you might even be able to use your practical skill set to get it off the ground.
Traditional Roles Falling to the Artist
It used to be that a small army of managers, publicists, agents, designers and editors could support a project when the money was pouring into labels and publishing houses. Nowadays, however, unless you already have distribution and an established fanbase, it's virtually impossible – one in a million – that you'll convert your side hustle and find a big budget and institutional support for your project. While this can be daunting for some, it is liberating for others. Bands like Vulfpeck and Woods have established their own independent labels and models of promoting and distributing their output.
Establishing Your Platform
While the idea of aggressive self-promotion is distasteful to some, it simultaneously guards you against a label or publicity company misrepresenting you or your work. In creating your personal brand through thoughtful posting, collaborative projects and advocating for causes that are important to you, you can create an organic extension of your aesthetics and values that draw the public to your work. If you come up with some rough ideas for images and copy, a boutique design studio like http://cosmicdesigner.com could help you develop your branding into a slick aesthetic that will be immediately recognizable.

Patience and Persistence
If you connect with any kind of an audience and make a bit of money on your first record or novel, just keep trying. There's nothing wrong with a bit of artistic side hustle. Even if the money isn't proportional to the work, at least you're pocketing something in realizing your dreams. The clichéd phrase don't quit your day job may not be so applicable in 2018. Everyone seems to have more than one job, and increasingly, the side hustle is a way of life!