Your start up business is most likely to be your livelihood too. So, making the right first impressions on customers or business partners is going to be essential.
There are a number of ways in which people can get to know your business. They may have found out about your business through searching online. Alternatively, they may have discovered your business through a friend or business associate. Making the right first impression can be the difference between success and failure.
So, how can you go about making the best, first impression:
Business Cards
You may think that this is just a card with your contact details on. If you do think this, you couldn't be more wrong. A business card is normally the first thing that you pass on to prospective customers. It is much more than a card with your contact details on. A prospective customer will look at this and think; 'is this someone a want to deal with'?
How can you make your business cards better? Of course, you want them to include all of your relevant information. This could be your name, contact number, email address and Facebook page. You may also want to consider adding a QR code, which could direct the prospective customer to your website.
The finish that is added to the business card is something else that you should consider. You can choose from glossy or matte finishes. Alternatively, you may want to use embossing technology. This technique makes your business card stand-out above the rest.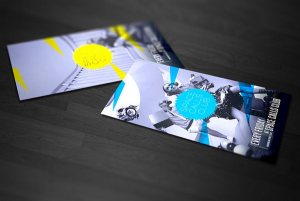 Flyers
If your business can reach an audience with flyers, then it is your chance to make the right first impression. It is essential that the flyer accurately reflects you and your business.
Much like business cards, having the right information on a flyer is vital. What do you want the prospective customer to do? How do you want to make them feel when they see the flyer?
You can add bespoke images and copy depending on where you flyer will be seen. This personalisation will make a prospective customer feel that 'this is relevant for me'.
Brochures
We have all seen brochures being left around, whether in the office or within another business. Brochures provide a prospective customer with a lot more information on your business. As well as the products you sell and the services that you offer. In many ways, a brochure can provide a real opportunity for success. The amount of information given within it could be enough to convince them to make an instant purchase.
Brochures are normally items that can be seen, touched and physically connected with. Like business cards, you will have to consider how the prospective customer interacts with it. You may want to consider embossing and the quality of the finish when printing your business brochures.
Giving the right first impression is vital. You must always consider the audience and the information they receive. You should also consider the quality of the offline marketing that you are making available to them. The cost of quality could cost your business.