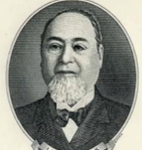 Levi Strauss the founder of Levi Strauss & Co was a leader, innovator, philanthropist and risk taker. The story of Levi Strauss is incredibly inspirational and should be referenced when people have apprehensions about turning a business idea into a start-up.
To this day the red label of the Levi brand is recognised around the world and Levi 501s are one of the most successful items of clothing ever made and continue to be sold globally.
Every brand, business, company, innovation and discovery involves risks and requires the leader to put his or her fears aside.

In the beginning
Levi Strauss was born In Buttenheim, Germany in 1829. When he was 18, Levi, his mother and his two sisters travelled to the US to join his older brothers who were living in New York City.
Levi moved to Louisville to run the Kentucky division of his brother's wholesale dry goods business.
Big risk Number 1
In 1853, at the age of 23, Levi became an American citizen and moved to San Francisco. He had heard of the Gold Rush in San Francisco and the 300,000 people who had relocated to the area and saw this as an opportunity to set up his own store. This was the beginning of Levi Strauss & Co.
Levi Strauss & Co began selling wholesale dry goods to local stores in the area whose custom came from the gold prospectors. They sold items such as clothing, bedding, combs, handkerchiefs, umbrellas and canvas for tents.
Big risk Number 2
In 1872, Levi was contacted by a customer of his, Jacob Davis. Mr Davis was a tailor from Reno who bought his fabric from Levi Strauss & Co. Mr Davis was looking for a partner to help him patent his revolutionary idea that would strengthen work trousers using copper rivets.
Mr Davis needed assistance patenting and financing the idea so propositioned Levi. Levi had no knowledge of the clothing industry or tailoring, and was relying on the specialist knowledge and expertise of his partner. Levi had business knowledge and loyal customers. Levi took a risk partnering with Mr Davis, and in 1873 they received their patent for the rivets.
Big risk Number 3
Levi Strauss & Co began selling denim work pants, known as waist overalls, with reinforced rivets on the pockets and on the button fly.
The first pair of Levi 501s was produced in 1873, known at the time as "XX", an industry term meaning highest quality.
In 1880 the demand for the waist overall was so high that hand-made production could no longer keep up with demand and Mr Davis relocated from Reno to San Francisco and the first factory was opened to produce the pants with the use of machinery.
Levi Strauss himself passed away in September 1902 after training his four nephews to run and develop the company further.
Levi Strauss & Co after Levi Strauss
Big risk Number 4
The 1906 earthquake and fire in San Francisco damaged the factory and headquarters. Levi Strauss & Co extended credit to its customers to allow them to get back on their feet following the disaster. Meanwhile, all employees at Levi Strauss & Co continued to be paid their full salary and after a number of months a temporary factory and showroom were set up and work restarted. By looking after his staff in this time, it meant that work could restart with his valuable workforce as soon as possible and level of production was instantly high.
In 1908, Jacob Davis passed away. Up until the time of his death he managed the factory and the manufacturing process of all Levi Strauss & Co apparel.
Big risk Number 5
In 1926, after an especially fruitful year, employees at the Valencia Street factory were awarded bonuses, which, at the time was unheard of in the apparel industry. Awarding bonuses was common practice in other industries but Levi decided that he needed to acknowledge the hard work of his staff and by doing so he maintained a loyal workforce.
Big risk Number 6
The depression struck in the 1930s and demand for workwear decreased. As a way of preventing lay-offs, the work week at Levi Strauss & Co was shortened and staff were given alternative non-manufacturing jobs while production levels were low, one job for instance was laying the hardwood floor which is still in place in the San Francisco factory. By doing this he retained a skilled workforce who was happy to restart manufacturing as soon as the demand for workwear increased and once again the high standard of production was maintained.
Big risk Number 7
In 1948 the nephews of Levi Strauss made the decision to discontinue the wholesale business to focus primarily on the manufacturing of apparel. The risk paid off and the apparel business, in 2011, had a net revenue of $4.8 billion.
Modern day Levi Strauss & Co
Throughout the years Levi Strauss & Co continued to grow as a company and as a brand. They expanded across the globe and set up factories and stores worldwide. Over the years they created a line of jeans for women, aired their first TV commercial in 1966, launched a second brand called Dockers, launched their first website in 1995 and celebrated their 150th Anniversary in 2003.
Through the years one of the main things that stands out is the value and emphasis placed on employees:
Paying employing full salary while the factory is being rebuild
Awarding bonuses in an industry where bonuses weren't awarded
Reducing the work week to prevent layoffs
The Red Tab Foundation was set up to help employees in retirement
Levi Strauss & Co Became the first corporation to provide HIV and AIDS tests and education for employees and their families
They developed one of the first known comprehensive standard of practice for manufacturing contractors which included wages, conditions of work, ethics and the environment
They became the first US corporation to offer employees and their families, including unmarried partners, medical benefits
If Levi Strauss hadn't taken the initial risks, there would be no Levi Strauss & Co today. He made clothing history and has benefitted many people along the way. The success of his company can be traced back to him and the way he instructed his nephews to run the business once he had passed. He is unquestionably an inspiration to all business owners and aspiring business owners.
Related articles