Before 2019 comes to a close, let's review the hottest corporate office design trends of the year. Click here to see which trends took office design by storm.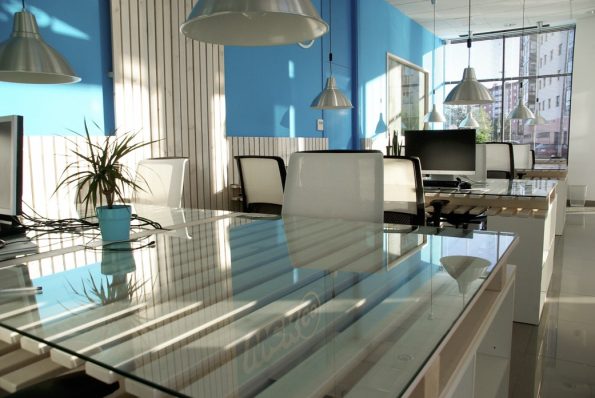 Did you know that workplace design can impact the productivity of your employees? Are you looking for new corporate office design trends? Not to worry! In this guide, we'll go over workplace design options.
Want to learn more? Keep reading to find out.
Blend Modern and Rustic Trends
Popular offices maintain the original structure of the space. After, you can add elements to hint at the company's personality. You can preserve historical areas but modernize the rooms with funky art.
Switch up the Seating
Some companies shift to open-plan offices while others dislike that seating arrangement. Let your employees have a say. Try to be flexible with seating policies. Instead of having assigned seating, allow your workers to choose a new spot every day. You can assign workstations but also offer individual seating options around the office.
Update Your Conference Rooms
Check out the new technology available for conference rooms. You can install new lighting and audiovisual systems that connect with Bluetooth. If an employee walks into the meeting room, the sensors will adjust the brightness. You won't have to waste time setting up a conference call or projector.
Choose Bold Colors
Combine solid colors that you wouldn't put together. This will refresh your office space and rejuvenate workers. Newcomers and visitors can find their way around your office. When viewed from a distance, your office will appear unique and exciting.
Aim for Comfort
Try to create an environment where your employees will feel comfortable and relaxed. With more time spent at the office, focus on creating an inviting space. You can add plants, comfortable couches, soft lighting, and a low coffee table. Add these to create an intimate workspace. People can use the space for an informal meeting or to take a break.
Make the Most of Natural Elements
Incorporate organic vibes to your office. Choose a color scheme that hints at the familiar feel of a forest. Select greens, neutral tones, or browns for your office walls or decor. Dark wood and stone are material options for tables or decorations. To evoke a warm feeling, add a few leather chairs or couches. Pick up various plants and place them throughout the office. This will help clear the air and maintain a peaceful atmosphere.
Get Rid of Clutter
To make your office clearer and more comfortable to work in, bring in concealed storage units. You can retrieve relevant documents right away without all the mess. Add in a bulletin wall for office notices.
Add Texture to the Office
Bland office designs won't energize your employees or clients. Instead, try and layer different colors and textures to enhance the mood. Add in soft furnishings, unique photographs, and rugs. This will create interesting focal points. Layer any furniture with cushions or textured throws.
Pick up Repurposed Pieces
A top trend for this year is using recycled materials or repurposing old furniture. Challenge yourself and your team to become eco-conscious. These unique pieces will create a special atmosphere in your office. People will ask where you got your eye-catching furniture or decor. You can choose from reclaimed wood furniture to upcycling old desks or chairs.
Look for Metallics
Revive your office design with funky matte metal furnishings and surfaces. Metallics are a trend this year because they can boost creativity and productivity. Pick up framed wall art in metallic shades. These will reflect light making your office environment appear larger. Choose from bronze, gold, or silver tones. You can pick up a coffee or side table with metal legs. This will add elegance to your office. If you don't have a massive space to work with, definitely consider adding metallics.
Geometric Patterns
For modern office trends, geometric patterns can add intrigue to plain walls. Pick up a set of graphics with funky designs. You could also divide your office space with glass room dividers covered in a neat pattern.
Buy geometric planters and place them throughout the office.
Focus on Your Employees Experience
Help your employees improve their wellness by adding experience-driven spaces. This will help cultivate happiness in the workplace and build a sense of community. Open this up to all your employees.
Some companies will include yoga studios, meditation areas, or massage therapy spaces. You could add an espresso bar or a game room. These options give employees a chance to take a break. They might want to socialize with other team members or lower their stress level with a massage.
Encourage Collaboration
Pick up furniture that will help employees work together on projects or have a quick meeting. Collaborative furniture is a modern design trend that's becoming popular. You can get large meeting desks with extra power outlets. Have freestanding media units so your workers can project their work on a screen right away.
Private Workstations
Even though open spaces are popular, don't forget to create closed-off areas. You want to make sure there are quiet places for your employees. This way, you'll have plenty of options for your various employees to sit and work. Some might want minor noise in the background while others need complete silence. For those who want to work outside, consider a terrace. Learn about glass canopy systems.
We hope you found this guide on trendy designs helpful. Sit down with your team and choose your corporate office design must-haves. Don't forget to bookmark our site. This way, you won't miss out on any of our resources.