In the wake of the Covid-19 pandemic, we've had to adjust to a huge range of changes to our day-to-day lives, which has had an impact far beyond necessities like buying groceries or socialising. The culture industry has taken a particularly significant hit, with major theater chains and concert venues shuttering permanently in the virus's wake as they struggle to afford both rent and wages for staff.
The same has been true for the art world, with one recent survey showing that around three quarters of galleries "face severe financial hardship or even closure within the next year", though only 35% of those have the finances to stay open until this time next year. Even when they have been open, footfall has been down, and those with the means have resorted to taking their collections online to offer the gallery experience to art lovers across the globe.
However, one area of the art world that hasn't taken quite as harsh of a kicking from the virus has been street art. After all, with a rising number of American workers doing their jobs remotely, it's never been more important to get out of the house (safely) and look for beautiful things in the outside world. And nowhere has done better at bringing art to its citizens than Los Angeles.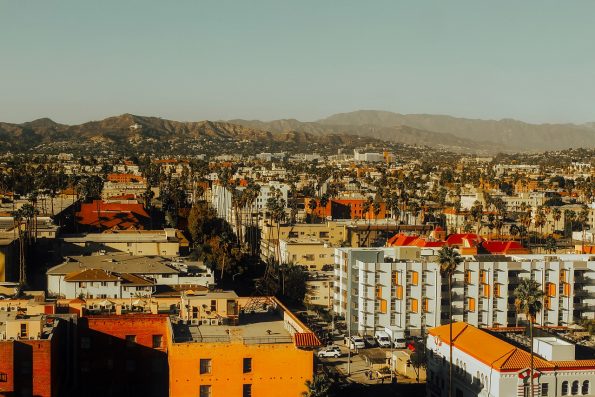 Street art is bringing new perspectives to old landmarks
With so many galleries and museums shut down for the foreseeable future, artists have taken it upon themselves to showcase their work al fresco, leading to a rise in street art murals across LA. One of the most notable of these has come from local artist RETNA, whose recent work from 2020 has been strongly inspired by the Coronavirus pandemic. However, his street art background has allowed many to enjoy his art, whether they know it or not.
RETNA's mural at the West Hollywood Library has been in place since 2011, applying his signature calligraphic style to the run-down building in vivid blue lettering which mixes a range of Asian and African typefaces. Fittingly for the location, the text he painted for this particular mural came from author Salman Rushdie, and translates into English as: "Literature is where I go to explore the highest and lowest places in human society and in the human spirit, where I hope to find not absolute truth but the truth of the tale, of the imagination, and of the heart."
Keep an eye on the 'gram for all the latest openings
Of course, the hardest thing about being interested in street art is knowing where new work can actually be found. With little in the way of formal backing, the majority of what you might call "openings" for new street art aren't advertised at all. While many artists are remaining in their studios, creating virtual exhibits from home, Instagram is also hugely useful for tracking down works that you can see in the flesh.
Follow locations or hashtags which will alert you to the latest new street art in the city — a trend which has really taken off in LA, with Corie Mattie's Hope Dealer series offering some inspiring, if matter-of-fact slogans like "Cancel plans, not humanity". Of course, one of the key issues with street art is seeing it before it is painted over, as legendary graffiti artist Banksy learned the hard way after one of his first Covid-inspired artworks was removed only a few days after being painted.
Some galleries are still offering art by appointment
Despite the surge in pandemic cases, this hasn't stopped some institutions from remaining open, if only to provide some level of income in the face of minimal federal support. These are primarily in smaller spaces and only accessible by appointment to ensure the utmost safety for those visiting in person. And even though it's on everyone's minds, not all new and upcoming shows feature works are related to the pandemic, meaning that you can choose to engage with new perspectives on this strange year, or simply enjoy the opportunity for escapism. Specialist art sites like Hyperallergic and other more localized listings continue to run gallery guides across LA and the rest of the country, so keep an eye out if you're eager to see more.