The story of Nomad Internet is one that startup owners of every variety should be paying attention to. Today, the company advertises up to unlimited wireless internet for rural areas, but back then, the founders were stuck on a single problem. Jaden and Jessica Garza didn't start off with a lofty plan to change the world, nor did they have infinite support from investors before they completed their first installation.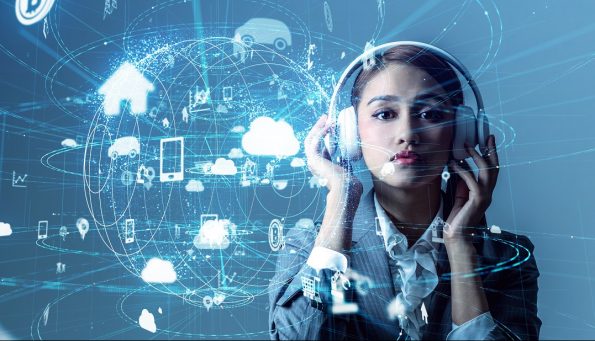 Instead, the internet service company was born because of a single observation —  that WiFi in RV parks was terrible. Campers and RVers couldn't do what they needed to do, and it was frustrating on a number of levels. We'll look at Jaden's entrepreneur journey and how Nomad Internet was able to leverage this need into thousands of subscribers, a full staff, and a standalone building on 10 acres of land.
Humble Beginnings 
The site of the first installation was Johnson City, TX in 2017. The RV park in the city trusted the Garza to deliver enough bandwidth to the park so everyone could use their devices. The Garzas came through on that promise. After that, they would move to a full-time park in Sequin, TX. For those who live in a camper all-year round, the need for WiFi is especially distinct. Paying bills, booking appointments, making arrangements for work or school: these are all hampered by a slow or spotty connection speed.
The park in Sequin had around 50 full-time RVers living there, and the problem was straightforward. The speed of the internet at the park combined with the traffic made it difficult for anyone to connect. Once people did manage to get on the internet, pages were likely to time out because they spent too long attempting to load.  
Jaden Garza knew that the budget of the park owner was anything but unlimited, and so he looked for ways to keep costs down. This was when he decided that LTE was the best option for Sequin. This technology is everywhere today, but it wasn't a household name in rural areas of Texas. The decision translated to an extra 40 megabytes per second for the park, which made both the residents and owners happy.
LTE and GSA 
Jaden Garza at Nomad Internet can tell you that it's not always easy to establish your reputation in an area, but it is entirely possible if you're as consistent as you are innovative. The success of the first few installations led to another major break for Garza in 2018. It was then that the Girl Scouts of America (GSA) at San Jacinto reached out to the couple for help with their installation. After having received several bids from other providers, some in excess of $100,000, GSA gave the smaller outfit a chance to throw their services into the ring. It turned out to be one of the smartest moves GSA could make to both conserve their budget and improve the functionality of the park.
Because Jaden Garza didn't want to send a six-figure bill to a nonprofit, he decided to think outside the box. He used his negotiation skills to get a licensed LTE technology kit through BaiCells Technology. He was one of the first owners of a base station from BaiCells, and the resulting speeds gained him more traction in the market. He became known for his ability to not just capitalize on emerging technology, but adapt it to different audiences and sites. The Garzas would use this momentum to build their business one park at a time, the way they had always pictured it. Brick by brick, Jaden Garza continued to plug away at his craft. By the time 2020 rolled around, though, they decided it was time for a change. The company wanted to offer up to unlimited wifi plans for rural areas, which would mean a shift in tone for their business.
From Businesses to Consumers 
RV parks counted on Nomad Internet to bring value to their business. The owners of the site could not only tempt more people to stay on their land with better WiFi, they could also fold the costs of the service into higher lot rents or nightly fees. In early 2020, the Garzas decided that they could branch out their services by working with customers directly. (The change couldn't have been better timed, as more people than ever before would need WiFi thanks to a global pandemic.)
Since 2017, LTE technology had come a long way, bringing reliable WiFi to people without charging an arm and a leg for it. Jaden adjusted his services for individuals and families, so he could help more than just RVers. Because Nomad didn't rely on fiber lines, unlike their competitors, the internet connections from all devices worked in much the same way that a cell phone connection would. This change made for so much additional work, it allowed the Garzas to hire their first full-time staff members.
The Snowball
The switch from business-to-business to business-to-consumer allowed the Garzas to leave their shared office space and move into a private office space in New Braufnels in October 2020. This wasn't just a step up in terms of location, it was a turning point for the company as a whole. Jaden Garza considered this a reward for the hard-fought success that had all started in the summer of 2017. The extra space allowed Nomad to gather the team under one roof, and everyone got to work turning the offices into their own unique corner of the world. It shouldn't come as a shock that this was the same month they hit 10,000 customers. Just a few months back, they had only 5,000 customers.
By July of 2021, they had doubled their customer base yet again to 20,000 customers, and it turned out that they needed more space for their staff yet again. The headquarters for Nomad Internet is located on 10 acres of land. Not only do they have a stand-alone building al to themselves, it's also surrounded by walking trails and greespaces for employees to enjoy. Jaden Garza wants his employees to get out and about, and not just during their designated breaks and lunches. Having all that room to roam isn't just great for leisure time, it's good for business too.
Team members can gather and discuss problems outside of the confines of the offices, which can lead to more creative solutions for their customers. Considering Nomad was laid on a foundation of approaching problems from different angles, this was an invaluable benefit. The team at Nomad is also busy remodeling the interior of the building, giving the space its own personality and flair. The decoration also adds to the fun of working for a company that cares about its people and products in equal measure.
Nomad's services were recently given a glowing review by CNET. This popular review platform is for consumers who want unbiased suggestions and advice about what to buy and where to get it. The company talked about the quality of the internet from the company and also gave consumers general tips about finding the best service for them. Today, Nomad Internet proudly displays CNET's logo on its site as a quick introduction to their standing in the industry — one that started with a single installation in Johnson City.
Jaden Garza at Work
Jaden Garza is proud of how far his company has come and excited about how much farther it can go on his entrepreneur journey. Delivering up to unlimited internet in rural areas isn't simple, but it can be done thanks to advancements in technology and companies like Nomad who are willing to do the work. It's a testament to anyone who identifies a better, more affordable, solution to a problem and decides to do something about it.