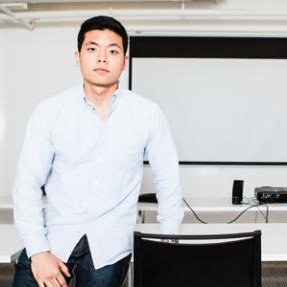 DESIGNATION is a comprehensive approach to design education. We cover topics including the full-stack of design skills, spanning user experience, UI design, and front-end development. By integrating all of these content areas into one unified skill-set, DESIGNATION produces designers who are versatile enough to wear lots of different hats on any given day.
Over 18 weeks in Chicago, participants in the DESIGNATION program receive numerous chances to immerse themselves in a wide variety of projects, assignments and collaborative efforts on real client work. Aided by the guidance of our in-house creative team, students build a portfolio over the course of the program that's representative of the full breadth of topics, with special emphasis on their specific area of concentration.
Who is your startup aimed at?
DESIGNATION is for print designers looking to bolster their digital skills, developers who want to create pixel-perfect interfaces, visual designers that want to be able to code their comps, aspiring designers trying to find their place in the industry, and anyone who wants to learn the fundamentals of good UX design.
How does your startup stand out against its competitors?
We are the first full-stack design bootcamp built to help any aspiring designer find a job by teaching them specific skills. There's a ton of overlap between technology, UX, design, and programming — we've created a curriculum where you are expected to build up a T-shaped skillset in UX, UI, and coding. It's not expected that our students learn everything, but students naturally gravitate towards a specialization (usually in UI technical skills, or coding).
Also, we ensure that when you participate in DESIGNATION, you become part of the lifelong DESIGNATION network. For however long it takes for you to find a job, we will work with you to make it happen. Our program is perfect for people who possess a natural curiosity about the way things work, and are constantly looking for ways to make them better.
Where did the idea for the startup come from?
There was a flurry of disruption happening in education, namely computer science and the whole learn-to-code movement happening in America. There were a lot of programs and classes teaching Rails or JavaScript, but there was no courses which taught full-stack design.
Did you have any concerns when starting your business, if so what were they?
I was a junior in college creating a brick-and-mortar business in Chicago, which was three hours from where I went to school. Considering these circumstances, there were plenty of concerns throughout the initial months!
What is your business background, and what got you interested in startups?
I have previously co-founded a mobile fitness startup, Fitsby, and a productivity SaaS startup, Cupcloud. I've always been a fan of the startup mentality. On paper, I studied finance at the University of Illinois at Urbana-Champaign. I really spent those four years building relationships with smart, awesome people and focusing on entrepreneurship.
How did you initially raise funding for your company?
We initially generated our operating capital through paying customers. Asides from a few investors which are our friends and family, we are completely bootstrapped.
What has been your greatest achievement so far?
Having students say that their experience with our program has changed their lives is our greatest accomplishment. There's a quote out there that says something along the lines of "If you want to go fast, go alone. If you want to go far, go together." Our entire team deserves credit for how far we've come – and we're only getting started!
Also, we partnered up with 1871 in mid August and have begun rolling out projects. Our students will work in teams for a month and a half, helping startups with everything from UX research, to UI high fidelity comps, and front-end coding. We've found that real portfolio pieces are tremendously valuable when our graduates start to interview for jobs. We've also partnered with Founder Institute, and their classes started in September.
How have you kept your business relevant and engaged with your audience over the last three years?
We share a lot of day-to-day activities of what happens at DESIGNATION on Facebook and Twitter.
How long has your startup been in the making, and who is the team behind the business?
We launched in 2013. Basically we're a group of passionate professionals from a wide variety of design-related fields. In addition to my expertise in web design and starting businesses we have Zeke Franco, a senior designer at GrubHub; JJ Lee who is a senior designer at Sittercity as well as a social entrepreneur who founded Chicagood; experienced designer and studio owner LeAnne Wagner; advertising extraordinaire William Shandling; Grp21 founder Andrew Wenum; award-winning art director and illustrator Christopher Smith; business operations expert Aaron Fazulak; and Alex Jewell, a UX designer with about 10 years of experience. And of course, our program is backed by Jim Jacoby, a thought leader in the user-centered design community and the dean of the American Design and Master-Craft Initiative. Jim founded Manifest Digital, the largest privately owned digital agency in the Midwest.
What has been your biggest challenge so far as a startup owner?
The emotional startup roller coaster has been the toughest. Every day, every week, and every month is different.
In the coming year, what would you like to achieve with your business?
We're aiming for all of our students who are looking for a job to get one within eight months of graduating. To do so, we work with every single one of our students after the program is finished to help them find jobs or internship opportunities after graduation.
What has been your most valuable lesson so far since starting your business?
Be cautious of causation vs. correlation. Making a business takes a lot of 'pivots' to get right. I'm a big believer that ideas have trivial value in the scope of a startup that's trying to make it.
Finally, if you could give one piece of advice to someone thinking about starting a business, what would it be?
Start it already! It's going to take some time to get right – might as well try right now!
Related articles