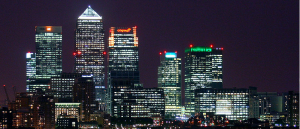 90 % of the business banking market is dominated by just 5 major high street banks. But the fall out from the financial crisis has severely affected the banking industry's ability to lend and although small and medium-sized enterprises (SMEs) did not cause the financial crisis, the subsequent credit crunch, from this small concentration of lenders, has now severely limited their access to finance.
The banks are slowly transforming and becoming more tightly regulated in an effort to prevent a repeat of the financial crisis. Basel III is a global regulatory agreement that will require banks to raise their capital reserves so that they become more resilient to future shocks. With Basel III, banks will have to hold extra cash in reserve, meaning that they will lend out less money compared to pre-crisis levels.
So with banks unable to lend at sufficient levels, private investors are beginning to fill the gap through innovative web-based platforms. This lack of available finance has catalysed the emergence of a myriad of private firms who are able to offer credible alternatives to traditional bank products and frustrated with the lack of return on their saving deposits, private individuals are injecting fresh liquidity into the small business sector.
This is crowdfunding, peer-to-peer, the alternative model disrupting the financial sector.
Bypassing the banks: The financial technology firms disrupting the market
Funding Circle: Commercial Loans
Funding Circle is an award-winning online marketplace where people can directly lend to creditworthy small businesses. Funding Circle enables private investors to receive high, stable returns, and businesses to obtain low cost finance to expand and develop.
The concept of individuals lending directly was pioneered by Zopa.com. The website allows investors to lend, anonymously, to people of varying risk profiles, setting the interest rate accordingly.
Funding Circle has taken the concept to business lending. Investors lend direct to businesses and average returns on the marketplace are 8.4 per cent.
The key advantage is that investors can control precisely who gets their money, and at what rate: the opposite of the decentralised model operated by banks, where there is a lack of accountability in the lending process. The Funding Circle approach is a truly disruptive force to the traditional banks' monopoly on commercial lending.
MarketInvoice: Invoice Finance Marketplace
MarketInvoice is an award-winning marketplace for invoices and is innovating, the traditionally suspect, invoice finance and factoring industry. It enables UK businesses to raise short term finance or improve cash flow by enabling them to 'sell' invoices raised, to investors.
Firstly this is not factoring. While money is raised on outstanding invoices and cash advanced quickly against them, this is where the similarity ends. MarketInvoice is far cheaper than factoring. As well as cost benefit there are many others for instance; you can choose to sell any invoice and not be forced to sell them all. You also do not lose control of your client relationships and expose them to heavy handed debt collection, but remain in control of managing the debt.
It works like this: you post an invoice (or a package of invoices) for sale in an auction and investors competitively bid to acquire these invoices, by proposing an advance rate against the invoice face value, and a discount fee. The advance can be as high as 90% and fee as low as 0.5%. Cash is advanced to the business immediately and when the business's trade customer eventually pays the full invoice, the business gets the remainder of the original invoice value back, less the small discount fee. It has been dubbed the 'eBay of Invoices' by The Telegraph.

Crowdcube: Crowdsourced Seed Funding
Crowdcube is the most radical offering in angel finance. It gives investors the chance to buy micro-sized slices of equity in start-ups. Bodycare business Bubble & Balm is a recent success story, having raised £75,000 from 82 investors in return for 15 per cent of the equity and Ex-bartender and drinks "anorak" Alex Kammerling raised £180,000 for 23 per cent of the equity in his Kammerling's botanical alcoholic drinks business.
Providing an opportunity for anyone to become an investor can only be a good thing. A fantastic way to promote entrepreneurship and stimulate a culture of wealth creation.

FX is very often a rip-off for consumers. When you go on holiday or need to transfer money to an overseas account, converting your pounds can lose you a significant percentage of your cash in fees.
Taavet Hinrikus, the first employee at Skype, has developed a revolutionary idea – to match individuals changing cash, just as Betfair matches punters in the betting industry.
For a flat fee of £1 you get paired up with someone trying to change their money in the opposite direction. You hand over your Pounds, they hand over their Euros, Yen, Dollars etc. The exchange happens at the true mid-market rate – that is zero spread.
The service launched in January 2011 and has already dealt with millions of pounds worth of currency changes. In the long run this model represents a serious threat to FX dealers.
Related articles