When hiring employees for your startup business it's not just about finding talented, committed personnel. You will also need to familiarise yourself with the legal implications of hiring staff. Additionally, you'll need to consider many other elements including how much you can afford to pay your staff and what career progression you will offer them.
Recruiting Startup Staff: The Ultimate Considerations
Ensure you comply with employment regulations. Employment law is very dynamic so you must familiarise yourself with the latest regulations and keep this knowledge on-going. During this process, you must make yourself aware of the national minimum wage, health and safety regulations, maternity rights and many other rules.
Your financial situation. You must be able to provide your employees with an appropriate pay package which is over the minimum wage. You'll also need to factor in other possible expenses into your finances, like employers' liability insurance that covers you if an employee is injured at work.
Hire interns? This is a good option if you need an extra pair of hands for a short-term project. Make sure both you and the intern are benefiting from the experience. Hire ambitious and hard working interns who will help your company and offer them a wealth of experience in exchange. Most interns receive little or no remuneration for their work. If you can afford a little (even travel and lunch expenses) this may help the right candidate manage the position better. Some startups use internships as a way to scope out possible talent for permanent employees. You may wish to hire a few interns and offer jobs to those candidates who really stand out.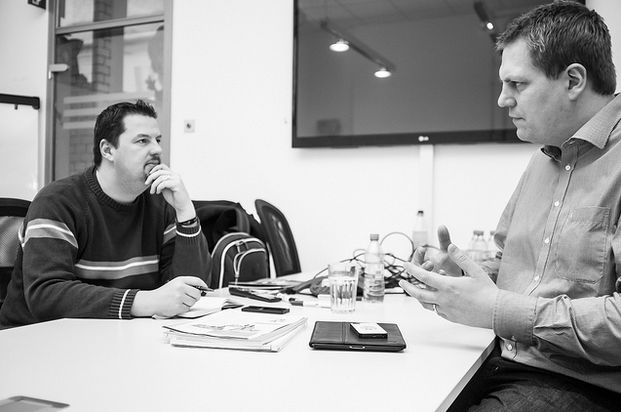 Be willing and able to commit to looking after your staff. Startup companies are unable to compete with international employers in terms of pay packages and employee benefits. However, many employees are choosing to work for emerging enterprises over their multinational counterparts. This is because they offer a more personal working experience. So, it's not all about finding the right person for the job and then leaving them to it. You must put effort into nurturing your relationship with your employees if you expect them to stay. Because you are a small team, you'll be able to spend plenty of time with your staff, providing them with feedback and praise. What benefits you can offer your team? For example, an employee assistance programme or bonuses for overtime are popular options. However, when you are low on cash, occasional training opportunities and social events can boost team morale until you can afford to reward staff further.
Work out how you will accommodate your staff. Do you have the necessary space and equipment for your new employees? Many startup companies make the mistake of hiring more staff than they have room for. This leads to an uncomfortable working environment and a higher rate of resignations. If appropriate, you may wish to consider employees working from home, to minimise costs on accommodation.
Hiring employees will be one of the most important steps you take during the journey of your startup business. This information should help you with some preliminary considerations before you recruit your first members of staff.