Sponsored
In an age where it is increasingly challenging to compete for attention, creating high impact marketing campaigns has never been more important. Food for Growth, a free e-book put together by Geckoboard and Mention, is essential for any individual scaling an organisation. This informative, witty and easily digestible e-book showcases the insights from marketing experts around the world. These individuals share the lessons they have learned, consider what's important right now and reflect on what the future could hold for marketing. Food for Growth can be downloaded here.
Here are few of the many valuable insights from Food for Growth:
Collaboration is essential to creating compelling marketing campaigns.
Morgan Brown, Head of Growth at Qualaroo emphasises that "When engineering and product are involved with growth, that's where the real magic can happen. All three departments – heck, the entire company – need to be aligned around growth to make really magical things happen."
Being adaptable and agile is important to long term success.  
Michael Stelzner, founder of Social Media Examiner says that in being a marketer for over 18 years, he "just stopped counting the number of times I've needed to revamp our marketing efforts. The one constant in marketing is change."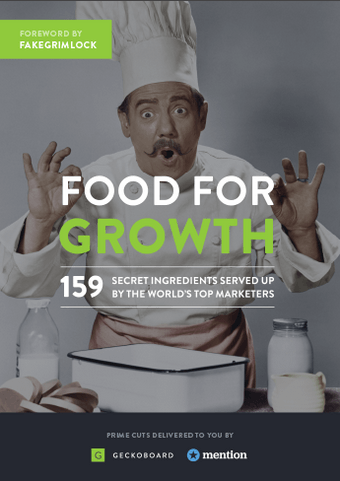 Successful marketing connects to human emotion.
Although consumer demands might change and technologies will evolve, the underlying principle of marketing is about creating and communicating value to the right people, in the right way and as Kelsey Jones, Managing Editor at Search Engine Journal says "no amount of 'tricks' or hacks will ever replace genuine human connection with your target audience."
Experimenting can be useful to work out the best way forward.
Sally Hadidi, Head of Communication at Import.io highlights the value of putting the plan aside and that sometimes "you have to cast those checklists to one side, try an idea out and if it fails, accept that it might not have been the right time and move on."
The ends will dictate the means.
Sean Work, Director of Inbound Marketing at Kissmetrics emphasises that "marketing is a vast field with hundreds of paths you can take, but unfortunately, many of those paths can eat through all your resources and time, without getting you any closer to accomplishing your goal. The most important thing I have learned in marketing is to spend a little time thinking about the goals, what various marketing methods will do to help you accomplish those goals, and how much resources and time are going to be needed for success. Success in marketing can be as much about avoiding bad decisions as it can be about making good ones."
Furthermore, Food for Growth also sheds light on which company marketing strategies the experts love and why they love them. Amongst others, find out why Garrett Moon, Co-Founder and Content Hacker at Coschedule is so impressed by what Groove "has done over the past year with their content." Marie Steinthaler, Head of Marketing and Growth at Hopster explains why Slack is a "a great inspiration for all us marketers to raise the bar and see what's possible without spending any money."
For more compelling lessons that could transform your approach to marketing, download Food for Growth, for free, here.