Creating a startup from scratch can be a daunting endeavor. Like any project, a lot of planning, attention to detail and effort must go into it, otherwise you may risk rolling out a flop of a product. In order to determine your course of action and overall business strategy (financial, marketing etc.), it's wise to create and implement some kind of business plan with a lean canvas approach as your guide.
Traditional models can, however, be time-consuming and fail to appeal to those required to absorb said information. Since the traditional business plans tend to take weeks or even months to prepare, they're also rarely updated. This can lead to poor company structure, miscommunication and a lack of sufficient focus on innovation and improvement. (1)
The "lean canvas" business plan, however, was designed to take all of that stress away and instead direct your efforts towards a concise, single-page document that consists of only nine key building blocks. This approach allows startups to easily identify customer-based problems and solutions, while keeping their ideas easy-to-follow, and to change if need be. Rather than getting stuck too deep into the nitty-gritty of the future, the lean canvas approach was designed as a basic snapshot of your current ideas.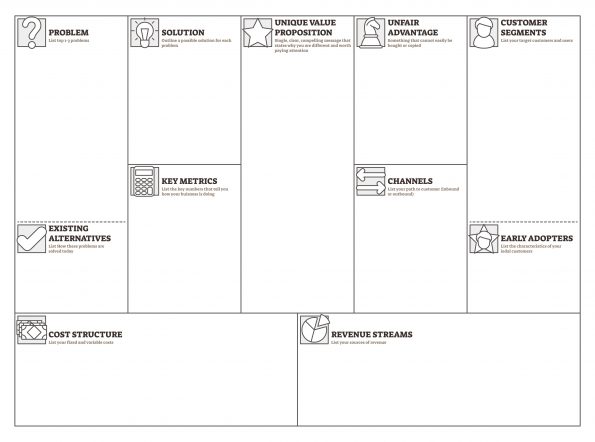 Other benefits include:
Identifying and navigating the strengths and weaknesses of your product.
Mitigating risks and uncertainties surrounding your product.
Quick to create and update when needed.
Easy to share with other team members and stakeholders. (1) (2)
A guide to using the lean canvas approach
If you're convinced this is the approach for your startup, and you've looked at a few lean canvas examples, you might think you're ready to go.
Before jumping straight into filling in the building blocks, take the time to consider a few factors:
Avoid spending over 30 minutes. You want to initially keep it as simple as possible (without leaving out anything important).
Skip blocks and come back to them if need be.
Think about the present rather than the future.
If working with a partner, have them create their own individual lean canvas and compare and contrast afterwards. This can save time on too much debating, possible arguments and excessive brainstorming.
Be realistic, not idealistic.
The nine building blocks can be filled out in any order; however, it's recommended to begin with "customer segments" and/or "problems," as your target clientele is and will remain key to determining how your business is functioning.
For inspiration, refer to videos where people work out examples, such as the following clip:
The 9 building blocks:
Customer segments
Define your target body of users and consumers. Depending upon your product, you may end up listing two to four groups.
This section is vital, as your goal as a startup is to properly understand their needs, desires and issues, and effectively offer them solutions while remaining open to their feedback.
Early adopters – List your ideal customer characteristics.
Problem
This step revolves around identifying the issues your target audience may face, whether on a day-to-day basis or within a specific area of their lives (depending on your business's niche). Specifying the problem is vital in order to be able to later devise a solution.
It's recommended you list at least three main problems.
Existing alternatives – It's vital to determine which competing companies are attempting to solve the same problems as you. This may aid you in finding a new angle or working out ways in which you can beat them to the punch.
Revenue streams
Estimate the earnings that your product/service may generate. It's key to have confidence that your startup will eventually find a profitable business model.
Solution
After having specified the problems at hand, the next step in your lean canvas approach is to brainstorm solutions. Working directly with your target group and asking for feedback may aid you in better creating change.
Your ideas may change—once, twice or many times—depending upon how your initial proposals are received. It's important to take that on board and use it to your advantage in getting one step closer to effective solutions.
Unique value proposition
Describe how your product is unique compared to other alternatives.
High-level concept – Create an "elevator pitch" summarizing the purpose and innovativeness of your product.
Channels
Choose appropriate methods of communication. This is a vital step, for if you fail to select an effective channel, you may risk losing or failing to even land any prospects.
Key metrics
Use appropriate metrics to track how your business is progressing and performing.
Cost structure
List your startup's fixed and variable costs. These may change as you go, but it's wise to have an overview of the funds you'll require.
Unfair advantage
While defining your unfair advantage within the market can tough (especially at the beginning) it's important to determine what you have to offer customers that your competitors don't or can't.
Final thoughts
The lean canvas approach may be all your startup needs to find some direction and wipe your messy slate clean. Filling out each section to the best of your ability should aid you in reaching and satisfying your desired consumer.
References:
"What is a Lean Canvas?", Source: http://ask.leanstack.com/en/articles/901274-what-is-a-lean-canvas
"Lean Canvas – Why It's The Best Tool For Startups", Source: https://uptech.team/blog/lean-canvas