Gordonstoun School celebrates the success of four students who have won Young Enterprise Scotland's Company of the Year Award.
Gordonstoun School is celebrating the success of four students who have bagged Young Enterprise Scotland's Company of the Year Award. Leo Schrader, Lukas Ehrlich, Claus van Oranje, and Tobia Ceccato entered the competition as the Stoun Socks team. Their business, which involves designing, producing, and selling a range of eco-friendly cotton socks, has generated traction throughout the school community and beyond. The students are delighted to have won the award out of the 1,100 young people [CM1] who competed for the Young Enterprise solo and team categories. They received the award at the Festival of Youth Enterprise, which took place in June 2021.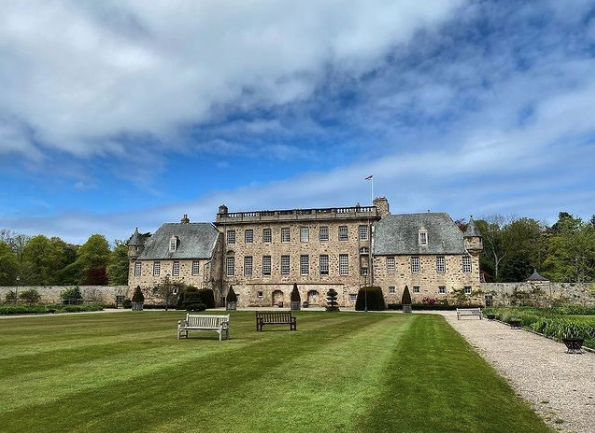 Young Enterprise Scotland
The Young Enterprise Scotland Company and Team Programmes for Highland and Moray offer this competition in partnership with local schools. Once students aged 15–19 have formed school teams, they must craft products, market their businesses, and manage their finances. Teachers, volunteer business advisors, and YES area teams support the entrants as they develop their innovations. This way, students can experience the challenges and achievements that come with entrepreneurship and experiment with their early business ideas.
'This year more than most [of] our teams of young people faced huge challenges and showed determination, flair and ingenuity to overcome them,' says Linda Thomas, chair of YES Highland and Moray. 'We are extremely proud of them all. With the real difficulties young people encounter when looking for jobs, the experience gained on Young Enterprise programmes is invaluable. We see all the students who take part grow in confidence over the year and as they learn about working as a team, they find creative solutions to problems and learn to respond to change. This is all great preparation for the world of work, particularly in the current unprecedented climate of uncertainty.'
Two of Gordonstoun's Young Enterprise teams also secured coveted funds for their businesses at Young Enterprise Scotland's Dragons' Den event, which took place in October 2020. Both teams successfully pitched their product ideas by video link to a panel of local entrepreneurs.
In the end, Stoun Socks was the only team from the Highlands and Islands area to reach the national finals.
Stoun Socks
Having won the Company of the Year Award, Stoun Socks has found that demand for its eco-friendly socks is still high. The students continue to produce the range, adopting sustainable practices and designs that blend both old and new.
'Through colourful designs, we combine tradition with modernity and pay special attention to environmental protection and workers' rights,' says Lukas Ehrlich, managing director.
Each pair of socks carries a Gordonstoun theme. The first design, which features Gordonstoun's Scottish breakfast, is particularly popular.
You can follow Stoun Socks on Twitter and Facebook: @stounsocks
Gordonstoun School's Entrepreneurial Focus
Gordonstoun's students enjoy the school's rounded, extensive curriculum, which blends both traditional and future-facing subjects – including lessons from its Department of Business, Economics, and Enterprise. Gordonstoun prides itself on fostering success for aspiring young entrepreneurs, and students can pursue Business Studies at both GCSE and A Level.
The school's Working Week offers students further opportunities to develop their working skills. During this week, senior students work with emergency services, such as the local Coastguard and Gordonstoun's own fire service, to advance their work ethic and teamwork skills. Gordonstoun is the only school in the UK to run an active-service fire engine, which students operate under the supervision of qualified instructors and which responds to real emergencies as part of the local Fire Service.
Gordonstoun has also launched one of the UK's first and most successful summer school programmes, which attracts and inspires numerous students who are looking to further their skills.
About Gordonstoun School
As one of the few full-service boarding schools left in the UK, Gordonstoun offers a tranquil home from home in its historic wooded estate, which sits in 200 acres of Moray's countryside. The school pairs its seventeenth-century architecture with a range of modern facilities, including a sports centre with state-of-the-art amenities and a performing arts centre with rehearsal spaces, theatre, and dance studios. Students also spend much time learning outdoors, sometimes aboard the Ocean Spirit, Gordonstoun's 80-foot sailboat. Wherever their classes take place, students learn in small teaching groups to ensure they receive all the tuition and guidance they need to reach their potential.
Students aged 4–18 from all over the world attend Gordonstoun, which is within easy reach of Inverness and Aberdeen airports. While many of the school's senior students live in Gordonstoun's seven boarding houses, others attend during the day only. Either way, Gordonstoun integrates all students into its inclusive house structure.
Prospective students and their families can learn more about life at Gordonstoun at the Virtual Taste of Gordonstoun Webinar, which will take place on Saturday 21st August from 1–2 pm BST.