The Startup Magazine continues our Founder Interview series with entrepreneur Richard Lavina, Co-Founder and CEO of accounting services platform, Taxfyle. Taxfyle is an innovative consumer, small business and enterprise SaaS accounting-tech company. Prior to founding Taxfyle in 2015, Richard worked for PricewaterhouseCoopers as an auditor. While working at PwC, he obtained his Master of Accounting and was inspired to start Taxfyle, having witnessed firsthand and learned about the systemic inefficiencies of the accounting industry.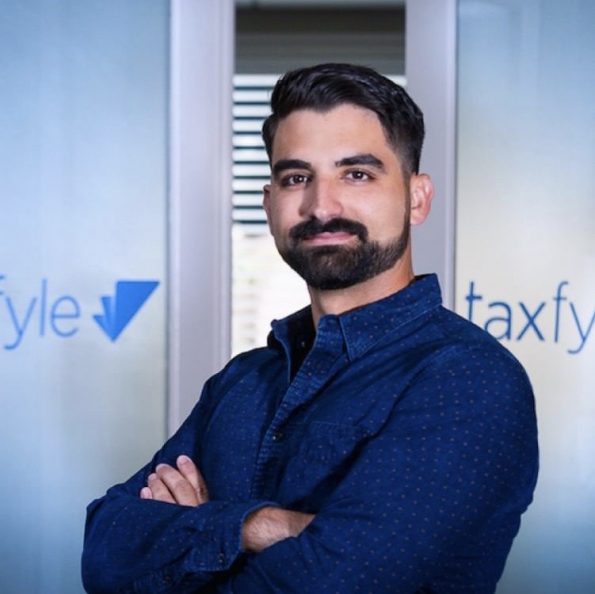 Ricky and his team set out in 2015 to modernize accounting and have transformed Taxfyle over the years into a venture-backed company that serves tens of thousands of taxpayers each year, hundreds of CPA firms around the United States, and counts a Big Four accounting firm and international accounting corporations among its enterprise clientele. They are making an impact as intermediaries in the broad and fragmented accounting services industry.
Here are Richard's insights and startup advice he shared with us about his entrepreneurial journey…
TSM: Describe Taxfyle's product or service in 10 words or less:
Richard: Taxfyle is a Service-with-a-Software company that matches taxpayers with licensed CPAs and Enrolled Agents.
TSM: With a bit more detail, what does Taxfyle do? Share with us what problem you're solving.
Richard: Taxfyle is successfully addressing deep pain points experienced every year by both American taxpayers and accounting firms nationally, and overseas, around tax season.
Taxfyle's B2C tax-filing app is the fastest, most efficient and most cost-effective option for taxpayers – personal and business – offering an easy-to-use tool that takes so much of the dread away from the onerous task of filing your taxes, and it does it, on average, in under 48 hours and for 30% less than other retail tax filing companies and brick-and-mortar options, with all of the convenience of ordering food for delivery on your smartphone. It's the first company to successfully leverage consumers' smartphone habits to make tax-filing seem and FEEL simple. And the easier it is for people to file their taxes, the faster and more consistently they'll do it, preventing larger tax burdens that could later pile up.
TSM: What inspired you to start Taxfyle?
Richard: I went to school for accounting and followed a path after graduation that those of us in that major typically follow: I started working for a CPA firm in Miami. I learned the ropes there and eventually got an offer to work at one of the Big Four. I took a job as an auditor at PwC where my primary client was Ryder Systems.
In that role, I realized there were numerous inefficiencies in the industry that added unnecessary friction to my day to day. And this was while I was trying to find someone I could trust to do my taxes – someone who was competent but also charging a fair rate. As a CPA, I knew what I should be paying for the type of return I'd be filing, and I couldn't seem to find a person or firm whose work was in line with my expectations. I figured if I was having that issue, other people might be, too. After some research and a lot of thinking and deliberating, I realized I could create a service that would help people connect with CPAs to get their taxes filed easily and affordably, without the hassle of getting in your car to meet with someone in person for hours or countless phone calls and emails.
That's when I decided to quit my job at PwC and founded Taxfyle with two of my friends: Michael Mouriz and Will Sahaditjan. Fast forward to today; since we founded Taxfyle in 2015, it has earned the support and investment of numerous venture capitalists and is one of the fastest-growing companies in any sector in the U.S. Last year, Taxfyle ranked No. 74 on Inc. Magazine' Inc. 5000 list, which lists private American companies based on three-year revenue growth between 2016 and 2019.
TSM: How is Taxfyle impacting the world and your clients?
Richard: We have the largest network of on-demand CPAs in the world, and when you do that you can do a variety of work, get it done relatively quickly and for less money than compared to traditional tax-shops and CPA firms, and you do it virtually. That's groundbreaking in accounting, where margins are thin and the overheard of operating in-office with year-round staff is high.
Right now – and basically for the past five years – we are providing an experience via software, during a pandemic where everyone is locked down, that provides the Taxfyle customer with a personal approach and expertise to tax-filing, available on demand and without a big price tag.
From our industry perspective, on-demand accounting services platforms will continue disrupting the professional services industry while helping to define the future of work. There is a groundbreaking, retooling process taking place around the multibillion-dollar professional services industry around the world, changing how services are delivered and who they are performed by.
Today, companies need to leverage not only their industry expertise but also be fully on top of technological advancements that will allow them to offer tailor-made solutions for consumers that directly alleviate issues that have dragged on for decades – whether product-wise or in the professional services realm. Fintech solutions are playing a fundamental role in this sweeping transformation and boosting the continual modernization of companies' and individuals' administrative functions.
We're aiming to bring that boost in productivity and cost-efficiency both to CPA firms and other professional services firms in other verticals (i.e. legal), as well as directly to consumers in their every-day lives.
In recent years, we have entered into strategic partnerships with Bench Accounting and other vertically relevant partners to bring a tax-filing component to the leading bookkeeping platforms in North America. We see more strategic partnerships like this coming to fruition in the next few months.
TSM: What are the disruptive factors in the accounting industry that make it so promising?
Richard: We fully believe Taxfyle has the potential to not only disrupt the professional services industry by leading in high-tech solutions, but to also define the future of work for professional services.
To be successful in today's fast-paced, globalized, digital economy, companies – and the industries around them – you need to be leveraging not just your industry expertise but also groundbreaking technological advancements that enable you to compete within the modern marketplace. Those tools should enable more productivity, more reach, more efficiency and faster trouble-shooting. Professional services – accounting, white-shoe law, and more – just aren't playing at that level yet.
We're aiming to bring that boost in productivity and cost-efficiency both to CPA firms and professional services firms in other verticals, allowing them to reach new partners and new customers and to grow margins to facilitate M&A that allows them to capture market share.
We're also focused on bringing tech-enabled accounting services to the ultra-high net-worth set – individuals who want, and need, very specialized, very high-touch CPA services, but are currently overpaying for it.
TSM: Describe any Taxfyle's pivot point, and its impact on the company?
Richard: One of our major pivot points was during the third year of our company when we realized that our product could have an exponential impact on the accounting market. Our platform was really over-engineered for simple retail 1040 work, and it had the potential at the time to route hundreds of thousands of jobs to tens of thousands of CPAs on a mass basis.
Now, fast forward to our seventh year, we're really benefiting from that decision because nowadays CPA staff for accounting firms are much harder to come by and tax work is continuing to pile up. We're really driving major efficiencies in the accounting industry with our product.
TSM: Taxfyle is really no longer a startup, it is a "scaleup". What have been the primary challenges in your scaleup journey? Hiring? Quality control? Capital?
Richard: I really think any exponential startup is going to face all three problems. You're going to grow so fast that you're always going to need to be raising capital. When you raise, you're at the whim of the outside market's perception of you. Hiring is a problem because when you become successful, people want your talent. And then as you hire more people — at pace — there's sometimes a risk that you didn't give enough attention as you would to someone that comes in the door, which would create quality issues. So, if you are a growing startup, it will create these kinds of problems that you have to solve.
TSM: Did you have to raise funds from outside investors? If so, describe that process. Has going through the process of trying to raise capital impacted your vision and strategy for your business? If so, how?
Richard: Of course, we're now considered a B-round company. We've raised funds from many individuals and institutions. Going throughout the raise process, in the early days, it's always about moving goal posts with the investors. In the early days you're like "OK, well if I had just $1 million in revenue, this will make it a lot better." But when you hit marks like that, then you are expected to go even further and set new marks that exceed the last one. There is no secret sauce. When getting capital, you really need to work at it and build relationships with prospective investors.
TSM: Do you have a thought about the Taxfyle "exit" options? Where does it go from here?
Richard: Given our growth trajectory, this past year we grew more than 290%. We're very bullish that we have a product that serves a broad enough need and our solution is novel enough that we could definitely see an IPO as a possibility in our future.
TSM: What is the most important thing prospective investors should know about your company?
Richard: We are at the forefront of how all tax departments will be staffed in the future.
TSM: Going back to your early career decisions, tell us what factors influenced your decision to be an entrepreneur?
Richard: If this platform existed while I was still at PwC, for me to make an additional $20,000 to $50,000 a year, I would still be there at PwC. But given that it didn't exist, and as I saw the type of issues in the way that work is being performed, I felt it was my duty to go and solve this problem.
TSM: What is the most important thing you tell other startup founders?
Richard: Know what your competitive edge is, and focus as much of your time and other resources as possible to sharpen that edge.
TSM: Lastly, tell us something about yourself that most people don't know?
Richard: I was bitten by a shark on my chest while lobstering in the Florida Keys.
TSM: That's something you don't hear about every day. Richard, thank you for your insights and good luck on your continued successes.