Here's more from The Startup Magazine Founder Interview series.  We interviewed Michel Ruiz, CEO and co-founder of KaviAR Tech, an augmented reality software startup headquartered in Paris. With a 30-year history of leadership and innovation in marketing, entrepreneurship and technology, Michel's vision is to solve problems and increase clients' business success with the use of augmented reality.
Read on as Michel tells us about his entrepreneurial journey to have augmented reality disrupt the travel industry:
TSM: To dive right in to what you do, describe the KaviAR product/service in 10 words or less:
Innovative, visionary, useful, agile, reactive, adaptive, problem-solving, simple, rapid and fun.
TSM: Sounds like we need a bit more detail, tell us more about what KaviAR does?
KaviAR Tech is a laboratory for augmented reality. AR has many valuable applications and solutions for sales, marketing, customer service and training.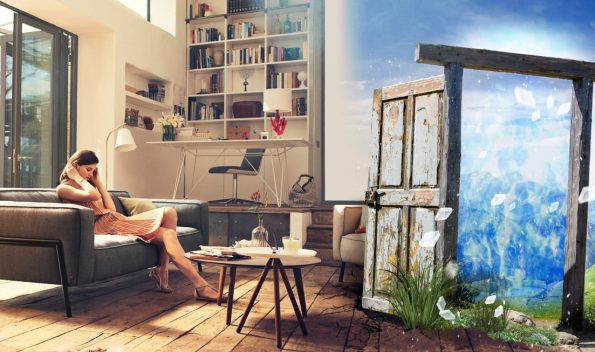 KaviAR Gate, our new app, harnesses the power of AR enabling the consumer to travel virtually.  It is an immersive experience allowing the consumer to visit places like Europe, the Caribbean and Asia from their living room— to give the impression that they're really there, without any special equipment other than a smartphone. Today it's a travel destination, but tomorrow it could be a mall, shopping experience or even a car. AR has an incredible ability to give consumers tools and experiences they have never seen before, helping them to make a purchase decision.
TSM: What is your favorite part of being the founder of KaviAR Tech?
My favorite part of being a founder is to imagine things that were previously impossible, and realizing that nothing is impossible. Augmented reality is the web of tomorrow. All the digital content you consume will be mixed into your physical environment, without the need to pass through a search engine. We will be able to see the digital content around us—in our homes, offices and environments.
TSM: We see that KaviAR Tech gives a percent of its profits to social causes. With that, how else is KaviAR impacting the world/your clients?
Today, clients are discovering augmented reality, what it is and how it can help them. KaviAR Tech is giving clients the tools to "dip their toes" in the water of AR in an efficient, cost-effective and beneficial way.  Our first clients have been able to use AR which was previously too expensive or complicated.  We want to have a positive impact on the world, giving companies and brands the tools needed to create better and more helpful experiences for consumers.
TSM: What other disruptive factors in AR/VR make it so promising?
AR can be experienced on a smartphone, which 3.5 billion—or nearly half of the world's population—now has. Augmented reality adds elements to people's worlds, no headset needed. They may try on a watch, an engagement ring or see how a sofa looks in their home— all through AR.  AR is disruptive in a positive way, particularly for those who sell or consume products and experiences.
TSM: With the travel experience industry so fragmented, how will KaviAR Gate change it for the better?
KaviAR Gate is the world's first augmented reality teleportation application tool allowing one to "visit" exotic destinations right from their smartphone.  The consumer may travel through a virtual doorway in their living room to breathtaking locations across the world, from stunning beaches in Madagascar, Tobago Cay and South Carolina to a casino in Las Vegas, a cathedral in Italy and the Angkor temple in Thailand, to the Andean Lagoons in Peru, the Lion's Head and Table Mountain Peaks in South Africa, and the incredible Eiffel Tower and Seine River in Paris—and many other locations.
Getting consumers introduced to AR is KaviAR Tech's mission.  The travel experience today begins when the consumer opens the catalog or web browser.  Instead of this 2d experience, we help create 3d experiences.  People can visit virtual locations and experiences.
Furthermore, you can customize experiences.  For example, let's say your friend visits the Eiffel Tower. When you visit the same physical geographic location, you will get a notification saying your friend was there. You will see your friend there through AR, giving you a welcome message.  We do this through geo-location. AR can also serve as a helpful tool for travelers, for example a tour guide giving recommendations. For tourism agencies, it will be used as a promotional tool for destination— to share info on a monument, highlights of their city.
TSM: What are your thoughts about the future of AR?
Augmented reality is wonderful because its power is limitless and you can do whatever you want with it. It has many commercial applications as well. From having a virtual salesperson helping consumers buy, to having a local tourism guide, AR can help explain a product, service or place with consumers. AR shortens the sales cycle and simplifies the act of buying.
TSM: As your company grows, what are the primary challenges? Hiring? Quality control? Capital?
KaviAR Tech has been very strong on research and development. We created the product and coding from scratch. Our biggest challenge was creating a truly innovative product and we successfully did it. We now have a useful product that clients and consumers love. We are considering taking on investment to grow even more. The development of the brand and creating a best-in-class product is our mission.
TSM: From your experiences, what is the most important advice that you can give to other startup founders?
Work hard. Put in the time. Innovation and creating a valuable product or service is not going to happen overnight, and creating good habits can be difficult to master. The only thing we can do is work hard, in order to overcome these things. Nobody's been successful without working. Work and invest oneself.
TSM: What is one interesting fact about you that people may not know?
Something people may not know is that I was in the French Army the first half of my career.  It was a very positive, discipline-building and life-changing experience.
Also, I believe in taking approaches that no one else does. For example, one day I saw a person known in the travel industry on TV— the founder of the world's first web-based travel agency.  I didn't have his email so I wrote him a letter in the mail.  To my surprise, he wrote me back. Today we are still friends and often talk about innovation and disruption. Try new ways of doing something to get new and better results.
TSM: That's a great idea. Thank you for your advice on building a startup and on the impact of AR. Good luck with your continued successes.