When employees are looking for a friendly and flexible workplace, a company like Five Guys can be an excellent choice. Five Guys Daphne explains how their flexible work environment can simplify your family schedule and work with other activities that you may have during the day, including school and caring for a family.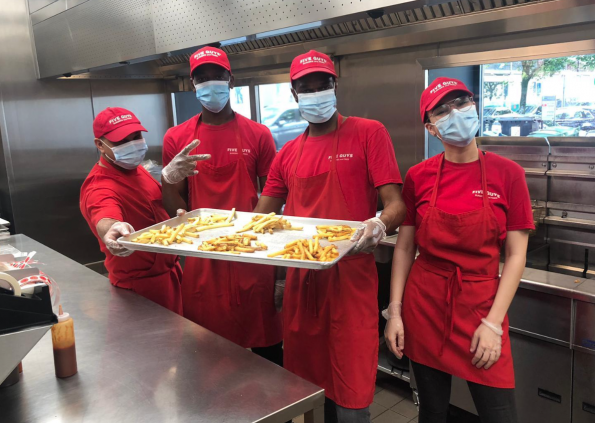 Five Guys also offers ample opportunities for its employees to rise through the ranks, for example, starting as a fry cook and culminating as a General Manager.
Flexible Hours
Flexible hours are one of the top reasons why employees choose to work in the restaurant business. Since Five Guys is open every day from lunch through late-night, it offers many different options for shifts. People who need early or late shifts can be accommodated, as well as people who want to work on nights and weekends. School hours and mothers' hours are also available, allowing employees to plan around their own education or their children's time in the classroom.
Shifts are Variable
On different days of the week, a Five Guys restaurant employee can choose to work different shifts. This can help employees fit their work into their busy schedule, whether they are busy taking care of other family members or possibly working in another job. Five Guys values education, and it encourages students from all levels to work for the company.
As part of their flexible workplace initiatives, employees can also choose from full-time and part-time positions. This means that employees will be able to fit Five Guys into their schedules more easily. Part-time positions are great for young students in high school and college who need time to focus on their schoolwork, as well as parents with children in school.
What Sets Five Guys Apart?
Five Guys has better benefits packages than other fast-food restaurants. Employees are taken care of in many ways, and they find that their jobs are fulfilling and exciting. Since restaurant employees move through all of the different tasks in the kitchen and in customer service, they are able to learn more about the restaurant business which may become an advantage when looking for future employment.
Five Guys' food is the best in the business. It has received positive reviews from Zagat as well as many local and national newspapers. The restaurant is dedicated to serving everything fresh, including its famous hand-cut fries.
Advancement Opportunities
Many entry-level jobs do not have a realistic chance of becoming a career but working at Five Guys is different. At Five Guys, entry-level jobs can become productive careers. The company has a practice of promoting from within, meaning that someone who starts at the cash register could eventually be a store manager or franchisee in their own right. Proper support for advancement is provided at all levels, with employees given the feedback they need to improve their work and receive higher wages.
Having the opportunity to advance means that employees will work harder, giving a better experience to guests in the restaurant. This means that the restaurant will succeed, offering more pay raises and bonuses to its employees.
Benefits of Working at Five Guys
When employees are considering working for a fast-food restaurant, they should carefully look for a flexible workplace and compare all of the benefits offered by each company. Five Guys has a competitive benefit package for full-time employees, including a 401(K) plan and health insurance funded at 50 percent. There are further benefits that are available to employees at all levels, including the Secret Shopper bonus program, the Health Inspection bonus program, and the general merit-based bonus program.
Having a Productive Career
Some people choose to work in fast food because they are looking for a part-time or full-time opportunity that is active but friendly. At Five Guys, employees are kept engaged in the process and have an excellent chance of providing the best customer service for their guests, along with the best food of its kind.
Working for Five Guys
When choosing a part-time or full-time job at Five Guys, it is important to consider all of its benefits. Five Guys is certified as a Great Place to Work, meaning that its benefits can be favorably compared with other companies of its type.
Providing a premium product at a great price with the best customer service is the goal of Five Guys, and the restaurant wants all of its employees to take part in their mission. Giving employees the opportunity to advance in their careers with a flexible workplace provides them with a better way to build their resume and achieve a high level of success in the business.
Understanding how Five Guys can be a great place to work can influence where you apply for your next job. Five Guys Daphne encourages all self-starters with an ability to put customer service first to apply for a job with the restaurant chain.